Home
>
Resource
>
DVD Ripping Tips
>
Rip DVD to MKV
Posted by Chris Ellison - Sep 09, 2022 | Contact Author

Top 5 Methods to Convert DVD to MKV Free and Lossless
Physical DVD discs are indeed not as convenient as digital files, therefore many people are fond of converting DVDs to MP4, MOV, MKV and other digital formats for easier access. For those who want to keep all the content of the DVD, converting DVD to MKV is always the top choice since MKV encapsulates videos, multiple audio tracks and multi-lingual subtitles into one single file while keeping the quality almost intact to that of DVDs. Then, how to rip DVD to MKV without any quality loss? Is there any free DVD to MKV converter? To handle all your queries on how to convert DVD to MKV, we have shortlisted the best five methods, including free and lossless method.
Part 1. Best Program to Convert DVD to MKV with Lossless or High Quality
There is a long list of conversion programs and tools that can used for converting DVD to MKV files. But if you do not want to compromise on the quality and to look for the best option to copy, rip and digitize DVDs, DumboFab Video Converter Ultimate is there for you. With it, you can easily remux and rip a DVD to a lossless MKV file within 5 minutes. The MKV file can store all original subtitle and audio tracks (incl. HD audio) and preserve the chapter structure of the source movie, so you may select your wanted chapters to play with your media players at will.
Besides preserving all the original audio and subtitle tracks, you're also allowed to convert DVD to encoded MKV file with desired audio and subtitle tracks by its customizable settings. What's more, you're able to create MP4, MOV and AVI files with multiple audio tracks to meet the requirements for more media players, mobile devices, etc.
Besides multi-track outputs, this all-in-one video toolbox can also convert DVD, Blu-ray, and disk image files (ISO, BDMV folder, Video_TS folder, etc.) to H.264, H.265, MP4, AVI, WMV, MOV, FLV, iPhone, iPad, Android and more. You can easily adjust resolution, bitrate, codec, etc to produce optimal file size with excellent quality. Moreover, you can flexibily select the subtitle/audio tracks, add subtitles, crop, trim, and edit the the result video.
Free download DumboFab Video Converter Ultimate Windows or Mac version to rip DVD to MKV without quality loss.
[Tutorial] How to convert DVD to MKV losslessly using DumboFab
Step 1. Insert the DVD to the DVD drive. Run DumboFab Video Converter Ultimate and click "Load Disc" button to import the source DVD content. After imported, this program will bypass copy protection and right check main title automatically.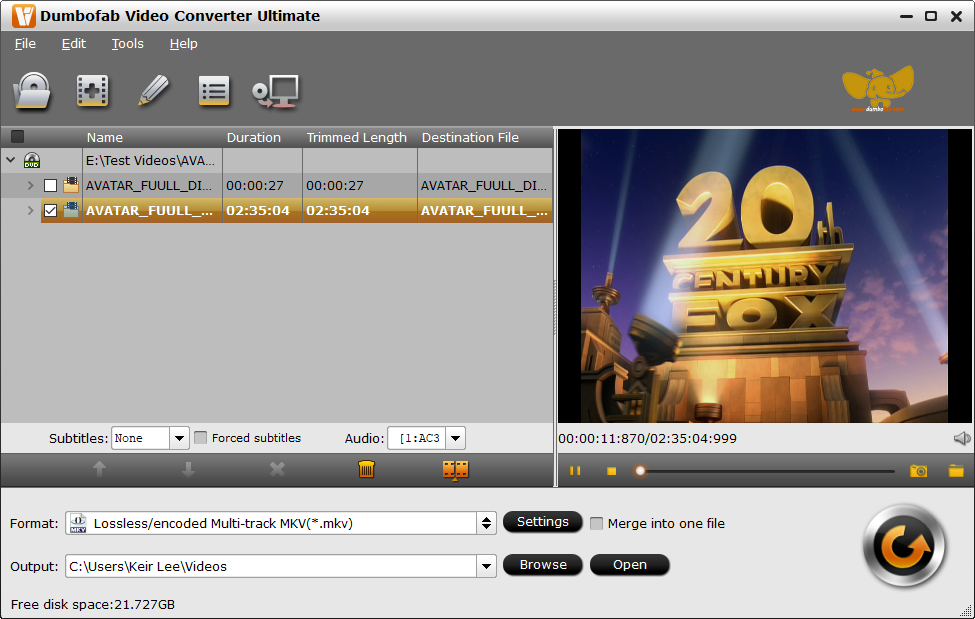 Step 2. Click "Format" bar, move mouse cursor to "Multi-track video" category and then select Lossless/encoded Multi-track MKV as the output format.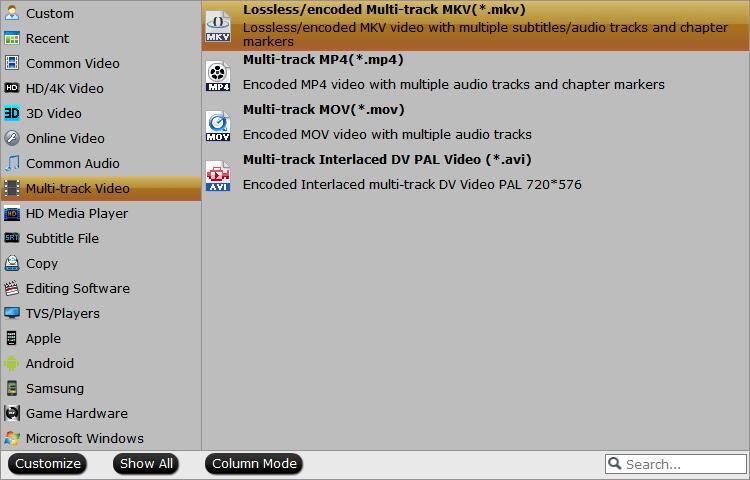 Tips: DumboFab Video Converter Ultimate transfers video from DVD to MKV container in two ways, lossless output and encoded output. Both the two ways enable users to preserve wanted audio tracks and subtitles streams in the source movie.
All audio and subtitle tracks in a source file are checked to be saved in the MKV container by default, if there are some tracks you don't like, you can click Settings button and go to Multi-task Settings window to uncheck and remove them under Audio tab and Subtitle tab.
Step 3. Click "Browse" button to select a destination folder in the dialog box that opens, and click OK. If you do not have other advanced and personalized settings, just hit "Convert" to beging DVD to MKV ripping with lossless quality.
Part 2. Convert DVD to MKV Free with MakeMKV
MakeMKV is another great choice for converting DVD to MKV. As well as handling DVDs, the program, is also capable of ripping Blu-ray discs, and the process works in exactly the same way in each case. Its beta version is completely free but packed with all features. Since it comes without many customizable settings, the conversion of DVD to MKV can be finished in just one click.
MakeMKV rips most copy-protected and region-locked DVDs, as well as Blu-ray discs protected by the latest version of BD+ and AACS.
Step 1. Insert the DVD disc you want to convert into your computer optical disk drive. MakeMKV supports both DVDs and Blu-ray discs.
Step 2. Launch MakeMKV and select the drive in its source tab. Click on the big disc button in the center of the main UI, and it will scan the disc immediately.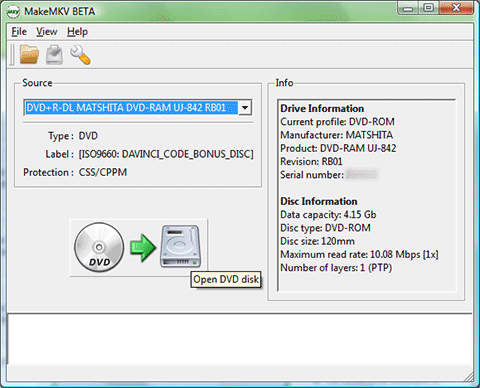 Step 3. MakeMKV will present all titles of the DVD after reading the disc. However, it comes without a preview feature, so you have to be well aware of which title is the right one in advance. Typically, the one in the biggest file size contains all chapters and metadata.
Step 4. Choose an output folder. Finally, click the Make MKV button and wait for the output.
MakeMKV keeps all videos, audios, subtitles, and chapter info in the converted file, which results in an extremely large file size. A two-hour movie DVD turns out to take up 5+ GB local storage (and converted Blu-ray video are even much larger, 30-40 GB), and let alone how much time it will take to complete the conversion.
Part 3. Free convert DVD to MKV using Handbrake
Handbrake is an open source and free video converter and transcoder that has a large number of loyal fans. Besides video encoding, It also can convert DVDs to MKV and MP4 in HD 720P, 480P, and 576P.
※ Note: HandBrake itself can't rip commercially copy-protected DVDs. If you want to use HandBrake to rip encrypted DVDs (actually, almost all store-bought DVDs are copyright-protected), you should firstly download libdvdcss. libdvdcss is a part of VideoLAN project capable of reading and decrypting DVDs locked by region codes 1, 2, 3, 4, 5, 6 and CSS. For more details, you and refer to this article - "How to use Handbrake to rip copy-protected DVDs" to learn more.
Below are the simple steps on how to convert DVD to MKV with Handbrake:
Step 1. Open HandBrake and click the Open Source tab to add your DVD file to it. Or you can just drag and drop the file to the UI.
Step 2. You can tell from the duration that which title holds the entire movie, then choose it in the Title tab. Next, select MKV in the Format drop-down menu.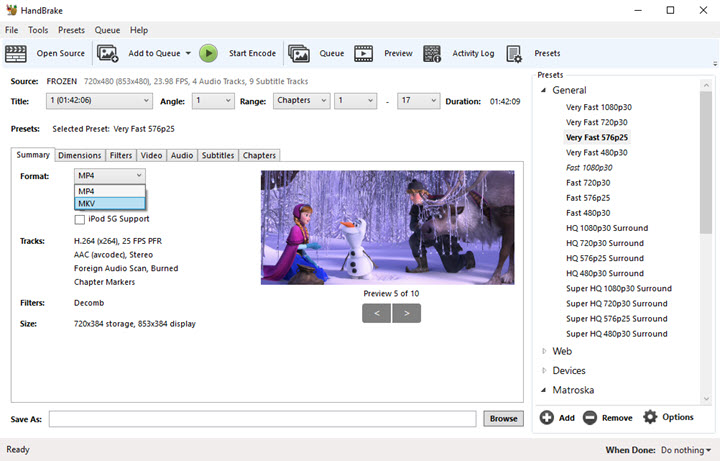 Step 3. Click Dimensions to adjust the resolution that matches the source video. Then choose a hardware-accelerated encoder (NVIDIA NVENC encoder) in the Video tab. If your system does not support it, this option will be grayed out. Alternatively, go to Presets which provides MKV videos of different codecs, resolutions, and frame rates.
Step 4. Click the Browse button on the lower side to select a new destination path and file name to save the MKV video.
Step 5. Hit the Start Encode button. HandBrake now begins to convert your DVD to an MKV file.
Part 4. Convert DVD to MKV with FFmpeg
FFmpeg is a free-to-use software project that is based on the command line for processing video and audio files. You can also use it to convert DVD to MKV on Windows, Mac and also Linux machines. Now, let's show you how to carry out this work on Windows.
This method is quite different from above-mentioned ways and difficult for newbies. For more details about downloading FFmpeg and using FFmpeg to convert videos, edit videos or do other tasks, please refer to http://www.hongkiat.com/blog/ffmpeg-guide/.
Step 1: Locate the VOB files for main movie
Once you install the FFMPEG on your windows or Mac, you should find the VOB files on the mounted video in VIDEO_TS that has the main movies of the DVD. Usually you can identify the main movie with the size of the VOB file.
Step 2: Concatenate VOB to MKV
$ ffmpeg -i concat:VTS_02_1.VOB\|VTS_02_2.VOB\|VTS_02_3.VOB\|VTS_02_4.VOB\|VTS_02_5.VOB -map 0:v:0 -map 0:a:0 -codec:a libvo_aacenc -ab 128 -codec:v libx264 -vpre libx264-ipod640 movie.mkv
Step 3: Calculate the video size
When you need to save the video to your computer, you have to calculate the video size beforehand. The -vcodec parameter is necessary because ffmpeg doesn't support theora by itself. -acodec is necessary otherwise ffmpeg uses flac by default.
Part 5. Free Convert DVD to MKV with Freemake Video Converter
Freemake is a simple yet powerful tool that allows converting and converting your DVD discs into MKV and other popular video formats. Depending on your requirements, you can convert DVD to MKV for the entire content of the disc or only a particular part.
Unfortunately, although it doesn't contain extra bundled software, the latest version of Freemake Video Converter adds a watermark to ripped videos. If you can live with that, it's one of the most convenient DVD rippers around.
Step 1. Insert the DVD disc into the DVD drive. Launch Freemake video converter and find the "+DVD" button at the top row and click it. Select your DVD drive with the disc, and then a VIDEO_TS folder. You may find this folder in your disc C in "My Videos". Choose the biggest VOB (.vob) file from the list for ripping.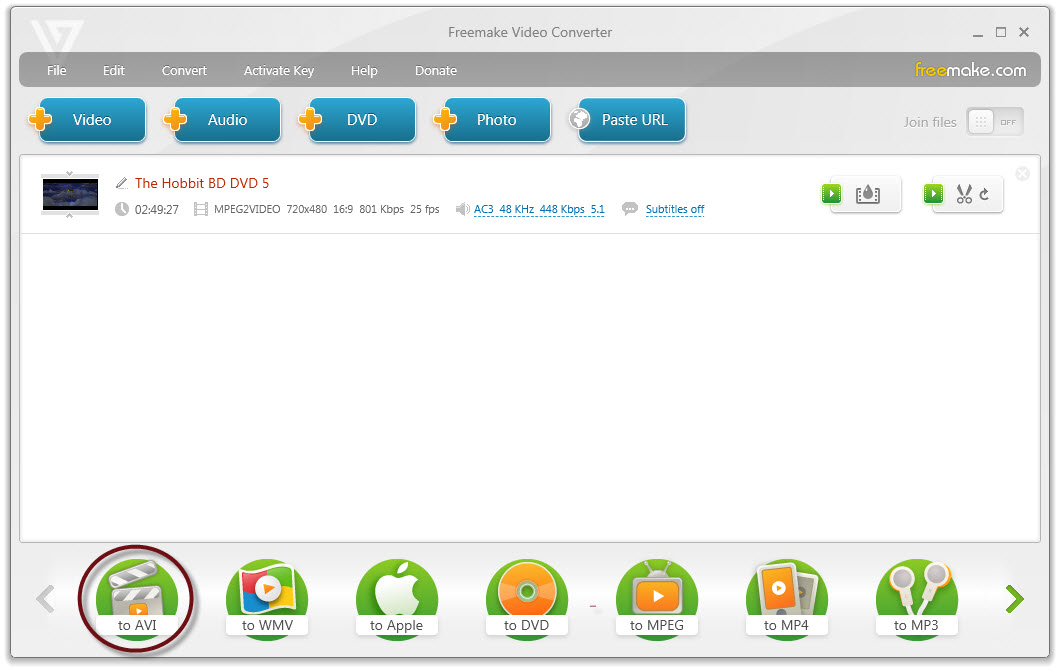 Step 2. Move your mouse cursor to Format bar, then find and click "To MKV" option. Here you can choose a location folder where to save the video in a new output format. You can also click "Settings" button to adjust codec, frame size, bitrate, etc.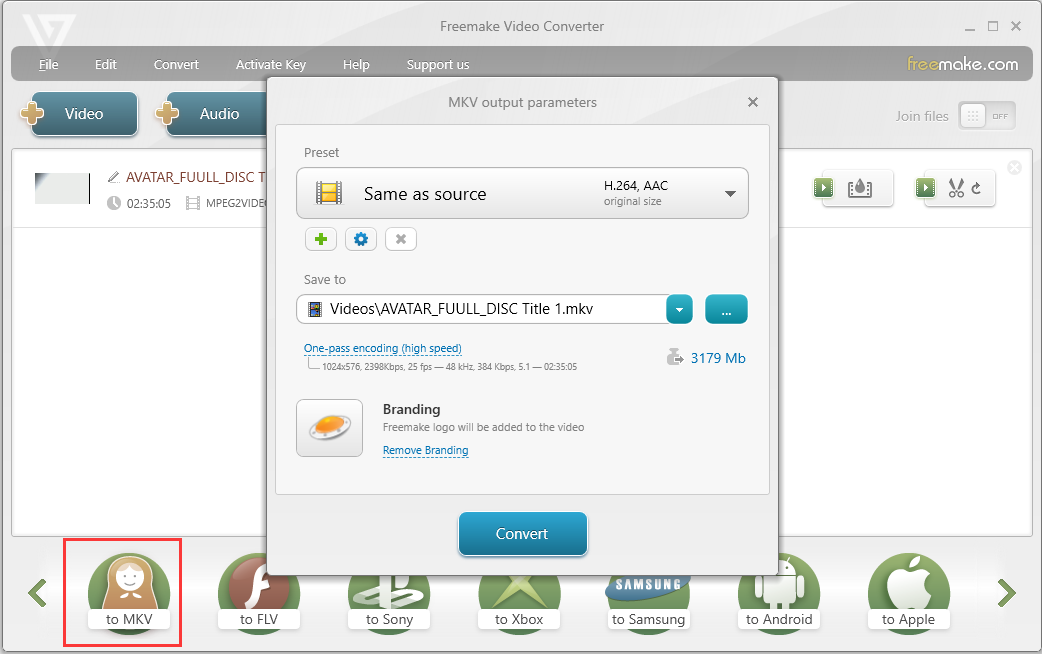 Step 3. After everything is OK, simply click "Convert" button to start DVD to MKV conversion using Freemake.
Conclusion
The free DVD converters go to the open source software undoubtedly. However, they are not competent to either convert copy-protected DVDs or convert files in a fast manner. Taking the most concerning factors into account, the running system, ease of use, supported DVDs, the conversion speed, and the price, DumboFab Video Converter Ultimate is actually the best option for you to convert DVDs to MKV and any other formats without any fuss. And don't forget it can do far more than this.