Home
>
Resource
>
DVD Ripping Tips
>
How to Use Handbrake to Rip DVDs
Posted by Chris Ellison - Oct 17, 2022 | Contact Author

How to Use Handbrake to Rip Copy-Protected DVDs on Mac/Windows
A step-by-step guide on how to rip protected DVDs with Handbrake. Also a great Handbrake alternative is introduced.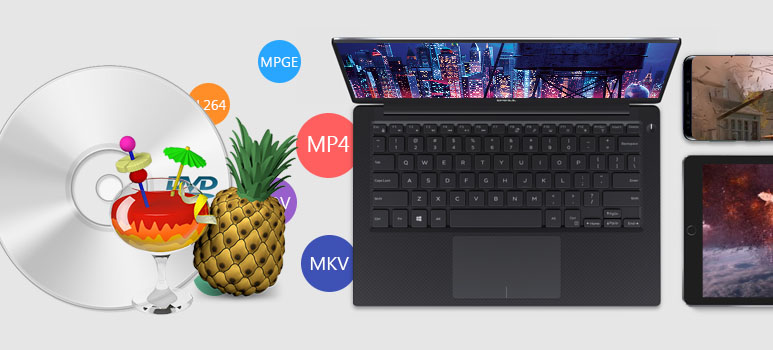 You have got a shelf full of DVDs and the disks just sit there until they're needed but only found the movies are hard to find or even can't be read anymore. If you're in this situation, the best way againt DVD damage or for convenient management is ripping. Fortunately, there are many programs out there that can do the job. Here, we'll show you how to rip DVDs with Handbrake for further storing on your hard drive, or you can also upload them to Google drive, Dropbox, Plex, etc. This ensures that even if your DVD gets damaged, your movies are still somewhere safe.
Preparation - Install Handbrake and libdvdcss for Ripping Protected DVDs
Out of the box, Handbrake can rip any DVD that isn't copy protected…but almost all DVDs you purchase in the store are copy protected. And that's why an alert box with "HandBrake does not support the removal of copy-protection from DVD discs" will show up if it is a commercial DVD. Luckily, it's easy to get Handbrake deal with encrypted DVDs and rip them to your computer if you download and install the free DVD playback library called libdvdcss.
The process is a little different for Windows and Mac users, so we'll go through each one individually. Note that you don't have to do this every time you rip a DVD - once libdvdcss is installed, you can skip to Step One each time you rip a new disc.
How to Install libdvdcss on Mac
The security protocols on macOS prevent you from installing the library file using an installer. Thankfully, there is a very easy way to do it using Terminal and an add-on called Homebrew.
1. Open Terminal on the Mac.
2. Copy and paste the text below into the Terminal window and press Return
/usr/bin/ruby -e "$(curl -fsSL https://raw.githubusercontent.com/Homebrew/install/master/install)"
3. You will be prompted to click Return and type in your administrator password.
4. The process will also download and install some portions of Apple's Xcode developer software. Approve this when the pop-up prompts you to do so.
5. Once the process is complete and you see the normal prompt, copy and paste the code below into the Terminal window and press Return .
6. Once complete, close the Terminal window and you're ready to begin.
brew install libdvdcss
How to Install libdvdcss on Windows
Download the library file from here, then navigate to your downloads folder and copy and paste the file into your C:/Program Files/Handbrake directory. It should look like the image below.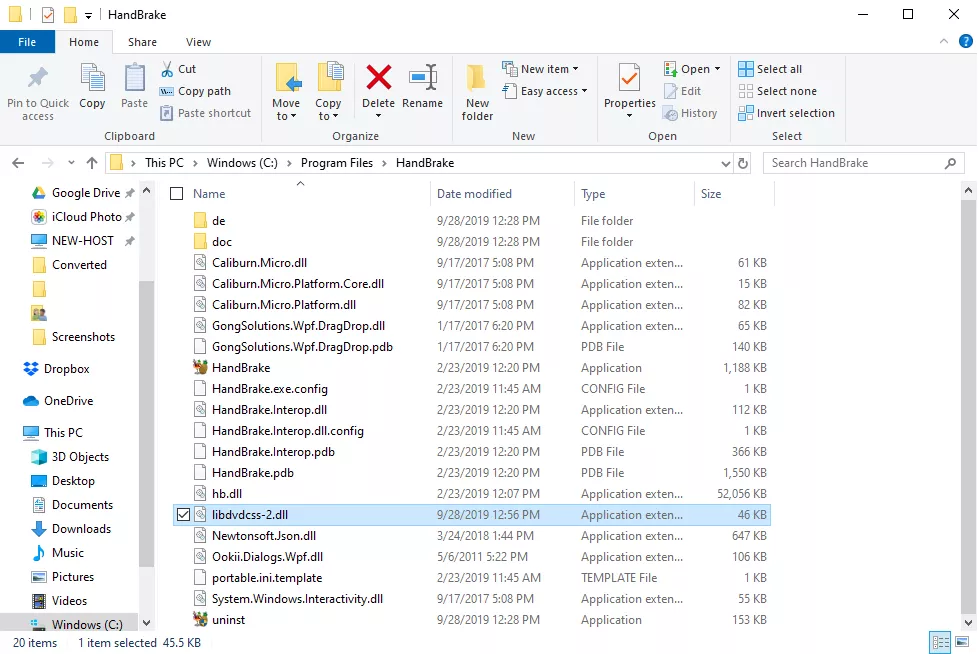 After this, Handbrake will be able to read your encrypted DVDs.
Steps to Rip (Protected) DVDs with Handbrake on Windows (10) or Mac
Note: The process for ripping a DVD on Windows and Mac is virtually the same. Here I will take the Windows process for example to show you how to decrypt and rip DVDs using Handbrake.
Step 1. Open Your DVD in Handbrake
Insert the DVD into the DVD drive on your computer. Open Handbrake and choose your DVD drive from the sidebar that appears.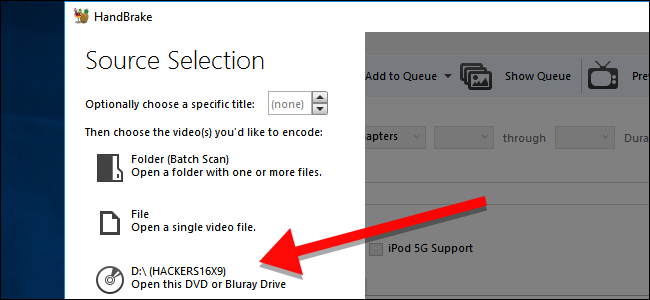 Handbrake will take a moment to scan the titles on your DVD. Wait until this process is finished. It should only take a moment. If libdvdcss wasn't installed incorrectly, you'll see an error saying that the disc can't be read here instead.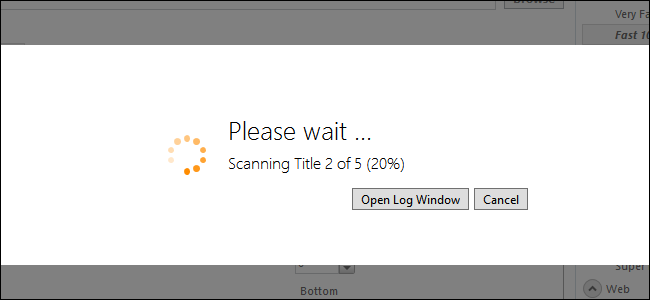 Once your DVD is open, head to the Title dropdown box and choose which title you want to rip. By default, Handbrake will choose the movie, but if you want to rip any special features or deleted scenes, you can change the target you want to rip here. You can also change which chapters you want to rip, if you only want part of the movie.
Under Destination, click Browse to pick where you want to place the movie after you've ripped it.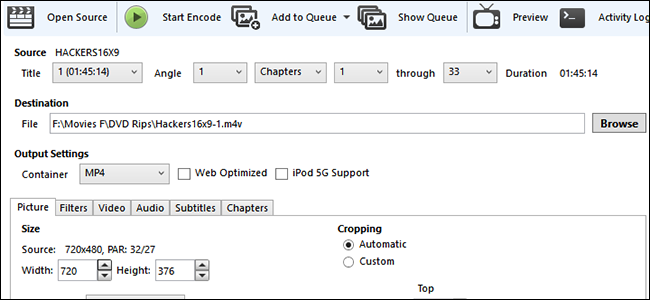 Step 2. Choose Your Quality Preset
Next, you'll need to decide the quality of your output file. The higher quality the movie, the more space it will take on your hard drive. If you're technical, you can use the Picture, Video, and Audio tabs to adjust these settings, but most people only need to click one thing: a Preset.
Along the right side of the Handbrake window, you'll see a selection of Presets (if you don't see it, drag the corner of Handbrake's window and expand it until you do). There are presets for nearly anything you could need: Apple TV, Android phones, PlayStation, and lots more. If you're watching on your computer, use one of the "General" presets - "Fast" and "Very Fast" will be low quality but small in size, while "HQ" and "Super HQ" will have higher quality but take up more space.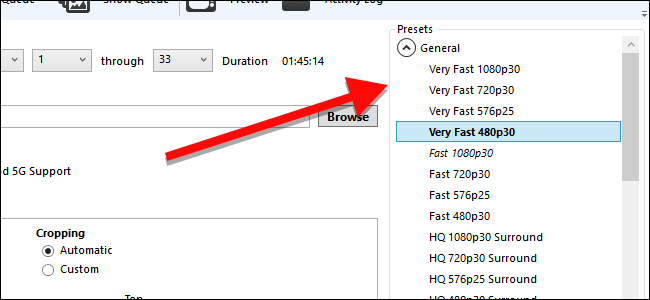 If you're ripping a DVD sold in the US, choose the 480p preset. European DVDs are usually 576p. Don't choose larger presets like 720p or 1080p for DVDs—they won't make your video look any better, they'll just make the file bigger.
Step 3. Start Ripping Protected DVD using Handbrake
Once you've chosen your Title and Preset, click Start Encode at the top of the window. Then, grab a snack.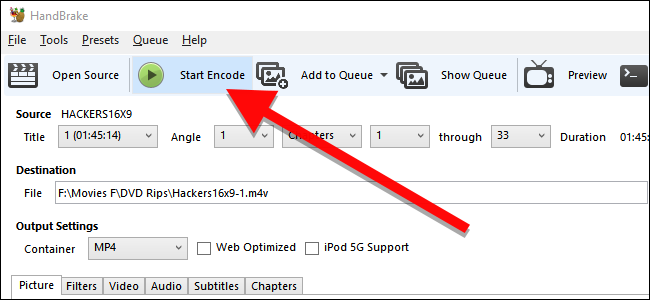 You'll see a progress bar along the bottom that will let you know how much time you have left in the rip. Higher quality rips will take longer, so you'll want to let your computer run for a while.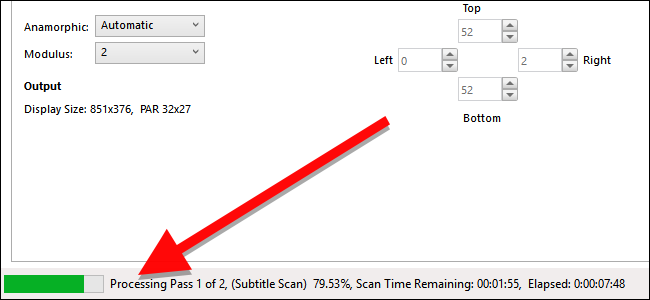 Once the rip is done, you should be able to double-click on it to watch it! Or, if you're using a movie library program like Plex, Emby or Rodi, just add the movie to your library for enjoyment.
Best Handbrake Alternative for Solve Handbrake Won't Rip a DVD
Installing libdvdcss can solve part of the problems, what you can do when Handbrake won't rip a DVD? In fact, there are many reasons that you cannot rip DVD using Handbrake. It may be caused by the DVD corruption or damaging; or strictly DVD copy protection (like Disney DVDs, Lionsgate movies, Beachbody workout DVDs, or BBC DVDs); or overloaded CPU; or unsupported subtitles and so on. Another disadvantage of Handbrake is it can't rip DVD to other popular video formats other than MKV and MP4 (M4V) and its output video codecs are limited to H.264, H.265 and MPEG4.
To steer by all the above can't rip DVD with Handbrake troubles, it's time to try some possible alternatives. Below is going to introduce one of best Handbrake alternatives in market today named DumboFab DVD Ripper. The program is a fast, clean, smooth and extremely user-friendly DVD ripping tool for both Windows (Windows 10 included) and Mac users. Let's see what this most powerful Handbrake alternative can do to fix unable to rip DVD with Handbrake problem for good.
• Support removing all DVD copy-protections including DVD CSS, region code, RCE, Sony ArccOS, UOPs, Disney X-project DRM, etc., and constantly update to support newest DVDs.
• Easily rip DVD to MP4, MKV, MOV, AVI, WMV, H.264, HEVC, etc. digital video formats
• Offer a number of handy preset profiles for smartphones, tablets, gaming systems, smart TVs and more.
• Freely adjust output video/audio parameters, including change resolution, codec, bit rate, frame rate, aspect ratio, etc. to fit different requirements.
• Simple edit: cut, crop, merge, rotate, flip videos; add effect, add subtitles, text/image watermark to videos, etc.
• 2 DVD backup modes are provided, including copy main title to a single MPEG2 file with 5 minutes or copy the entire disc with everything kept in the original disc.
• DVD ripping speed is ultra fast with help of hardware acceleration powered by Intel, NVIDIA and AMD, and an hour and a half DVD movie can be ripped in about 10 minutes (also depend on computer hardware).
• 100% clean and safe. No ads, malware or virus at all. Smooth and stable.
3 Steps to Rip Any Protected DVD with Best Handbrake Alternative on Windows (10) or Mac
Step 1: Input the DVD disc to DVD-ROM. Launch DumboFab DVD Ripper and click the Load DVD button to import the original DVDs you want to put into Plex.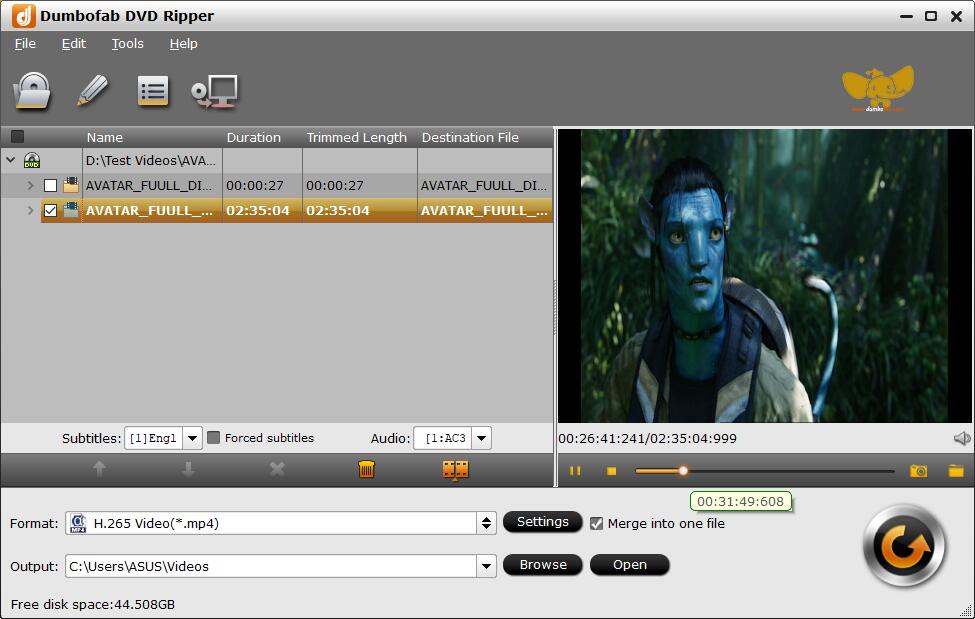 Step 2: From "Fomrat" drop-down list, you can select the output video format for the ripping DVD movie. Numerous video/audio formats and 400+ optimized device profiles are provided.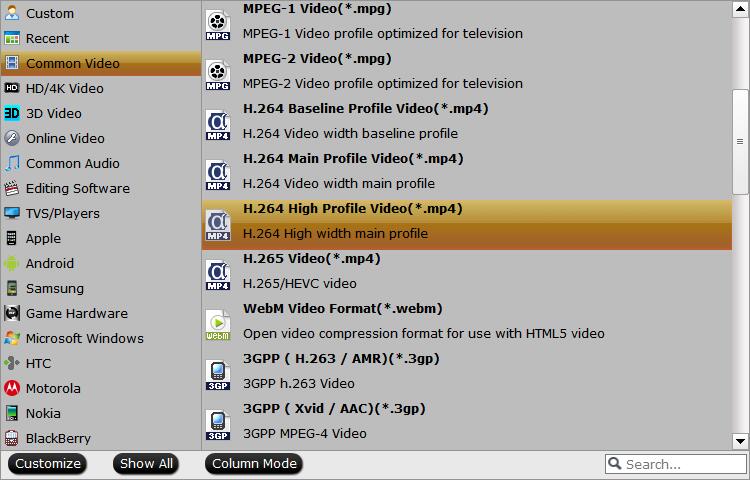 Step 3: Click "Browse" to set a destination folder to store the ripped DVD movie video, and hit "Convert" button to start converting DVD to digital copy at a superfast speed with best Handbrake alternative.