Home
>
Resource
>
DVD Ripping Tips
>
Copy DVD to Hard Drive
Posted by Chris Ellison - Sep 17, 2022 | Contact Author

Best 3 Ways to Copy DVD to Hard Drive Easily and Fast
How to fast copy DVD to Hard Drive on Windows 11/10/8/7 and Mac? DumboFab DVD Ripper, VLC, Handbrake are the top 3 software tools to choose.
Most DVD collectors have needs to keep their discs for longer time without being scratched, broken or lost. However, physical discs may encounter various accidents due to various reasons. So, why not make a digital copy of our DVD collection to computer or external hard drive before discs get damaged? If we save DVDs to hard drive, we can watch the movies anywhere without having the discs along, we can protect our discs and gain many more benefits. So how to copy DVDs to hard drive?
Nevertheless, you cannot directly copy the commercial DVD content to a hard drive due to various encryptions. Fortunately, there are still many programs out there that allow us to remove the copy protections and get the content out of DVD discs onto hard drive. Here we single out 3 popular ways on market and illustrate how to quickly rip and copy DVDs to hard drive on Windows 11/10/8/7 and Mac within simple clicks.
Is It Possible to Copy DVD onto Hard Drive Directly
※ For burned and homemade DVDs that come without any copy protection, you're allowed to directly copy the DVD files and drag the content to internal or external hard drive for backup purpose. It's pretty easy.
Solution:
● Step 1. Insert the DVD into the disk drive.
● Step 2. Double-click the DVD drive. Find and copy all of the DVD's contents and files like ISO image or DVD folder. In the ISO image or folder, you can see the actual movie files such as VTS_01_1, VTS_02_1, VTS_03_1, and etc..., each representing a Chapter.
● Step 3. Open the hard drive, then copy and paste DVD files to the hard drive.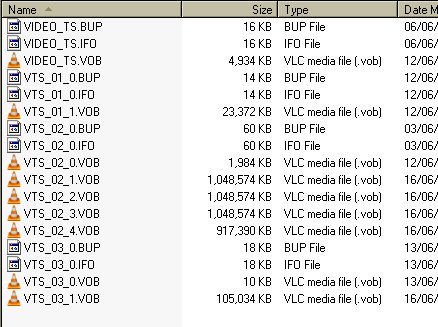 ※ For commercial DVDs, when you extract the video_ts folder from DVD to your laptop/desktop hard drive, the file seems to end midway with error message as below.
In fact, almost all DVD movies and TV shows are armed with one or more copy protection schemes. These schemes are stored in the normally inaccessible lead-in area of the disc, as a move to prevent the files from being copied directly. That's why you end up with failure when trying to copy encrypted DVD contents to hard drive directly. As a result, a professional DVD ripper is required. Below we'll introduce three programs to copy protected DVDs to hard drive.
Part 1. How to Copy Any DVD to Hard Drive Easily and Fast with DumboFab DVD Ripper
There are many programs out there that allow you to make copies of your DVDs. But if you do not want to compromise on the quality and to look for the best option to copy, rip and digitize DVDs to hard drive, DumboFab DVD Ripper will be your best choice. It can cope with any homemade and commercial DVD regardless of copy protections and region codes.
With it, you can easily make 1:1 DVD to DVD folder or a single VOB file losslessly and keep 100% original videos/audios/subtitles within only 5 mins. Moreover, you can also extract the content out of a DVD and save it in popular video format such as MP4, AVI, WMV, MOV, etc which is readable by external hard drive HDD, SSD, USB, NAS, thumb drive, and the like.
Now download DumboFab DVD Ripper Windows or Mac version below to your computer and follow the steps to transfer your DVD collections to hard drive.
Step 1. Add the Source DVD disc/Folder
Insert the target DVD disc into your DVD-ROM. Open DumboFab DVD Ripper and lick "Load DVD" button to import souorce DVD. A couple of seconds later after loading DVD, all titles will be presented and main title will be selected automatically.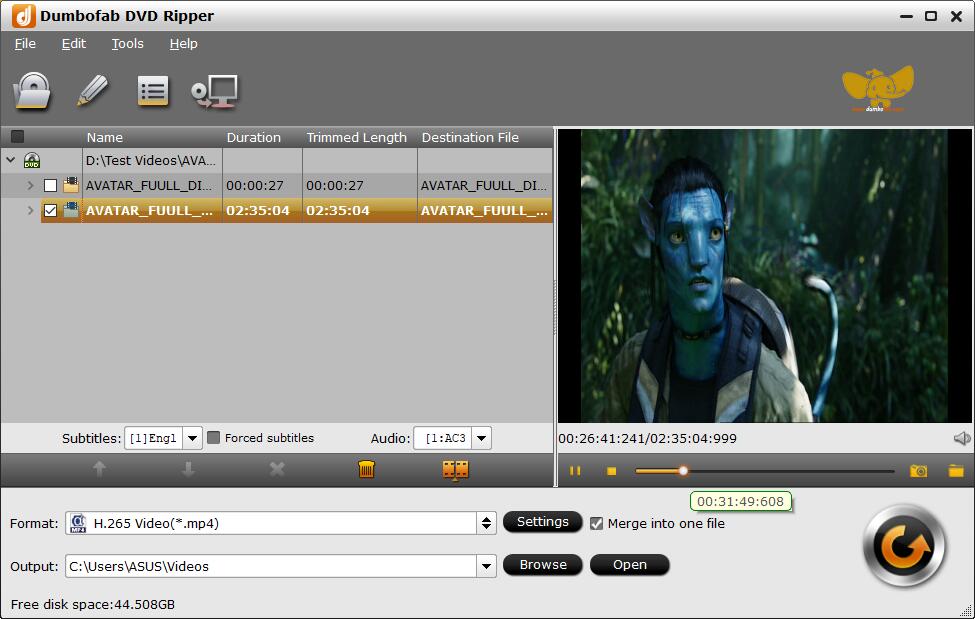 Step 2. Select the Output Format for Your Hard Drive
On the Format panel, there are 400+ profiles including popular video/audio formats and device-specific presets. You can choose to copy DVD to any format you need. Below are some suggestions for different demands.
1. If you want to copy DVDs in 1:1 to hard drive without quality loss, you can click "Copy the entire disc" button to backup the full DVD content with original disc structure. Or you can click "Format" > "Copy" > "Directly Copy" to copy the main movie title as a single .VOB file.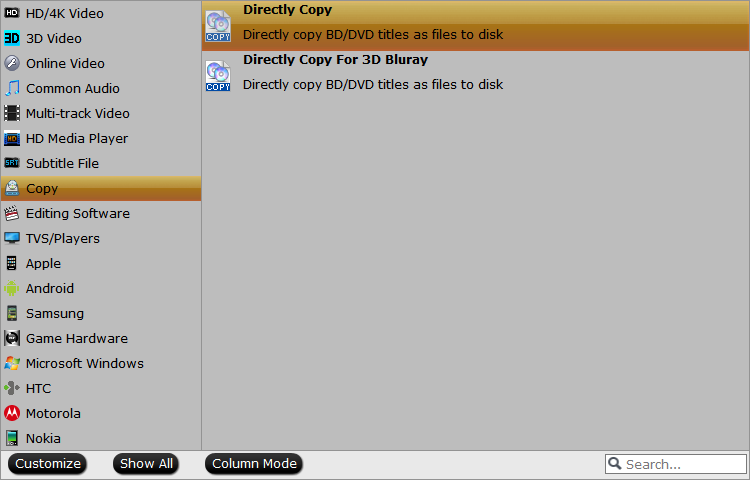 2. If you want to copy DVD to a space-saving and mainstreaming format for later storing into hard drive, you have much more choices such as MP4, WMV, AVI, and MOV.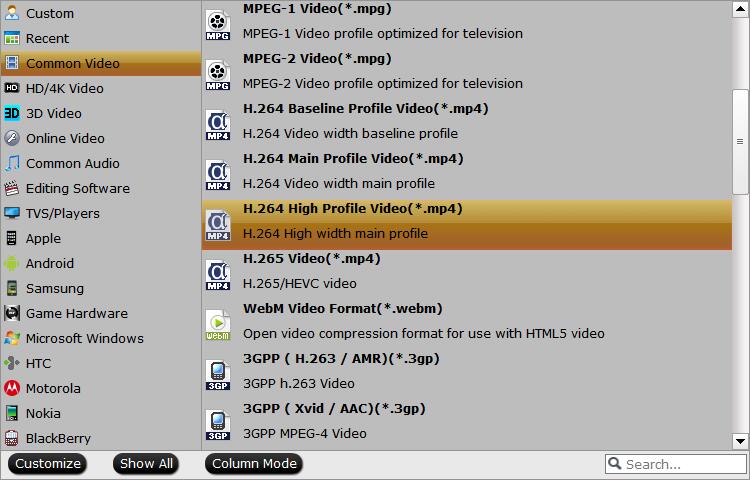 Tips: DumboFab DVD Ripper's backup mode neither degrades video quality nor reduces file size (movie size stays almost the same as original 4.7GB or 8.5GB). If you have some portable hard drives that are formatted in FAT32, with restrictive 4GB file size limit, it's suggested to rip DVD to MP4 H.264, for it strikes a perfect balance between file size (around 1-1.2GB) and output quality.
Step 3. Choose Where You Want to Save the DVD Copy File.
Click "Browse" button at the bottom to specify the destination folder. If you want to copy DVD to external hard drive to watch on TV, connect the external HDD to your computer and choose it as the destination.
Step 4. Start Copying DVD to Hard Drive.
Hit the big "Convert" button to start ripping DVD to hard drive. The ripping time depends on your settings and computer performance. Generally, it will take 5-15 minutes to copy or digitze a full DVD.
Part 2. How to Copy DVDs to Hard Drive Free with Handbrake
Handbrake is a popular yet free DVD ripper among users running Windows, Mac, and Linux. There is no more DVD decryption feature built in Handbrake since the version 0.9.3. But you can still rip some protected discs to MP4, MKV or WebM, if with VLC libdvdcss installed. By loading the libdvdcss library in the application folder, Handbrake will dynamically read CSS and region-locked DVDs.
Note: HandBrake doesn't have DVD copy feature and Handbrake's native DVD transcoding results in quality degrading. So you cannot rely on Handbrake to make a lossless DVD backup.
Below are steps to copy DVDs to hard drive using Handbrake.
Step 1. Get HandBrake.
Download and install HandBrake on your computer.
Step 2. Install libdvdcss on Windows or Mac.
The process of installing libdvdcss a little different for Windows and Mac users. For details, you can go to this article "How to use Handbrake to rip protected DVDs" to learn more.
Step 3. Import Source DVD
Open Handbrake, load the DVD from the Source Selection. It will take some time to scan the DVD titles. If the DVD you try to copy to hard drive has 99 titles or is protected with RCE, Disney X-project DRM or Sony ARccOS, you are likely to get an error message like "No valid source or titles found". In this case, I'm afraid that you'll have to resort to other professional DVD decrypters for help.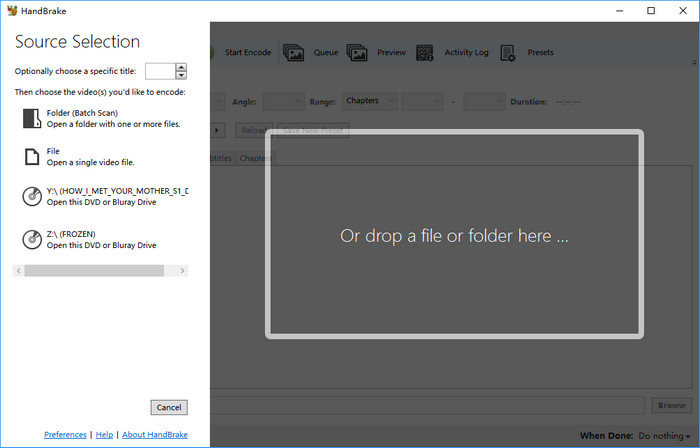 Step 4. Specify DVD Title
Choose the title you want to convert and copy to hard drive and adjust the angel and chapters you want to retain. The auto-selected title may be not the movie title. You'd better check it before ripping.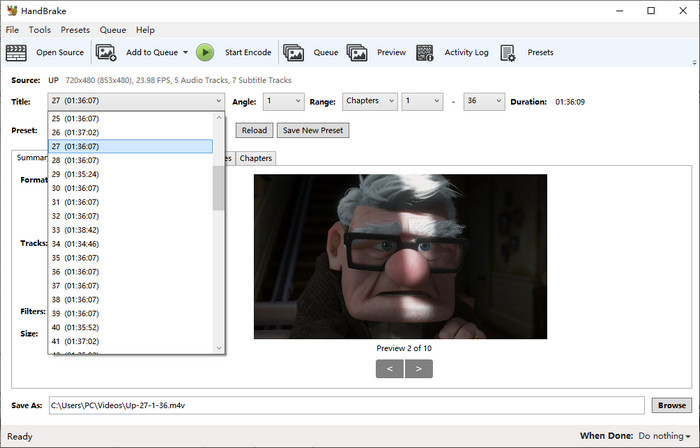 Step 5. Choose Preset
In the drop-down box of Preset, choose a preset as per your needs. Remember higher quality results in slow DVD converting speed and more space occupation of your hard drive.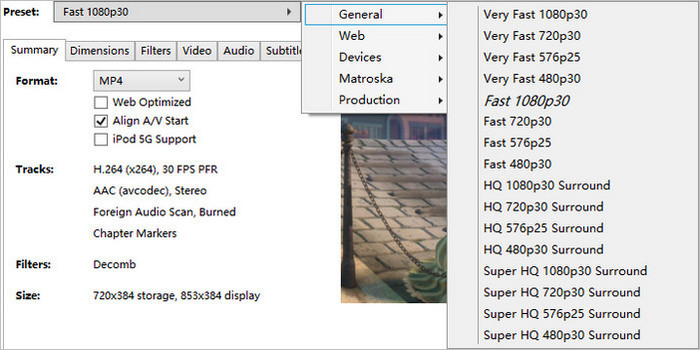 Step 6. Choose Audio and Subtitle Track
Under Preset, you'll find seven tabs, namely Summary, Dimensions, Filters, Video, Audio, Subtitles, and Chapters. You can click on each tab and check if everything is set up exactly as you would like. You can click the Dimensions tab to change resolution, click Filters to turn on or turn off deinterlace, denoise, and more, click Video to specify video codec, bitrate, and framerate, click Audio to choose audio language and codec, and click Subtitles to specify subtitle language and whether you want to burn the subtitle into the DVD rip file or leave it as a standalone subtitle file.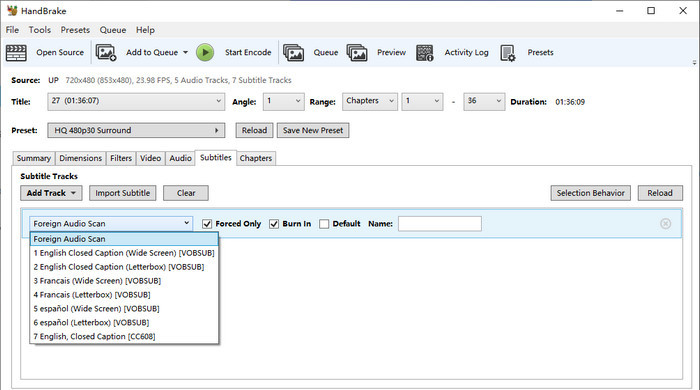 Step 7. Start Copying DVD to Hard Drive.
Click the Browse button to choose a folder of your hard drive as the destination and click Start Encode to begin ripping DVD to hard drive. Compared with DumboFab DVD Ripper, HandBrake will take a longer time to finish the copying procedure. During our test, it runs at speeds of 110-130fps. We often see complaints about its slow encoding speed on Reddit and the like.
Part 3. How to Copy a DVD to Hard Drive Free with VLC
VLC proves itself a solid choice with its simplified interface and powerful DVD decoder feature. Besides a full-fledged media player that supports a pretty extensive list of video and audio formats, it offers an easy way to transcode video/DVD to MP4 H.264, H.265, WMV, Webm, and more, with no need for extra codec packs.
However, VLC comes with a few trade-offs. VLC just supports ripping CSS and regional discs. You can't decrypt and rip a sophisticatedly-protectedd DVD with VLC, and you have no control over the conversion - resolution, bitrate, frame rate, deterlacing, aspect ratio, volume and more. Just like Handbrake, VLC cannot export Video_TS folder either.
If you insist on copying DVDs to hard drive using VLC, you can follow the steps below.
Step 1. Download, install and run the VLC media player. Insert the original DVD to the disc drive that you want to copy to hard drive.
Step 2. Open VLC and click Convert/Save... under Media menu in the top left corner of the main interface. Click the Disc button to load the DVD disc.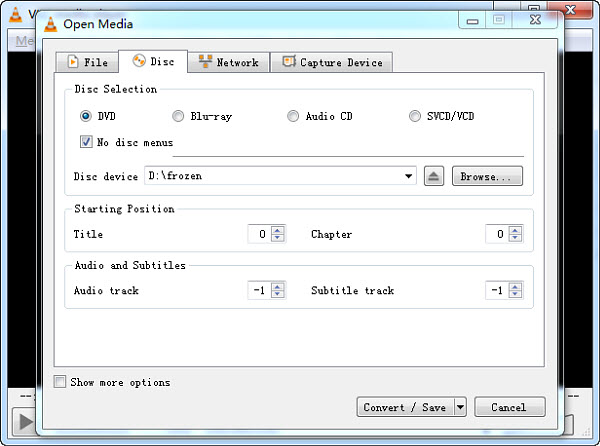 Step 3. Once the DVD movie in the Disc Device is loaded correctly, you can do some tweakings. Under Starting Position, you are available to choose which title or chapter you want to rip. Just leave this at the default if you want to rip the whole movie. Under Audio and Subtitles, you can also choose the specific audio or subtitle track as per your needs.
Step 4. Click the Convert/Save button once you finished the settings. Alternatively, you can also go to the Open Disc from Media tab > browse and choose DVD locatoin at Disc Drive > choose Convert from the drop-down menu next to the Play button.
Step 5. When the Convert window pops up, select a video format from the Profile dropdown menu.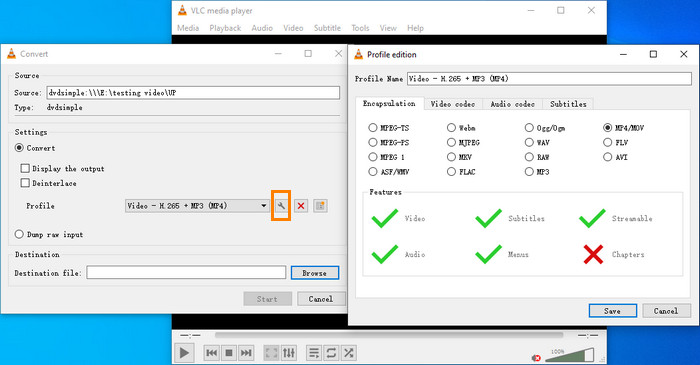 Step 6. Click Browse button to save the converted movie. Then click the Start button and convert a DVD to MP4, WMV, WMV, WebM or other file for later copying to hard drive. You can see the progress bar under the playback window.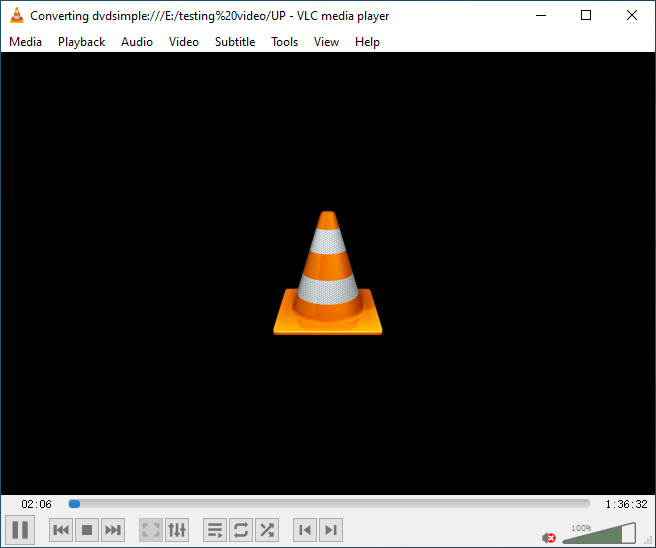 There is a caveat: VLC doesn't rip all commercial DVDs to hard drive. If you fail to copy protected DVDs to hard drive, you can try DumboFab DVD Ripper for help.
Part 4. Frequently Asked Questions about Copying DVD to Hard Drive
1. How to copy DVD to hard drive on Windows 10/11?
DumboFab DVD Ripper is compatible with Windows 10/11. You can download and install the DVD to Hard Drive converter software and follow the steps mentioned above to copy the DVD on Windows 10/11.
2. What format do you need to copy DVD to external hard drive to play on TV?
If you want to rip a movie DVD to external hard drive for later playing on TV, you should make sure the format of the DVD rip file is supported by your TV. For example, below are some of the general video formats supported by most common TVs.
● Apple TV: H.264 video in .m4v, .mp4, and .mov.
● Roku TV: H.264/HEVC in MP4, MOV, M4V, MKV and VP9 in WebM.
● Sony TV: MP4, MPEG, WMV, MTS formats, etc.
● Samsung TV: AVI, MKV, MP4, MOV, etc.
If you use DumboFab DVD Ripper, you can rip the DVD to any of the formats in USB based on your TV model. You can also scroll down the output list to TV Video where you can find some TV output presets.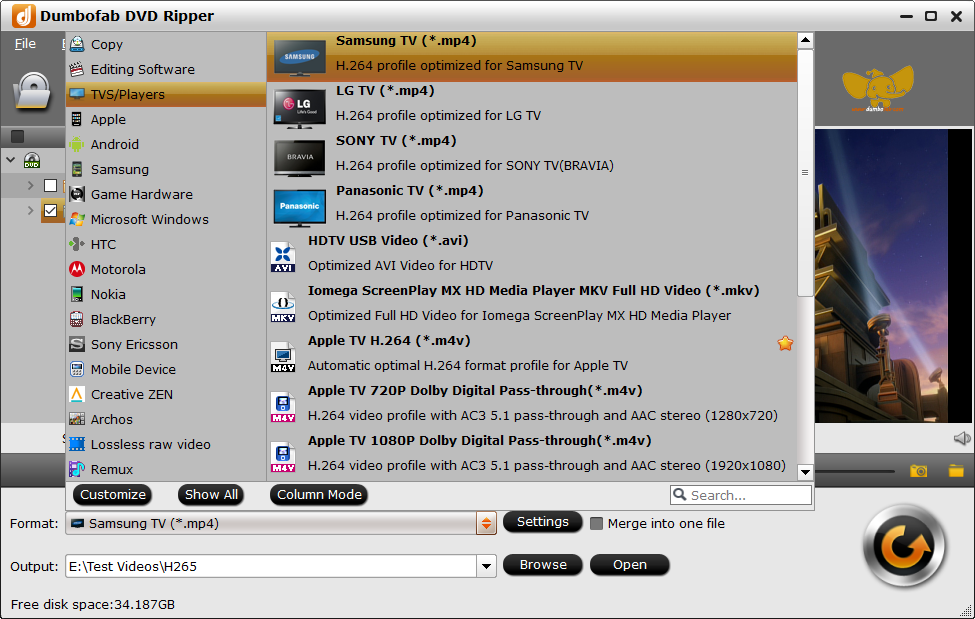 3. Is it legal to rip a DVD that you own to hard drive?
Whether it is legal to rip DVD that you own for personal use depends on where you live. In the US, it is illegal to rip a copy-protected DVD. But some countries may have different laws. Although you are probably not allowed to do that by law, you probably won't get sued/caught as long as you don't distribute the copies.
4. Can I copy DVD to Mac hard drive for free?
It depends. Mac offers built-in app Disc Utility to directly copy home movies from DVD discs to hard drive so that you can get rid of binder full of discs. But apple removed the ability to burn disc images from Disk Utility from MacOS High Sierra, Sierra, and newer. If you need to transfer protected DVDs and save copies into your hard drive as MP4 or other space-saving formats, please refer to the Mac version of DumboFab DVD Ripper for help.
5. What is the best format to rip DVDs onto a hard drive?
It depends on how you want to use the digital copy of your DVD. If you want to make an exact copy of a DVD, you can choose to save as Video_TS folder or a single VOB file. If you want to save main movie only and play without format incompatibility issue, MP4 is the best choice, allowing to stream the copied file on TV, PC or laptop and more.
6. How to copy vob files from DVD to hard drive?
● Step 1. Install and run DumboFab DVD Ripper, then load target DVD by clicking the Load Disc button.
● Step 2. Click "Copy the entire disc" button, the program will start to copy the whole disc content immediately.
● Step 3. Once done, you'll get a VIDEO_TS folder with a number of vob files in your hard drive.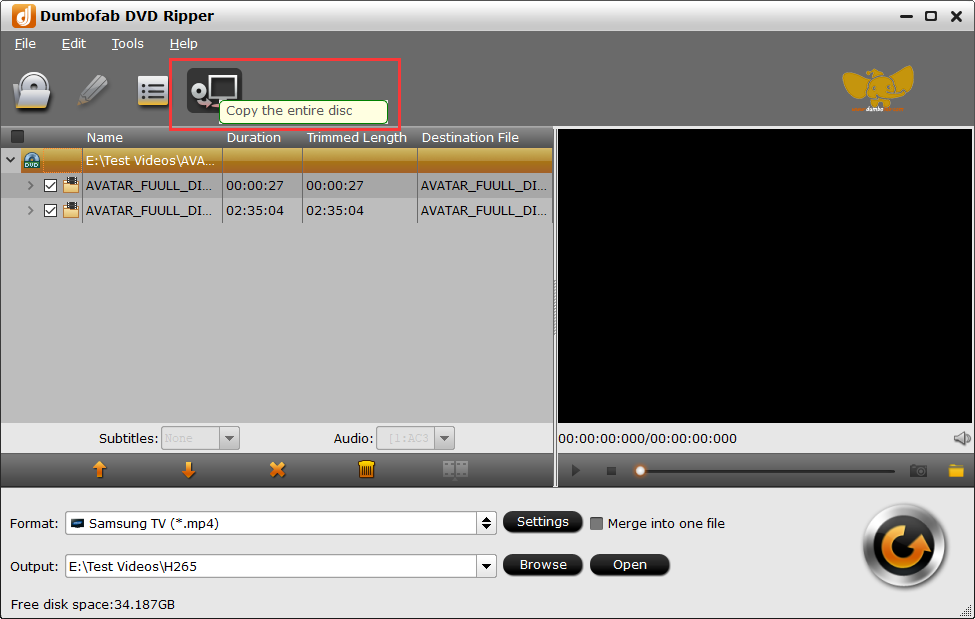 7. What is the fastest way to copy DVD to hard drive?
Among these methods mentioned above, DumboFab DVD Ripper is the fastest way because it supports multiple speed-boosting technologies including GPU hardware acceleration, multi-core CPU, and Hyper-threading. It can reach 300-400fps when ripping a DVD to MP4. Put another way, a 2-hour DVD can be converted to MP4 within 10 minutes only. In contrast, HandBrake may need hours to finish this.