Home
>
DVD Ripping Tips
>
Copy DVD to USB Flash Drive
Posted by Chris Ellison - Nov 16, 2021 | Contact Author

How to Copy DVDs to USB Flash Drive to Play on TV/Car/Laptop
Follow this article to learn how easily and fast copy DVDs to USB flash drive for more convenient DVD playback and management.
With the dramatic reduction of DVD players and disc drives in the new digital era, it's time to digitize DVDs to free them from the shiny silver prisons for more flexible playback. And copying DVD digital copies to USB flash drive is a good idea to play your DVD movies or TV shows anywhere anytime without carring DVD drive or space-consuming DVD discs around. Since modern USB has enough storage and it is one of the best devices where you can store all your favorite data and you can easily bring with you while you're traveling or going for vacations.
However, in most cases, we cannot copy the DVD content to USB flash drive directly. The proper solution is to rip and convert DVD to digital files and then transfer the digital files to USB for later playback on your TV, car, laptop. etc. Here is a simple way to help you get the job done.
Why Shouldn't You Copy DVD to USB Flash Drive without Digitizing & Ripping
Generally, we say rip DVD to USB instead of "copy DVD to USB". So, what's the reason? Well, almost all store-bought DVD movies and TV shows are encrypted with one or more copy protection schemes. These schemes are stored in the normally inaccessible lead-in area of the disc, as a move to prevent the files from being copied directly. And this is the main reason why you will end up with failure when trying to copy the encrypted DVD contents directly to USB flash drive, SD card, memory stick, media server or other storage media.
Therefore, to transfer DVDs to USB for later playback freely, you'll need a DVD ripper that can remove copy protection from DVD and rip DVD to digital formats.
Get an Easy-to-use Tool to Rip and Transfer DVD to USB Flash Drive
DumboFab DVD Ripper - Your best choice to fast rip DVD to any digital formats for USB, Cloud, SD Card, etc.
● Digitize DVD to MP4 (H.264/HEVC), MOV, AVI, MKV etc. for saving on USB, cloud, or external hard drive to watch on PC, TV, phone, tablet, etc.
● 1:1 backup a whole DVD with original disc structure or copy DVD full title/main title to a single VOB file with original quality kept.
● Feed any DVD to it, be it old DVDs, new releases, 99-title DVD, AACS 2.0 DVD, DVD with playlist obfuscation, bad sector/damaged disc.
● Finish ripping, copying and conversion at ultra-fast speed using advanced hardware acceleration.
Free download the best DVD to USB converter for PC or Mac
How to Rip DVD to USB Flash Drive with DumboFab DVD Ripper
DumboFab DVD Ripper is an clean, safe and fast DVD conversion software which is able to cope with any copy-protected DVDs. It is extremely easy to use if you need to copy DVD movies to USB flash drive. The following how-to guide on Windows PC can be taken for reference.
Step 1. Load your DVDs.
Launch the DVD ripping software, click "Load Disc" button on the interface, and you can add any or your source discs. More surprisingly, you are allowed to directly load DVD folder or ISO image from your hard drive to the program.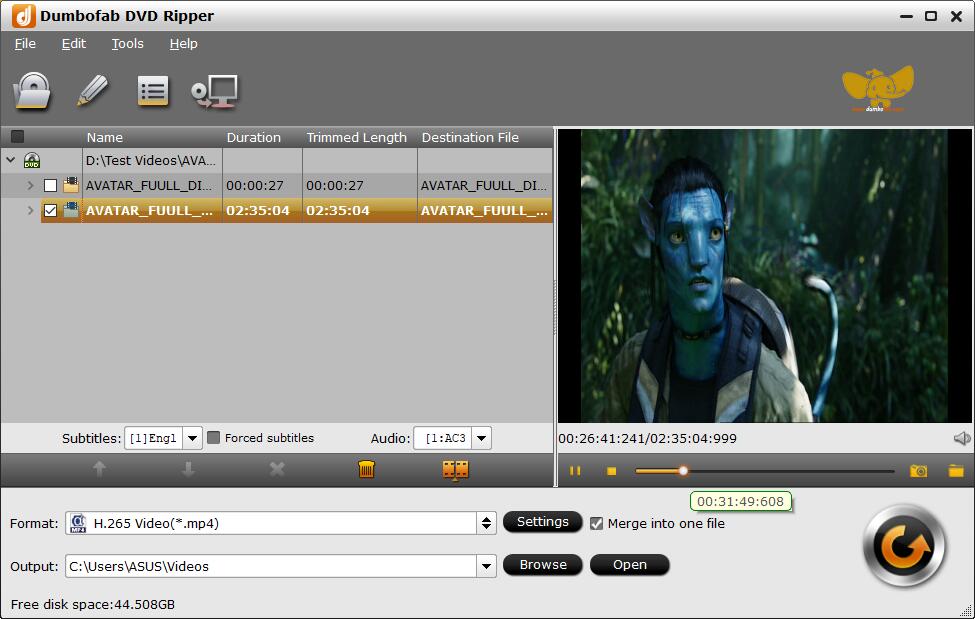 Step 2: Select an output format.
You can save files in any format to the USB flash drive. Below are some best settings:
1. If you want to copy DVDs to USB to play on TV, computer and desktop or other devices, select H.264 MP4 for its wide compatibility, good quality and small file size. You can adjust the subtitles, audio tracks, edit, etc.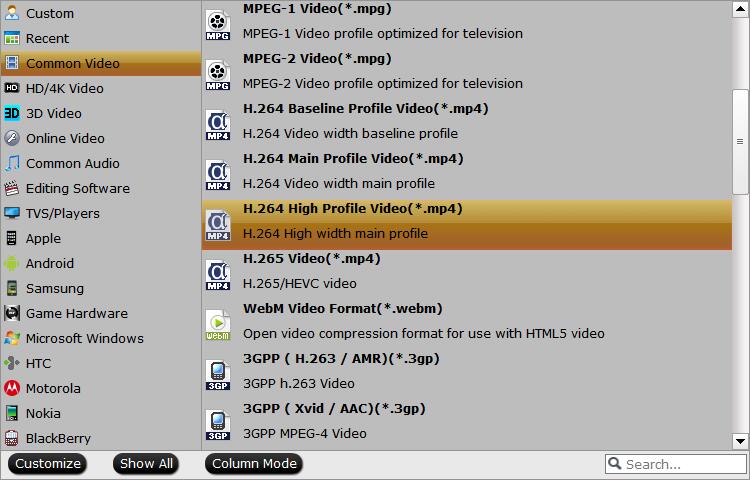 2. If you want to copy DVDs in 1:1 to USB drive without quality loss, you can click "Copy the entire disc" button to backup the full DVD content with original disc structure. Or you can click "Format" > "Copy" > "Directly Copy" to copy the main movie title as a single .VOB file.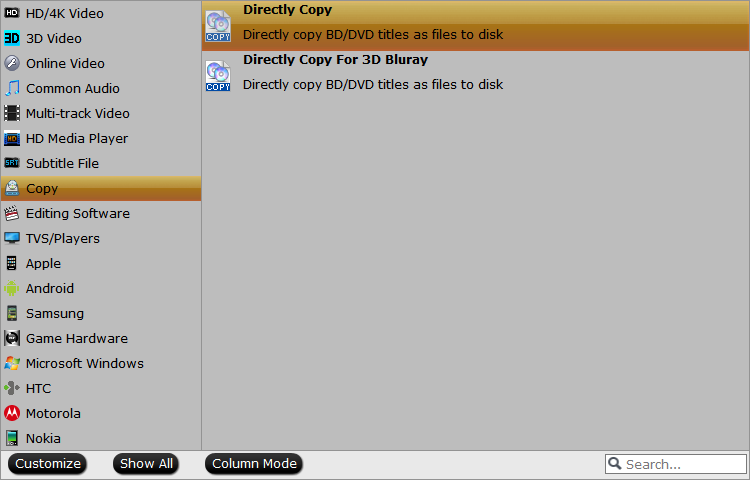 Step 3: Start ripping the DVD for USB.
Optionally, you can click "Browse" button to choose any location on your computer disk or directly set your USB drive as the destination to save the output files. After that, hit the big "Convert" button to start the rip. A few minutes later, you will get the digital DVD video and transfer the DVDs to the USB flash drive.
Something You Gotta Known to Play DVD Digital Copies from USB
1. Make sure your player has USB port
First of all, you need to make sure that there is USB port on your end media player device. Most TVs (HDTVs) have USB port, allowing you to playback media through flash drive. You may also copy DVD to USB for playing on cars.
2. Figure out output formats for DVD to USB
Simply speaking, USB stores anything, like media files, docx files, photos, etc. To copy DVD to USB flash drive for playback later, you need to know what file formats are supported by the player device. Sometimes you also need to check the USB supported media type by a specific TV.
● Apple TV supports H.264 video in .m4v, .mp4, and .mov container formats.
● Roku TV supports H.264/HEVC in MP4, MOV, M4V, MKV and VP9 in WebM.
● Sony TV support USB input on TV in MP4, MPEG, WMV, MTS formats, etc.
● Samsung TV accepts DVD to USB in AVI, MKV, MP4, MOV, etc.