Home
>
Resource
>
DVD Ripping Tips
>
Rip and Upload DVDs to Cloud
Posted by Chris Ellison - Jan. 07, 2021 | Contact Author

How to Rip and Upload DVDs to Cloud Storage Device (Network Disk)
While you may get your movies and TV shows digitally, you probably still have a DVD collection. You can certainly watch these DVDs the usual way, with a DVD player or a DVD drive on your computer, but wouldn't it be great to upload your DVD library to cloud storage services so that you can be able to access to your file library through Internet on various platforms anywhere? Moreover, saving DVD to cloud also saves up on your local storage space and keeps you from troubles like disc loss, scratch, damage.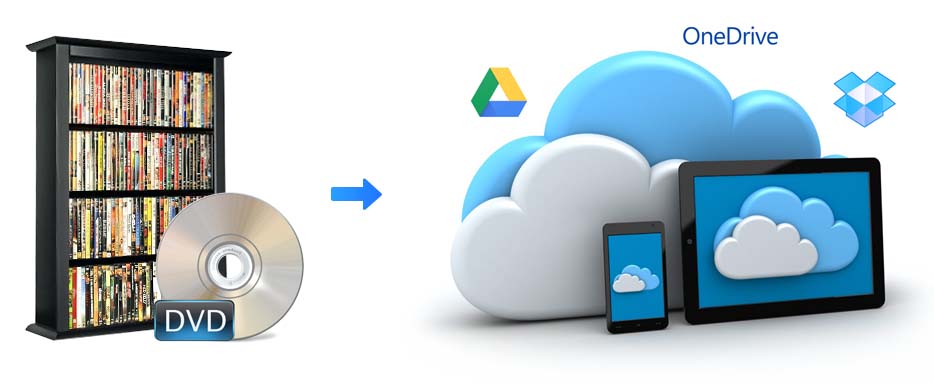 Nevertheless, you cannot get access to the store-bought (commercial) DVD content by direct copying them to cloud services due to the copy-protections. To store your DVDs to Google Drive, Dropbox, Amazon Cloud, Apple iCloud or other cloud services, the efficient solution is to rip DVD to cloud-friendly digital formats and then save digital copies to cloud for later streaming to Chromecast, TV, Roku, Plex, etc. Actually, the process is very straightforward and simple along with some help a proper third-party DVD ripping software tool.
Get An Easy-to-use and Powerful Tool to Store DVD library to Cloud for backup
There are numbers of paid or free programs that claims to rip and digitize DVD discs. We can call out several big names like HandBrake, VLC and Format Factory. These free programs shares similar workflows but also produces alike troubles: it takes too long, the output is not as good as the original DVD, can't decrypt DVD protections, and even the process is very complicated for beginners.
If you're looking for an easy-to-use yet powerful tool for ripping any DVD to digital formats supported by cloud (Dropbox, iCloud, Google Drive, etc.), DumboFab DVD Ripper will be your best choice. This software is available to cope with both home-made and store-bought DVD discs without hassle. Its features include but are not limited to:
• Transcode DVD to MP4 (H.264/HEVC), MOV, AVI, MKV etc. for saving on cloud, hard drive, or playing on PC, HDTV, phone, tablet, etc.
• Aadjust resolution, bit rate, codec, etc to produce optimal file size to reduce the bandwidth consumption and save DVD to cloud uploading time. Specifically, the ripped file is 1GB-1.4GB for a full movie, a 80% space saving. Plus, there're 350+ ready profiles for AVI, WMV, MOV, iPhone, iPad, Android.
• Amazing fast speed to finish DVD ripping with the support for GPU hardware acceleration.
• Conquer all types of DVDs, from new discs, 99-title, slightly damaged, Japanese, regional, workout to non-standard DVDs.
Before start ripping DVD to digital for cloud, let's take a look at the supported formats by different cloud storage services.
| | | |
| --- | --- | --- |
| Cloud storage service | Supported Video Formats | Supported Audio Formats |
| Google Drive | WebM, .MPEG4, .3GPP, .MOV, .AVI, .MPEGPS, .WMV, .FLV, .ogg | MP3, MPEG, WAV, .ogg, .opus |
| Dropbox | .mp4, .mov, .mkv, .mpeg, .mpg, .mts, .avi, .dv, .3gp, .asf, m2ts, .webm, .vob, .wmv. | .aac, .aif, .aiff, .flac, .m4a, .mp3, .wav |
| Amazon Cloud | MP4, QuickTime, AVI, MTS, MPG, ASF, WMV, Flash, HEIF, HEVC, and OGG. | MP3, MP4, FLAC, OGA, OGG, and WAV |
| Microsoft OneDrive | 3G2, 3GP, ASF, BMP, HEVC, M2TS, M4V, MOV, MP4, MP4V, MTS, TS, WMV | MP3. AC3 is not supported |
| iCloud | MP4, MOV | AAC, MP3, FLAC, AC3 |
Tutorial: How to Convert DVDs to Cloud-Friendly Formats with DumboFab DVD Ripper
Step 1. Load source DVD.
Input the DVD disc to DVD-ROM. Launch DumboFab DVD Ripper and click the Load DVD button to import the original DVDs you want to put into cloud. It also supports DVD Folder and ISO Image. The DVD ripper supports advanced encryptions like navigation algorithm used in multiple titles. It will easily detect the correct title hiden in DVDs from Disney, Sony, Paramount, etc.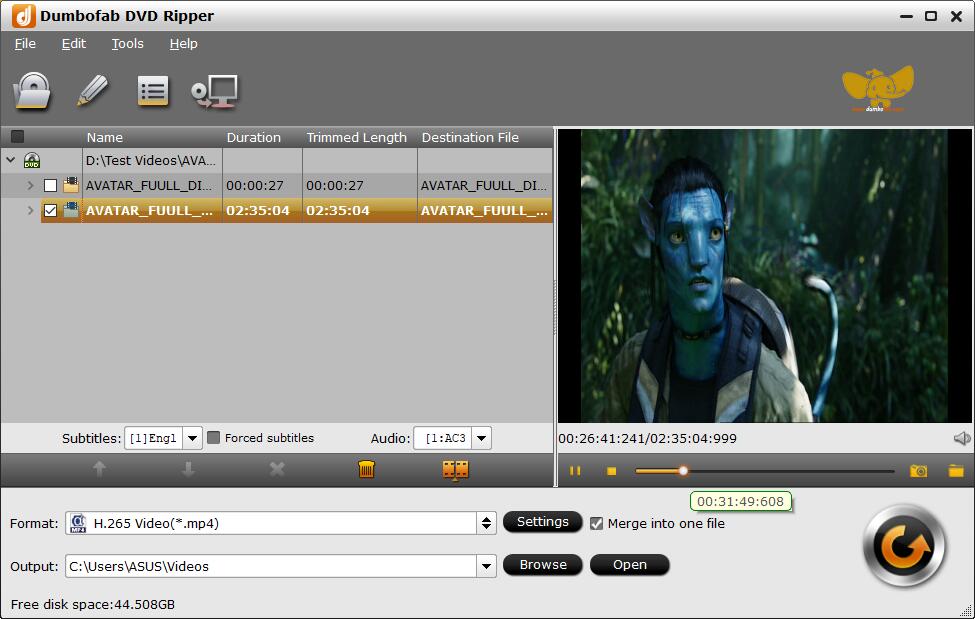 Step 2. Choose a proper output format for cloud storage.
Choose a desired output format profile. If you'll archive the result file into cloud, make sure the chosen format is supported by the cloud storage service you use. Basically, MP4 (h.264+aac) is recommended, as it strikes the best balance between file size and output quality which is an universal format supported by almost all cloud storage service and multimedia devices. And you can refer the above table to get the best format for your final cloud storage service.
If you desire to play the converted DVDs on Apple TV, iPad, iPhone Samsung table, PS4, Xbox One and any of other portable device, you can choose directly an optimal preset for your device from the correspoding Device category.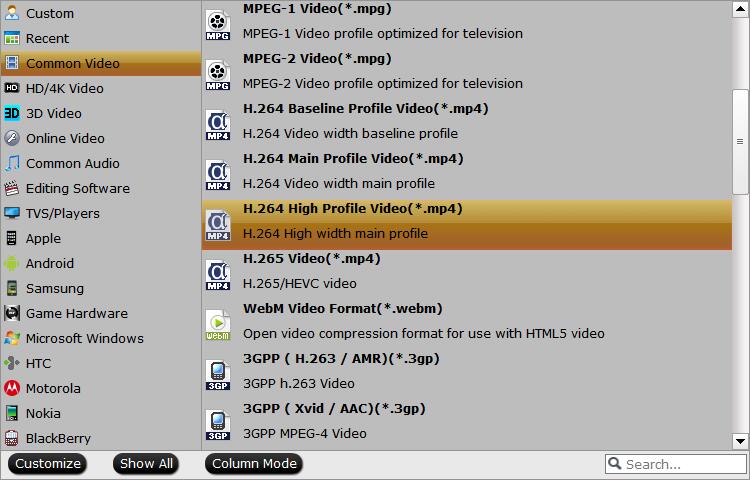 Tips: Flexible options are offered to further reduce the size of the ripped MP4 video. Click the Settings button beside the profile bar and enter into the "Profile Settings" window. A slew of other variables such the video/audio codecs, pixel dimensions, frame rate, bit rate, audio sampel rate, etc. will help convert a DVD at 7.5GB to a smaller MP4 file at 1.0GB-1.4GB.
Recommended video size settings for digitizing DVDs to Cloud:
◈ You're not suggested to adjust the frame rate and aspect ratio, if not necessary.
◈ Lower the bitrate to a lower level. For example, adjusting the original medium quality to bitrates of around 1500-2000 is acceptable without noticeable pixellation.
◈ Lower the resolution. Typical DVD videos are 720×480 (NTSC) and 720×540 (PAL). Adjust the resolution to 640×480 won't make any quality difference.
Note: Adjusting these variables have some effect on the re-encoded video quality. Remember the file size and video quality is based more on bitrate than resolution which means video/audio bitrate higher results in big file size, and lower visible quality loss.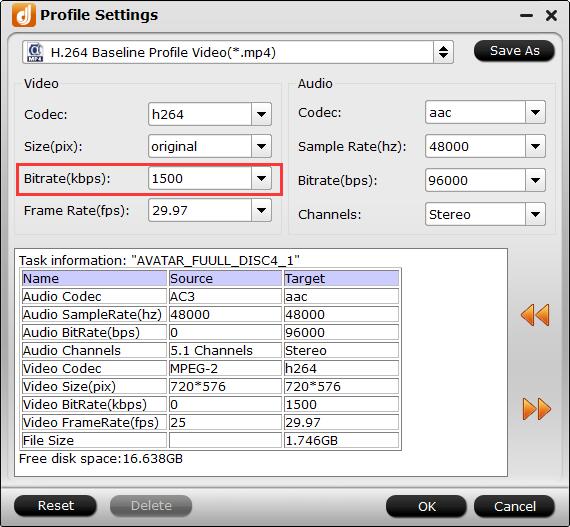 Step 3. Start the DVD to Cloud ripping.
Finally, click the big "Convert" button to start ripping the movie to the digital file accepted by your cloud storage device.
Step 4. Save and Upload the DVD digital copies to Cloud.
Once being converted to digital files, your DVD rips can be transferred to the cloud service such as Dropbox, OneDrive, Google Drive, Amazon Drive, and iCloud. They will keep your DVD digital library secure and allow you to stream them on demand to whatever cloud-compatible devices.
It is easy to upload the converted DVDs to cloud. Take Dropbox as an example. You just need to: open and sign in to dropbox.com -> click Upload -> choose Files or Folder to select target Blu-ray digital copies for sending to cloud. Certainly you can also upload videos via Dropbox application.