Home
>
Resource
>
DVD Ripping Tips
>
Best Practice to Rip DVDs for Plex
Posted by Chris Ellison - Mar 18, 2022 | Contact Author

How to Rip DVDs for Streaming over Plex with Best Results
Thinking about ripping my DVD collection to my plex media server (so I can take my DVDs to storage and free up some space in my living room. Wondering what the best practice/software/settings are. Most info I find is from 2014 or older.
Plex is a free media software that can organize all your collected movies, TV shows, music, and photos and present them to you on devices like smart TVs, Roku, Apple TV, Amazon Fire TV, gaming consoles, phones, tablets, and way more. Powerful as Plex, it doesn't add support for the use of DVD files like DVD discs, DVD ISO, Video_TS folder, or other "disk image" formats. If you wish to stream and play these contents thru Plex, you'll need to convert them into Plex compatible formats. That means you may have to rip DVD to Plex supported digital formats first. After that, park the ripped DVD movies on single computer with the Plex server software installed, and then you install Plex on on all your other devices and watch them with no hassle. If you're looking for the easiest and fastest way to stream and play DVDs via Plex media server, you've come to the right place.
In this article, we will also look at what's the optimum format for Plex and how to convert DVDs to Plex supported video formats with best quality in a smaller file size. Keep on reading to find the details.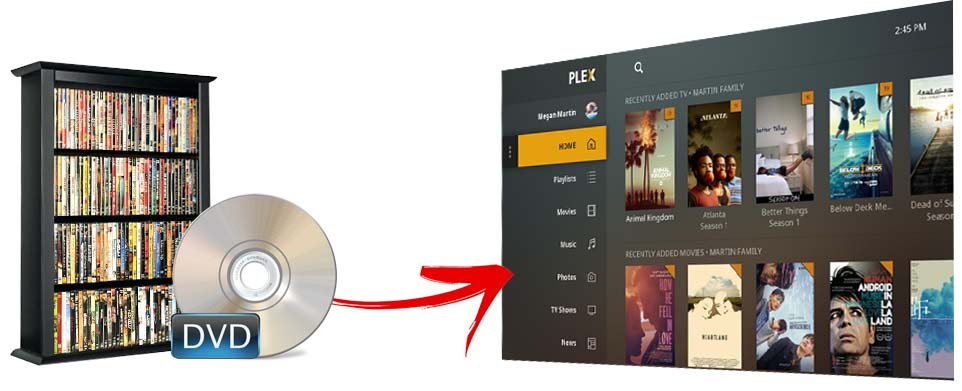 Part 1. What's the Best Format for Ripping DVD to Plex Media Server
Before the task, we need to make sure what formats Plex can accept. The fact is that Plex's media compatibility and video quality limitations vary by devices. The typically native supported codec of Plex and multimedia device is MP4 with the H.264 and AAC codec. You can play videos or movies directly with Plex if they reach the following specifications. If the 4K or 1080p video content doesn't conform to the following parameters, then the video will usually need to be either directly streamed or transcoded.
| | | | | | |
| --- | --- | --- | --- | --- | --- |
| Container | Resolution | Video Encoding | Video Framerate | Video Bit Depth | Audio Encoding |
| MP4 | 1920×1080 or smaller | H.264 (level 4.0 or lower) | 30fps | 8 | AAC |
4K UHD videos matching the requirements below can be directly played on some 4K devices recognized by Plex app:
| | | | | | |
| --- | --- | --- | --- | --- | --- |
| Container | Resolution | Video Encoding | Video Framerate | Video Bit Depth | Audio Encoding |
| MP4 | 3840×2160 or smaller | HEVC (H.265) | 30fps | 8 | AAC |
Part 2. What's the Best Program to Rip DVDs for Plex
To get the DVDs to Plex for streaming, a DVD ripping software is required. There are many programs out there that allow you to do the job. You may have heard about MakeMKV and Handbrake. In fact, they are not the best program for ripping DVD to Plex. MakeMKV just extracts the video and audio from DVD, that explains why it is fast and why the output file is very large. Handbrake also outputs a large file about 6GB when ripping a feature-length DVD movie to MP4 based on the test. Worse still, it runs sluggish and often crashes in the middle of process. Plus, the commercial DVDs aren't in their domain which they can handle with.
If you're looking for a more efficient and easier way to rip DVD collections for use with Plex, I highly recommend you another top-ranked tool - DumboFab DVD Ripper, which can rip DVDs to Plex Media Server compatible MP4 format at ultra fast speed and least quality loss. The program accepts various types of DVDs, non-commercial, region-coded, 99-title, etc.
What makes DumboFab DVD Ripper the best option to rip DVD for Plex:
● A 100% clean and secure DVD ripper for Windows 11/10/8/7 and Mac (macOS Monterey incl.)
● Rip DVDs (including encrypted, region-locked or unplayable DVDs) to Plex supported MP4 file format at super-fast speed
● Also convert DVD ISO and Video_TS folder to Plex compatible format
● Offer a number of handy preset profiles for smartphones, tablets, gaming systems, smart TVs and more.
● Freely adjust output video/audio parameters, including change resolution, codec, bit rate, frame rate, aspect ratio, etc. to fit different requirements.
● Simple edit: cut, crop, merge, rotate, flip videos; add effect, text/image watermark to videos, etc.
Part 3: How to Rip DVD to Plex in 3 Simple Steps with DumboFab DVD Ripper
Step 1. Load source DVD
Input the DVD disc to DVD-ROM. Launch DumboFab DVD Ripper and click the Load DVD button to import the original DVDs you want to put into Plex. It also supports DVD Folder and ISO Image. The DVD ripper supports advanced encryptions like navigation algorithm used in multiple titles. It will easily detect the correct title hiden in DVDs from Disney, Sony, Paramount, etc.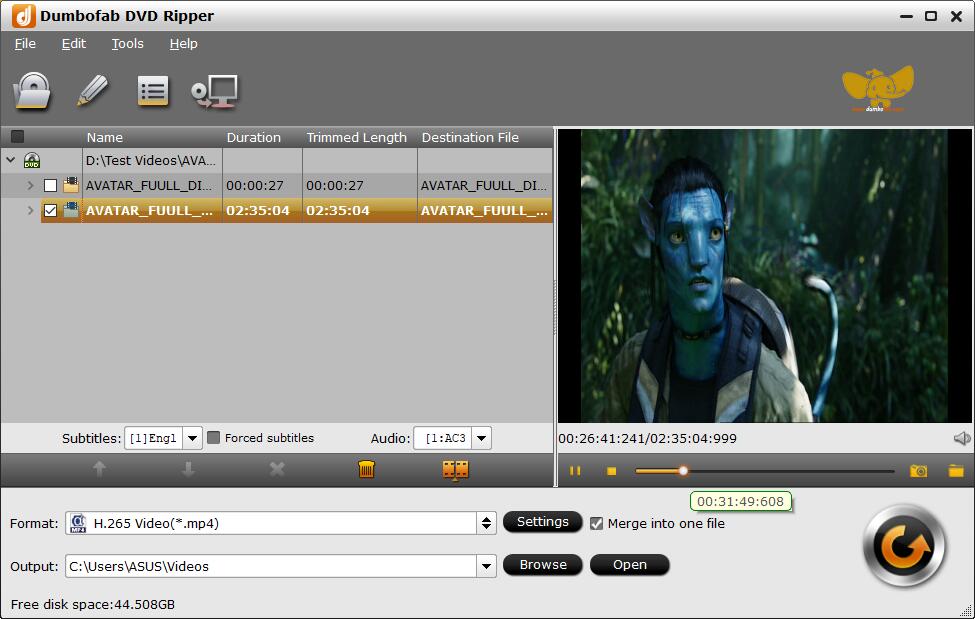 Step 2. Choose MP4 as output file
From Fomrat drop-down list, you're recommended to choose H.264 encoded MP4 from Common Video category as the output format because MP4 is is the most popular video format for Plex, other mobile deivces and media players.
To get the best possible output quality and smallest file size, choose H.265 Video(*.mp4) profile. It has 50% smaller size at the same quality. Please note that Plex's HEVC playback depends on the device you are playing on. For the most part the server will stream whatever the client is requesting. Of the devices I use, the Xbox One, Plex Media Player, and Plex for Samsung all can play HEVC content and the resolution will depend on the device.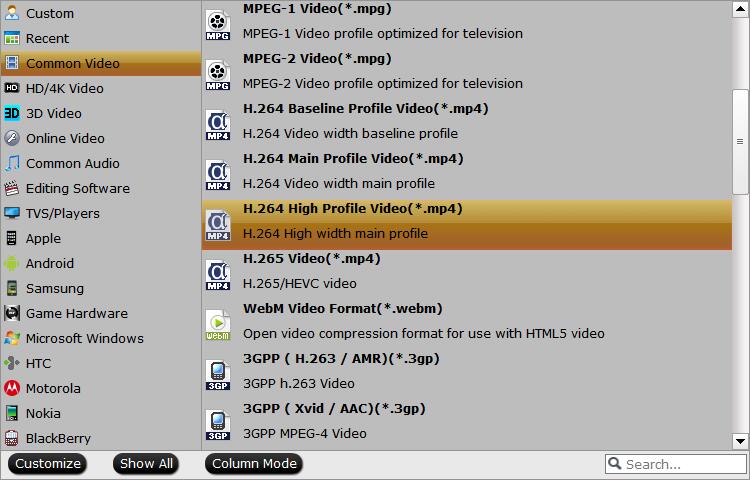 Tips: Flexible options are offered to further reduce the size of the ripped MP4 video. Click the Settings button beside the profile bar and enter into the Profile Settings window. A slew of other variables such the video/audio codecs, pixel dimensions, frame rate, bit rate, audio sampel rate, etc. will help convert a DVD at 7.5GB to a smaller MP4 file.
Recommended video size settings for ripping DVDs to Plex:
◈ You're not suggested to adjust the frame rate and aspect ratio, if not necessary.
◈ Lower the bitrate to a lower level. For example, adjusting the original medium quality to bitrates of around 1500-2000 is acceptable without noticeable pixellation.
◈ Lower the resolution. Typical DVD videos are 720×480 (NTSC) and 720×540 (PAL). Adjust the resolution to 640×480 won't make any quality difference.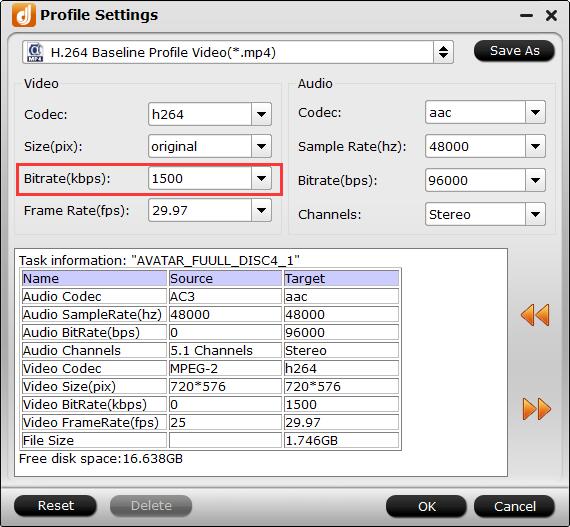 Step 3. Get ripping started
Hit the Convert button to rip DVD for Plex at lightning speed with best quality.
How to Upload DVD Rips to Plex
Then you can download, install and sign up Plex Media Server. Run Plex and click "Add Selection" and "Movies" to add the ripped DVD (digital MP4 video) to Plex. Install Plex app on any of your devices to stream and watch the DVD movie video anytime and anywhere you want.
Final Words:
DVD-Video is a consumer video format used to store digital video on DVD discs. Discs using the DVD-Video specification require a DVD drive and an MPEG-2 decoder (e. g., a DVD player, or a computer DVD drive with a software DVD player). Ripping DVDs to Plex allows you to access media files remotely via internet without the limitation of disc and hardware.
If you use your computer as Plex Media Server, the computer must be turned on while you watch a DVD movie on other devices. Because of this, some people will install Plex Media Server on NAS. NAS was designed to run 7*24 hours uninterruptedly.