Home
>
DVD Ripping Tips
>
Convert DVD Disc to Digital File
Posted by Chris Ellison - June 7, 2023 | Contact Author

How to Convert DVD to Digital on PC/Mac (Free Options Incl.)
Summary: Here we'll introduce 4 best DVD to digital converter software that can help you convert DVDs to high-quality digital copies for using on NAS, Plex, TV, hard drive, mobiles and other devices. Also 2 popular DVD to digital services are introduced if you don't want to digitize DVDs on your own.
Nowadays video entertainment gradually shifts from disc to digital and streaming services have become the main way to watch movies. While you may get your movies and TV shows digitally, you probably still have a big collection of old home videos, movies, and TV series on DVDs. You can certainly watch these DVDs the usual way, with a DVD player, but wouldn't it be a great idea to convert DVDs to digital formats?
Once you convert DVD to digital, you can easily access your favorite DVD movies and TV shows on iPhone, iPad, Apple TV, PC, Macintosh, Android phones and tablets, smart TVs, watch them later or on the road without having to bring the DVD with you, save up your local storage space and protect your old and classic DVDs against kids' scratches, disc rot, damages, etc.
If you're looking for easy solutions to turn physical DVD discs into digital files on Mac or Windows PC, you've come to the right place. Here the top 6 DVD to digital converters and services are introduced and reviewed to help you get the right way to convert your home movie DVDs and store-bought copy-protected DVDs to high-quality digital copies for using on NAS, Plex, TV, hard drive, mobiles, and other devices.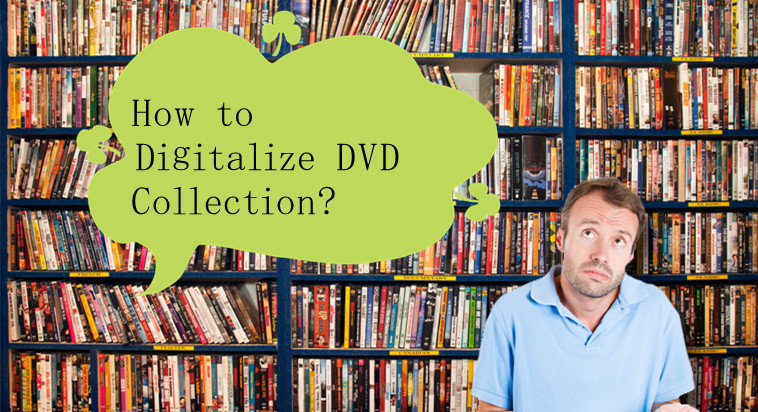 Top 6 Picks to Convert DVDs to Digital on Windows 10/11 and Mac



Way 1. Convert DVD to Digital with DumboFab DVD Ripper
DumboFab DVD Ripper tops our list of the best DVD to digital converters due to its powerful DVD decrypting ability, fast DVD ripping speed, high-quality output, and a wide range of output profiles. This is a paid-only software for Windows (Windows 11/10 incl.) and Mac (macOS Ventura incl.) users, but you can try it out for free to see if it's a good fit. One of the benefits of a paid service is that you don't have to worry about intrusive ads or annoying upsells.
With this best DVD to digital converter, you can convert homemade and encrypted DVD discs to any digital files formats including but not limited to ripping DVD to MP4, MKV,, AVI, MOV, HEVC, H.264, VOB, MP3, and much more. Moreover, it provides 200 pre-configured device profiles for iPad, iPhone, Apple TV, iTunes, iMovie, Android-powered tablets, smartphones, smart TVs, game console, and more, which is convenient for those who don't know what settings to use to rip DVDs for their devices.
Thanks to its powerful DVD analysis engine and the support for Intel QSV, NVIDIA NVENC/Cuda GPU hardware acceleration, it reads and rips DVD at lightning-fast speed. During testing, we noticed that the speed reached 369 fps and took around 9 minutes only to finish ripping a 2.5h DVD disc. And it copes well with commercially protected DVDs, damaged/scratched DVDs, covering complicated 99-title discs, ISOs or folders, workout DVDs, regional and even non-standard discs.
There are 3 DVD copy modes manage to help you back up DVD with 100% quality reserved. And its High Quality Engine can deliver almost original quality while ripping DVD to digital files. This DVD digitizing tool also comes with a built-in editor can help you trim, crop, add watermark, apply effects, add subtitles, remove/replace audio files, etc. to make the result videos more stylish. You're allowed to flexibily select desired subtitle/audio tracks and adjust resolution, bitrate, codec, etc to produce optimal file size.
Now, let's download DumboFab DVD Ripper on your computer. Once you finish installation, you can insert your disc to your computer via the internal/external optical drive follow the steps to transfer full or part content of a physical DVD disc to a digital file format!
[Tutorial] How to convert DVD to digital with DumboFab DVD Ripper
Step 1. Load the source DVD disc.
Launch DumboFab DVD Ripper and hit "Load DVD" button to import source DVD. A couple of seconds later after loading DVD, all titles will be presented and main title will be selected automatically.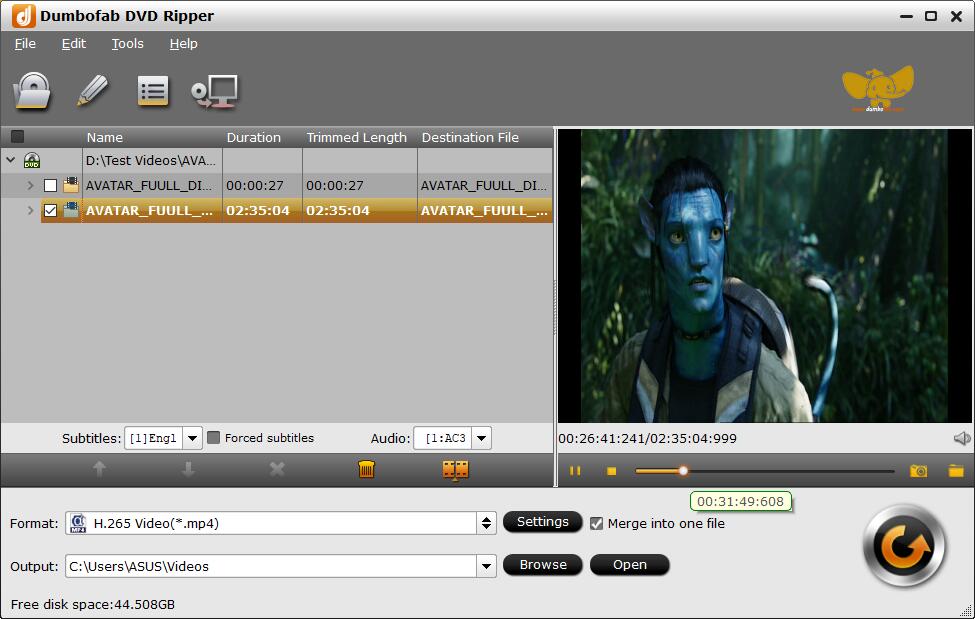 Step 2. Select DVD digital copy format.
After files are successfully added, the next step is to select the output format of the digital data. Click the drop-down menu at the Output Format option at the top-right corner and choose converting DVD to MP4, H.264, HEVC, AVI, WMV, MKV or any other formats as you need.
Tips: Which is the best format for DVD Disc to Digital?
• To save a digital copy of DVDs on the computer, you can backup DVD disc to MP4, AVI, WMV, MKV (Windows 10 already supported);
• To play DVD movie on Apple TV/iPhone/iPad/Mac and other Apple devices, choose to digitize DVD to MP4, MOV, M4V;
• To watch DVDs on Android/Xbox/PS4, convert DVD to MP4, H.264, 3GP, WebM, MKV;
• To copy DVD disc to digital files on the hard drive or other storage in 1:1 with all intact DVD videos/audios/subtitles, copy DVD to VIDEO_TS folder.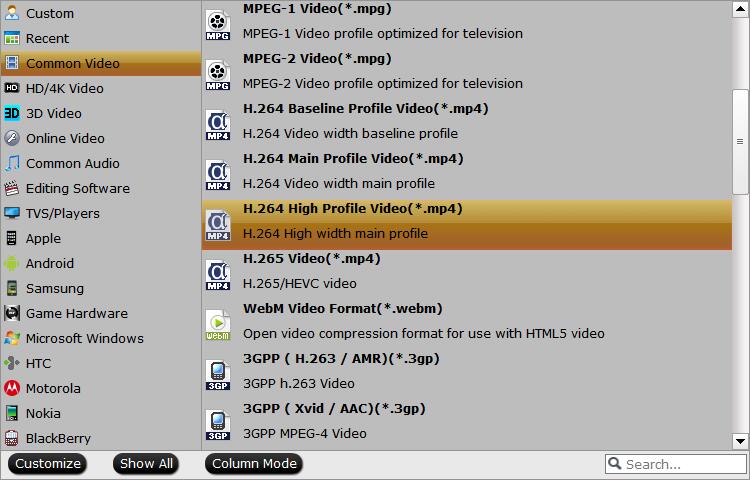 Step 3. Convert DVD video files to digital format
At the final step, hit Convert button to start processing and converting your DVD files to video copy files. The location where you want to save the converted files can be select at the Output.
Way 2. Convert DVD to Digital Free with Handbrake
Handbrake is a popular yet free DVD to digital converter among users running Windows, Mac, and Linux. There is no more DVD decryption feature built-in Handbrake since version 0.9.3. But you can still rip some protected discs to digital MP4, MKV, or WebM, if with VLC libdvdcss installed. By loading the libdvdcss library in the application folder, Handbrake will dynamically read CSS and region-locked DVDs and then re-encode them. But it is futile for Disney and other newly-protected DVDs and Handbrake doesn't allow users to mix multiple DVD titles in one content.
Besides converting DVDs to digital format, Handbrake also provides some presets in the side panel, from General, Web, Matroska to Devices. There are advanced parameters you can tinker with, available for precise encoding settings, effects, parameter adjustment, etc, which, though, are something of a learning curve.
Note: In the latest version, Handbrake updated Intel QSV for better video processing and had many other fixes like issues with subtitle pass-through durations, MP2 audio sources, etc. If you are going to turn a DVD into digital formats using the newer Handbrake version like 1.5.0 or above, please make sure to have Microsoft .NET Desktop runtime 6 or later installed on Windows 10 or later.
[Tutorial] How to rip DVD to digital free using Handbrake
Step 1. Download, install and open Handbrake on your PC or Mac.
Step 2. Insert the DVD youw ant to convert to digital.
Step 3. Click Open Source to load the DVD movie. Handbrake will take some time to scan the title.
Note that you can rip unprotected DVDs only. If the DVD, ISO image, or DVD folder is encoded with CSS or region code, please download libdvdcss, a simple library designed for accessing DVDs with CSS decryption. For details, you can follow our article - "How to rip DVDs with Handbrake" to learn more.
Or else, an error message like "copy-protected sources are not supported", or "no valid source or titles found" will prompt when you try to free convert CSS-encrypted DVD to digital using Handbrake.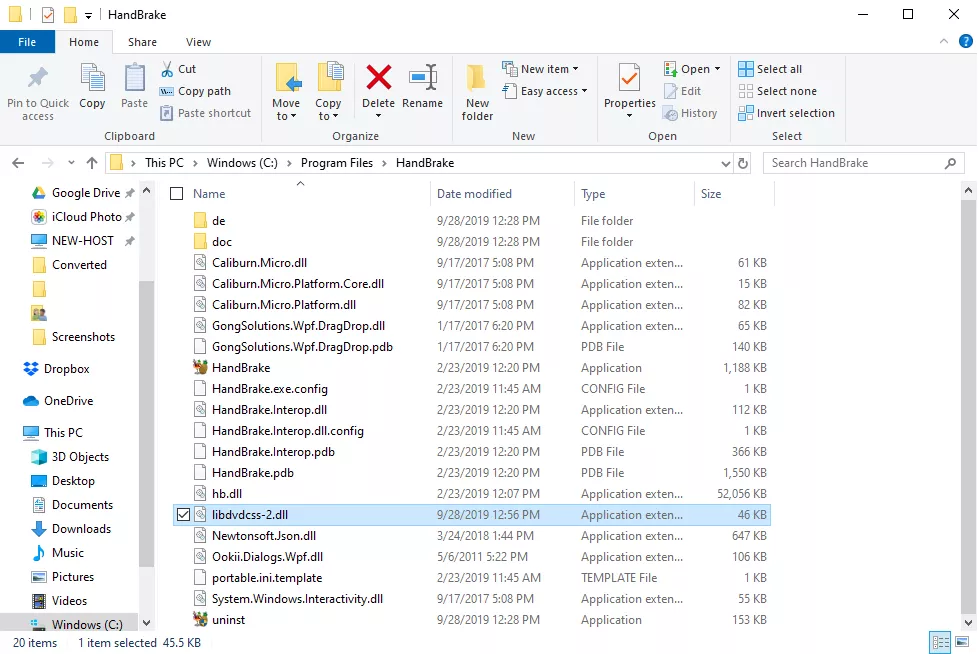 Step 4. The main title will be selected for homemade DVDs by default. For protected DVDs, you can find the title via VLC and manually select the right title from the Title dropdown box.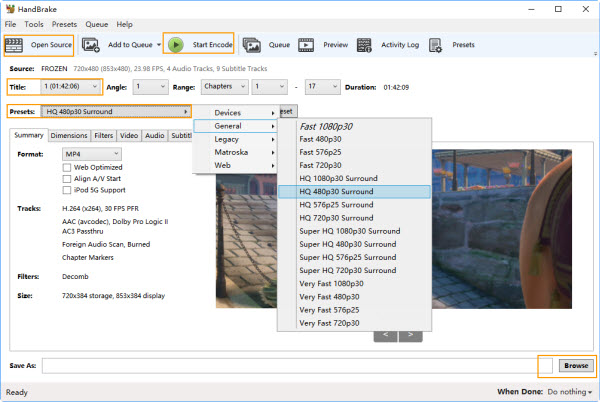 Step 5. Select a preset for your desired output format from "Presets".
Step 6. Adjust video audio settings as needed, such as resolution, codec, and bitrate.
Step 7. Specify save path for the digital copy by clicking on the "Browse" button at the bottom right.
Step 8. Click the "Start Encode" button at the top of the HandBrake window to begin the conversion process.
Step 9. Wait for the conversion process to complete. Once the conversion is finished, you can locate your newly created digital file in the destination folder you specified.
Way 3. Convert DVD to Digital using VLC Media Player
VLC media player can not only play DVD discs but also proves itself a solid choice with its simplified interface and powerful DVD decoder feature. Can VLC convert DVD to digital file formats? Yes, it offers an easy way to transcode video/DVD to digital copy in MP4 H.264, H.265, WMV, WebM, and more, with no need for extra codec packs.
However, VLC comes with a few trade-offs. VLC just supports ripping CSS and regional discs. You can't decrypt and rip a sophisticatedly-protected DVD with VLC, and you have no control over the conversion - resolution, bitrate, frame rate, deinterlacing, aspect ratio, volume, and more. Despite VLC doesn't offer more conversion profiles like AVI or WMV and it takes as long as the movie length to finish ripping DVD, you can still follow the steps to rip a DVD to digital with VLC.
[Tutorial] How to convert DVD to digital files with VLC
Step 1. Download and install the latest version of VLC media player from the official website.
Step 2. Insert the original DVD into the disc drive.
Step 3. Open VLC, and select Convert/Save... under the Media menu in the top left corner of the main interface.
Step 4. Click Disc tab and choose disc device, title, chapter, audio, and subtitle track. Then hit Convert/Save.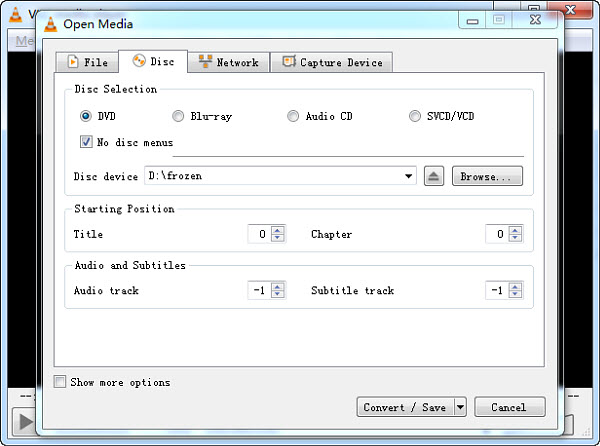 Step 5. Choose profile, the output format you want to use. Then click Browse to specify destination file.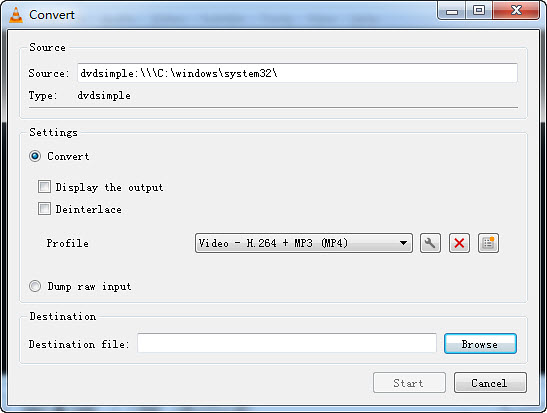 Step 6. Hit Start to begin converting DVD to digital.
Way 4. MakeMKV
MakeMKV is a popular DVD and Blu-ray ripping software for Mac, Windows and Linux. But as it names indcates, MakeMKV can only convert DVDs to MKV files, which may not be suitable for users who require other formats. And, there is no customizable settings to reduce the file size or change the video resolution, which means you'll get a high-quality but large-size digital copy.
MakeMKV has a simple and user-friendly interface that is easy to navigate, making it a suitable option for beginners. Below are the simple steps to rewrap a DVD to lossless MKV files with this program.
[Tutorial] How to convert DVD to digital MKV with MakeMKV?
Step 6. Launch MakeMKV and open your DVD disc in it. And it will take a while to scan the disc.
Step 2. When you see a tree structure with your titles, video tracks, audios, and subtitles, just choose which titles or tracks you want to convert.
Step 3. Choose an output folder and ask it to convert the DVD to an MKV file.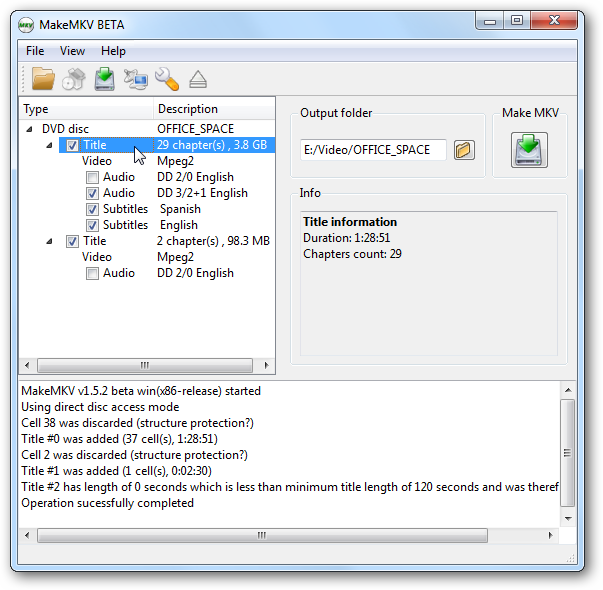 Way 5. Convert DVD to Digital with Walmart DVD Transfer Service
If you are looking for a DVD to digital service near you, you can try Walmart Home Movie and Photo Transfer Service which is powered by Capture, a partner of walmart.com. Its DVD transfer service supports DVD, MiniDVD, YesVideo DVDs, VCD, and CD, and saves the digital content in AVI, MOV, WMV, and MPEG-2 for you to store and back up on Google Photos and hard drives. Here's how it works.
Note that it will take 3-4 weeks to transfer your DVD to digital and charges you per disc ($12.96 for the first 30 minutes and $5.46 for each additional 30 minutes). If you have a lot of DVDs that need to be converted to digital format, it will cost a shedload of money. If you're on a budget and want the digital copy in a short time, DVD to digital conversion software will be a better choice. Take DumboFab DVD Ripper as an example, you only need to pay $25.95 to get a one-year license. After activating DumboFab DVD Ripper with this license, you can convert as many DVDs as you like and choose a desired output format. And it only takes a few minutes to get a digital copy of your DVD.
How to use Walmart to transfer DVD to digital copy?
Step 1. Check if there's a Walmart Photo located in your region. Then create an order online.
Step 2. Ship the physical DVD(s) or drop off it at a Walmart near you.
Step 3.. Wait for a month and you'll receive a digital copy.
Way 6. Convert DVD to Digital with VUDU
Launched in 2017, VUDU's disc to digital service can get digital copies of your Blu-rays and DVDs simply by scanning the barcodes on your discs and watch them on any VUDU-enabled device. Vudu To Go, the in-home service of Disc to Digital, isn't supported after December 31, 2019. But you can still use In Mobile Disc to Digital which can help scan discs on your phone and tablet. Please be noted that not all discs are eligible for Disc to Digital conversion. You can search for title availability at https://www.vudu.com/content/in_mobile_disc_to_digital.html.
However, just like the Walmart DVD Transfer Service, VUDU is also not budget-friendly for people who have a large DVD collection and imposes limits on conversions per year. VUDU only works with movie DVDs from a few major film studios. In a word, disc to digital services are a good choice for those who would like to digitize relatively small and new DVD collection. You may want a DVD to digital program like DumboFab DVD Ripper to create high-quality disc to digital copy without extra fee each time, full control on the output video, and freedom to use the digital copies anywhere.
How to convert DVD to digital on Android/iPhone with VUDU disc to digital service?
Step 1. Visit vudu.com/disc on your Android or iPhone, scroll down and tap the Convert Disc button.
Step 2. Sign up if you don't have an account. And then, sign in.
Step 3. Allow app permissions.
Step 4. Scan the UPC barcode on your DVD case.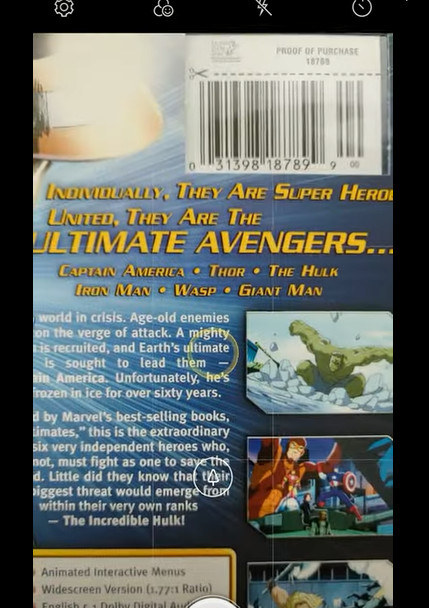 Step 5. Select output quality, SD or HDX.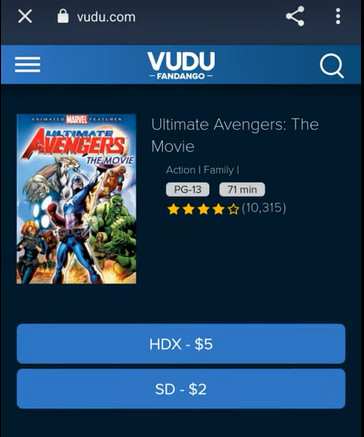 Step 6. Pay for the DVD to digital conversion (DVD to SD: $2 per disc; DVD to HDX: $5 per disc), and then watch instantly.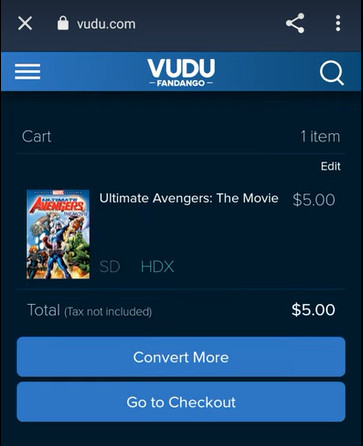 Comparison of the 6 Best DVD to Digital Converter Software/Services
| | | | | | | |
| --- | --- | --- | --- | --- | --- | --- |
| Software/Service | Price | Speed | Supported DVDs | Output Formats | Output Quality | Quick Edit |
| DumboFab DVD Ripper | Free for 3-min videos. Paid for unlimited use. $25.95 / 1 Year | Fast. It can rip a 2-hour movie DVD within 5 minutes. | All DVDs | 420+ output presets, including MP4, MKV, VIDEO_TS folder, MOV, MPEG, FLV, AVI, WMV, MP3, etc. | SD, original, upscaled | Yes |
| Handbrake | Free | It could be tens of minutes to a few hours. | Limited | MP4, MKV, WebM | SD | No |
| VLC | Free | It will take the entire runtime of the movie to digitize it. | Limited | MP4, MKV, AVI, FLV, WebM, WMV, MP3, TS, etc. | SD | No |
| MakeMKV | Free | Usually about 20 to 30 minutes. | Limited | MKV | Original | No |
| Walmart DVD Transfer Service | $12.96 for the first 30 minutes and $5.46 for each additional 30 minutes. | 3-4 weeks. | Limited | MP4 | SD, HDX | No |
| VUDU | $5/disc plus tax | Fast | Limited | MP4 | SD, HDX | No |