Home
>
Resources
>
What is an MKV file
Posted by Jason Eatock - Oct. 09, 2020 | Contact Author

What is an MKV file and how to play MKV videos on computer
This page gives specific definition of what is MKV video/file format, the advantages/disadvantages of MKV file, and how to play or convert MKV video on PC/Mac.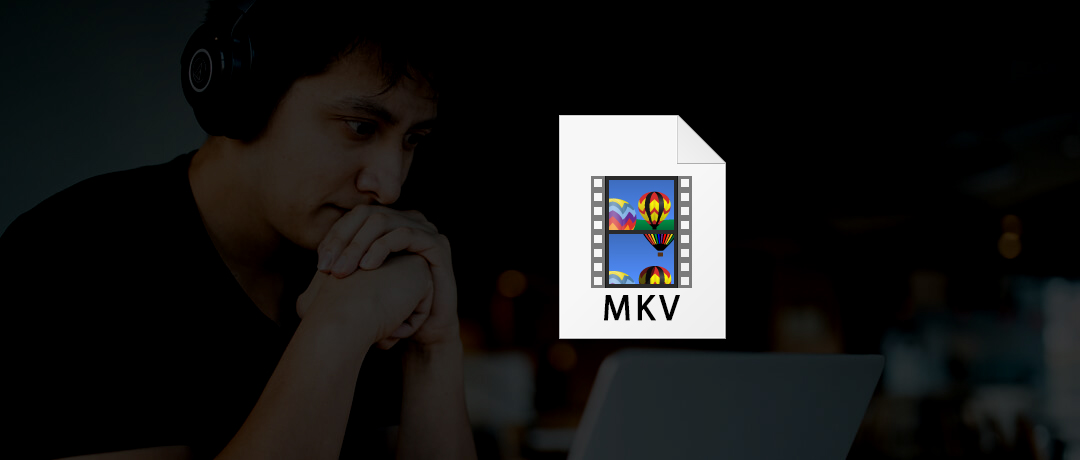 What is an MKV file?
An MKV file, also known as Matroska Video file, is not an audio or video compression format. MKV files are actually multimedia container formats. An MKV container can incorporate audio, video, and subtitles into a single file - even if those elements use different types of encoding. For example, you could have a MKV file that contains H.264 or HEVC video codec and something like MP3 or AAC for audio codec, or .SRT, .SSA, .USF (Universal Subtitle Format), or VobSub subtitles.
MKV container files were designed to be future proof, meaning that the files would not become outdated. It incorporates features you would expect from a modern container format, like:
• Fast seeking in the file
• Chapter entries
• Full metadata (tags) support
• Selectable subtitle/audio/video streams
• Modularly Expendable
• Error resilience (can recover playback even when the stream is damaged)
• Streamable over the internet and local networks (HTTP, CIFS, FTP, etc)
• Menus (like DVDs have)
The MKV was developed as an open standards project, which means that it is open source and completely free for anyone who wants it for personal use. The source code of the libraries developed by the Matroska Development Team is licensed under GNU L-GPL. In addition to that, there are also free parsing and playback libraries available under the BSD license, for commercial software and hardware adoption.
How Can We Play MKV Files?
MKV is not a natively supported video format on Windows and macOS. For example, MKV videos won't play in Windows Media Player in most of time in Windows 8 and earlier system and even in Windows 10 ( although Windows 10 has added native support for MKV). What's more, MKV is also not playable on many devices like iPhone and Xbox and, so a MKV video player is a must-have to enjoy MKV video files. Generally, you have two main options to play MKV files: using an MKV compatible media player or downloading the appropriate codecs for the media player you prefer.
Best Option: Use VLC Media Player
Our favorite choice for playing MKV files is VLC media player, a free and popular open source media player that can be used on all popular operating systems: Windows, Mac, iOS, and Android. Downloading and installing the program is easy if you follow these directions. Begin by navigating to the official download page at videolan.org. Beware of going anywhere else, because a lot of crapware vendors have fake VLC download sites.
Of course, not everyone likes VLC player. If it doesn't suit you, you can search online to find a suitable one.
Alternative Option 1: Download Codecs for Compatibility (But Do It Carefully)
When it comes to multimedia, Windows 10 has brought several improvements, and one of these improvements is native support for MKV file format. This is great news for everyone who enjoys high-quality video content, but it seems that some users can't watch MKV videos in Windows 10.
If you failed to play MKV files in Windows Media Player in Windows 10 or earlier version, you'll need to download the missing codecs. MKV file can contain all sorts of video formats. This can lead to certain problems, especially if you don't have the necessary codecs on your PC.
There are many codec packs available to download, but of the best are K-Lite and CCCP, so be sure to download and install any of these codecs. After installing them, you should be able to play any type of video file, including MKV, with ease.
If you're looking for the best codec packs for Windows 10, take a look at this article to find Microsoft's top picks.
Alternative Option 2: Convert MKV to a more common-used format like MP4
If you tried all efforts and still have problems when playing MKV files, you may have to convert MKV to another format for further playback. There are many free and paid video converters for you to convert MKV to other formats. Handbrake is one of the best free options. And if you want an efficient and easier solution, DumboFab Video Converter (available for both Windows and Mac users) is a great choice.
DumboFab is an one-stop video processing software to handle MKV
● Convert MKV to MP4, AVI etc., or Vice Versa
● Compress 4K MKV to 1080P
Other Useful How-to Guides
In this article, we will introduce two practical methods to help you batch remux MKV files to MP4 files without conversion.
MKV "File Import Failure" in Premiere Pro can be solved by converting MKV to Adobe Premiere Pro natively supported formats.
To import MKV files into iTunes for syncing to iPad, iPhone, Apple TV, etc. you need to convert MKV to iTunes-friendly formats first. Here is the simple how-to.
Learn how to encode/re-encode MKV to MP4 with desired subtitles so that you can better understand the movie.