Home
>
Video Processing Tips
>
What is Variable Frame Rate
Posted by Jason Eatock - Aug. 11, 2020 | Contact Author

What is Variable Frame Rate and How to Determine If A Video Has VFR?
What is Variable Frame Rate (VFR)?
Variable Frame Rate, shortly for VFR, is a term wildly used in video recording. As the name suggests, if a video is recorded in VFR mode, the camera will automatically adjust the frame rate according to what's going on in the scene.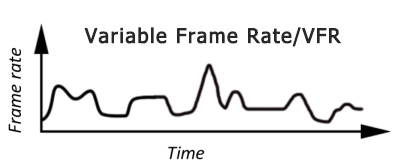 Compared to CFR(constant frame rate), this efficient recording method can not only improve recording ability greatly, but also reduce the file size with the maximum FPS. These huge recording benefits make VFR shooting adopted in many places. Examples include:
• video recorded by smartphones
• webcams
• game-play recording software like NVIDIA ShadowPlay
• other screen capture applications like OBS Studio
How to determine if a media has VFR?
1). Using Mediainfo (a free and open-source program that displays technical information about media files)
You may open the file in MediaInfo, click View and then select .Tree Under the Video dropdown, if the Frame Rate Mode is listed as Variable, then it is a VFR media. It will also provide a Minimum and Maximum frame rate value.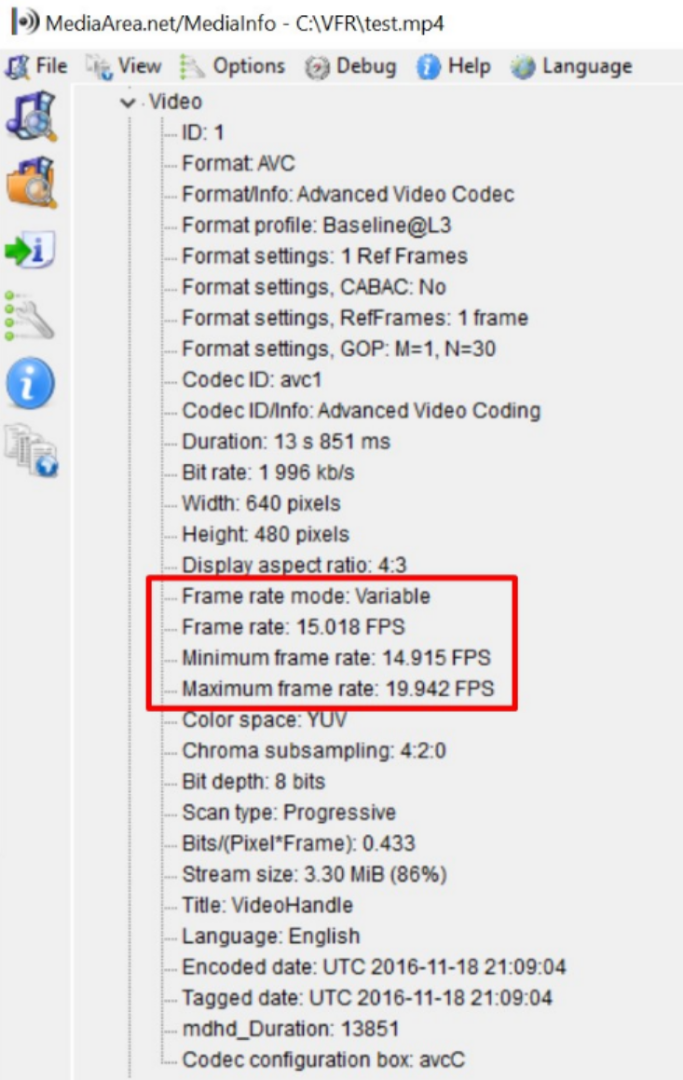 2). Using Adobe Premiere
If you use Adobe Premiere Pro (version 12.0.1 or higher), you can easily find out if a video clip is shot using VFR. After the VFR video is imported into Premiere Pro CC, its Properties will list "Variable Frame Rate Detected" text.
1. Import the media file in Premiere Pro (version 12.0.1 or higher)
2. Right click on the media file and select Properties
3. In the Properties panel, you would see Variable Frame Rate Detected if the media has VFR.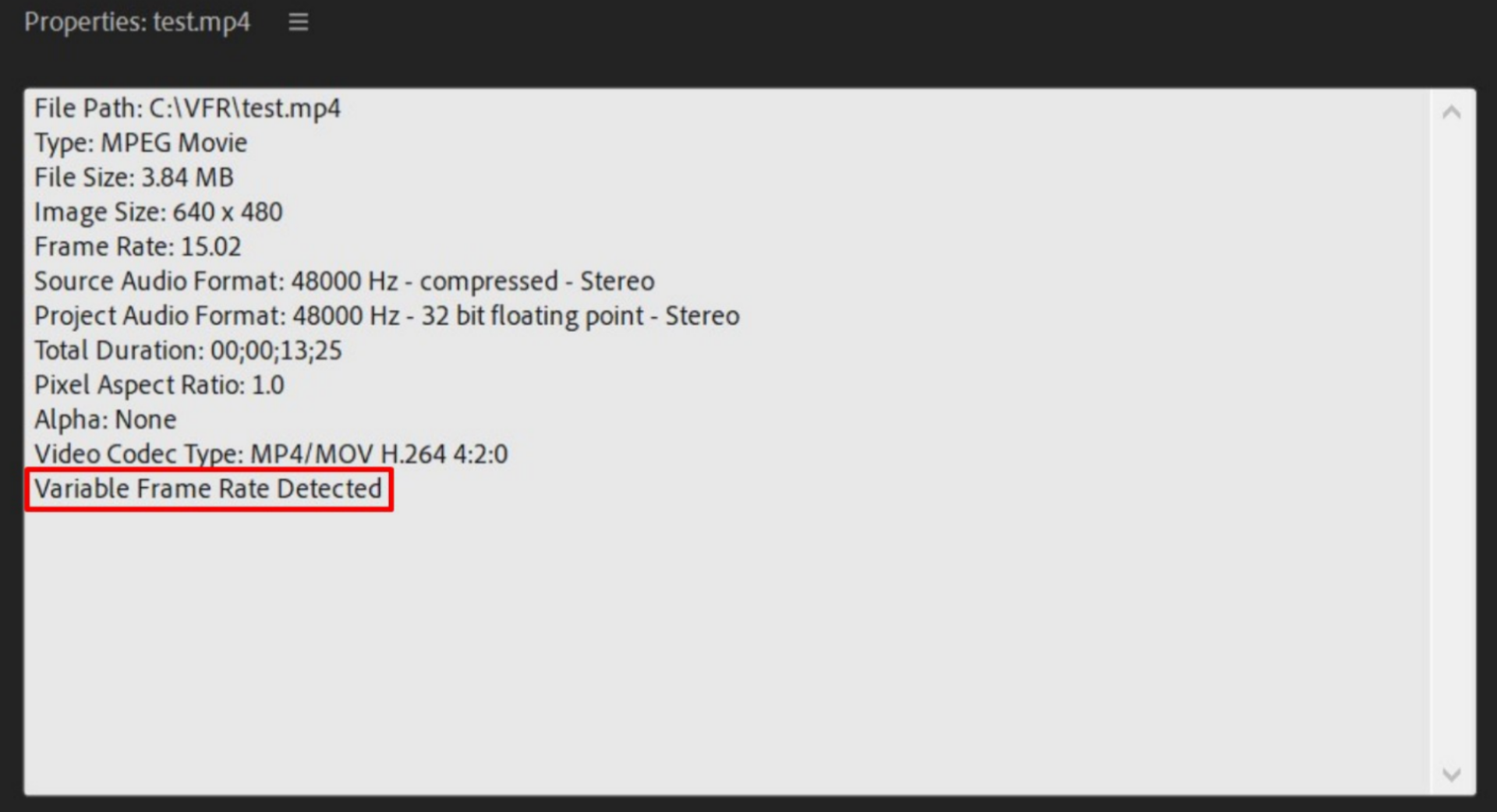 What's the problem with Variable Frame Rate?
Nowdays, more and more portable devices are built-in with enhanced camera equipment for video recording. To capture a video at smaller size but with higher quality, most users prefer to compress video with variable frame rate by default, known as VFR. Small indeed, but those VFR footages taken by your iPhone, iPad, Camtasia, nVidia ShadowPlay, Panasonic GH5 and such may be problematic in Adobe Premiere Pro or some other non-linear editing tools like Sony Vegas, Final Cut Pro, with audio and video out of sync after importing.
Some recorders don't have the knowledge of VFR. So when they come across audio not matching with corresponding video or being dropped off matter in certain video editing program like Premiere Pro or Vegas, they won't take VFR as the troublemaker but put more focus on video codec, hardware performance etc. In other words, if one fails to fix video audio asynchronous problem in editor anyway, it's suggested to check whether the source footage is filmed in VFR.
Generally, it's hard for NLE software to work with variable frame rate video. Adobe Premiere Pro, even officially supports VFR video since the 12.0.1 update in early 2018, still gives its users some import and A/V unsycned issues with VFR.
So, if you happen to be one of those who encounter an VFR issue in Adebe Premiere (elder or new 12.0.1/12.1.x/13.0), don't waste your time on searching and trying complex troubleshooting methods in vain, transcoding VFR video to CFR/constant frame rate is the jack-of-all-trades. And along with some help from third-party program liek the easy but pro-grade DumboFab Video Converter,, you can effortlessly convert the video with the variable frame rate to Premiere Pro, Sony Vegas, etc. highly comaptible video with constant frame rate.
Final words for all of the video nerds: if you are bound to do post-production with your recordings in Adobe Premiere Pro, taking movie with a fixed frame rate is a wiser choice.
Other Useful How-to Guides
This article explains the possible reasons and solutions to help you fix 4K UHD videos not playing on playing on PC (Windows 10) or Mac.
Get failure or error message when you try importing HEVC/H.265 videos from iPhone, DJI, GoPro, etc. to Adobe Premiere Pro? Here are 3 solutions to solve HEVC codec doesn't work in Premiere Pro.