Home
>
Resources
>
Rip Blu-ray
>
2022 Best Blu-ray Rippers for Windows
Posted by Chris Ellison - Last Updated: Feb 7, 2023 | Contact Author

[2023 Updated] Top 5 Blu-ray Rippers for Windows 11/10
Summary: A great Blu-ray ripper enables you to copy and rip your Blu-ray discs for backup, streaming or playback on a range of devices. Here are the 5 best Blu-ray ripper software for Windows (Windows 11 compatible) and enjoy hassle-free Blu-ray ripping and copying.
Let's face the reality. Collecting Blu-rays was a pleasant thing in the past, but the digital era has put it in the shade. Then how to deal with your Blu-ray collections lying around the house? Thankfully, there are many Blu-ray ripping and copying software for PC, but choosing the right one can be tough.
If you're looking for a great Blu-ray ripping tool to convert Blu-ray to digital files or make full Blu-ray backup, you're definitely being the right place. We've picked the 5 best free and paid options to help you choose the best Blu-ray ripper for Windows 10 and older and reveal what they have to offer. Read on to take your best pick.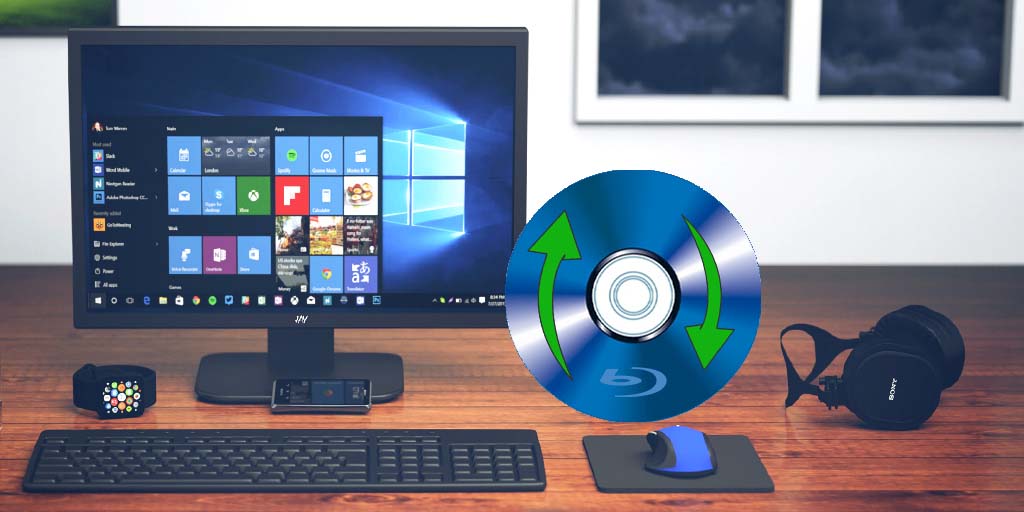 Why Blu-ray Ripping Software Is Necessary for Us?
Blu-ray ripping tool could change and facilitate our way of entertainment and open the door to a world of watching Blu-ray movies offline on the go, with no need of Blu-ray drive or Blu-ray player by removing Blu-ray copy protection and rip Blu-ray to digital files. To be specific, we will be able to stream and play Blu-ray movies and TV shows on Mac, iPhone, iPad, Apple TV, PC, Android phones and tablets, and any device that supports video playback.
Top 5 Blu-ray Ripper for Windows at a Glance
5 Best Blu-ray Rippers for Windows 11/10
The following table shows the most common user needs while looking for a Blu-ray ripper tool for PC.
| | |
| --- | --- |
| User Needs | Blu-ray Ripper Requirements |
| 1. The compatibility with different types of Blu-rays. | 1. Accept all kinds of Blu-ra disc: homemade, store-bought, new, old, broken/scratched Blu-ray, etc. |
| 2. Enable all Mac users to watch Blu-ray movies on any devices at any time. | 2. Constantly update to support the latest released devices, such as the iPhone 13, Windows 10 Pro PCs, etc. |
| 3. Output high-quality video and sound, basically losslessly. | 3. Feature flexible parameter settings to give you full control over video/audio codec, resolution, frame rate, etc. |
| 4. Rip Blu-ray movies on Windows fast. | 4. Support hardware accelerated Blur-ay encoding and decoding. |
| 5. Access all commercial Blu-rays. | 5. Technology to bypass Blu-ray copy protections. |
So based on these user needs, we have singled out the best 5 Blu-ray rippers for Windows 11/10 and older as below.
1. DumboFab Blu-ray Ripper

GPU accelerated, handles all encrypted Blu-rays, ultra-fast ripping and encoding, tons of output options, excellent quality output
DumboFab Blu-ray Ripper is our top pick for the best Blu-ray ripper for Windows. It can easily cope with any protected Blu-rays, old and new titles, homemade/burned discs, other Blu-rays on Windows 11, Windows 10 (64-bit OS supported), Windows 8, Windows 7, etc. With 400+ bulilt-in formats and devices, you can convert Blu-ray to any popular video formats and devices including but not limited to HEVC, H264, MP4, MKV, MOV, AVI, iPhone, iPad, Android, Apple TV, Xbox and so on. Output video quality is excellent and fast conversion speeds are achieved through a GPU Hardware acceleration feature.
Another killer feature is that it can convert any 2D/3D/UHD 4K Blu-ray into a lossless MKV file which can store multiple video/audio tracks with all meta-information and preserve chapters. And it can do the job in about five minutes.
Besides MKV, it also offers movie lovers 2 different modes to backup your discs without any quality loss. You can make an exact 1:1 copy of the entire disc in original file structure with all subtitle tracks and audio streams preserved. Or save 100% intact M2TS main movie from your Blu-ray discs without extras.
You can download a free trial version of this software, but you'll have to pay an annual subscription fee to use it for any video longer than three minutes. Having to pay for Blu-ray ripping and copying software isn't all bad though. It means you don't have to contend with in-app ads and upsells, and you get advanced features you wouldn't find in free programs. Plus, DumboFab Blu-ray Ripper's price tag is fairly low, and we definitely think it's worth it.
Just free download DumboFab Blu-ray Ripper to have a try!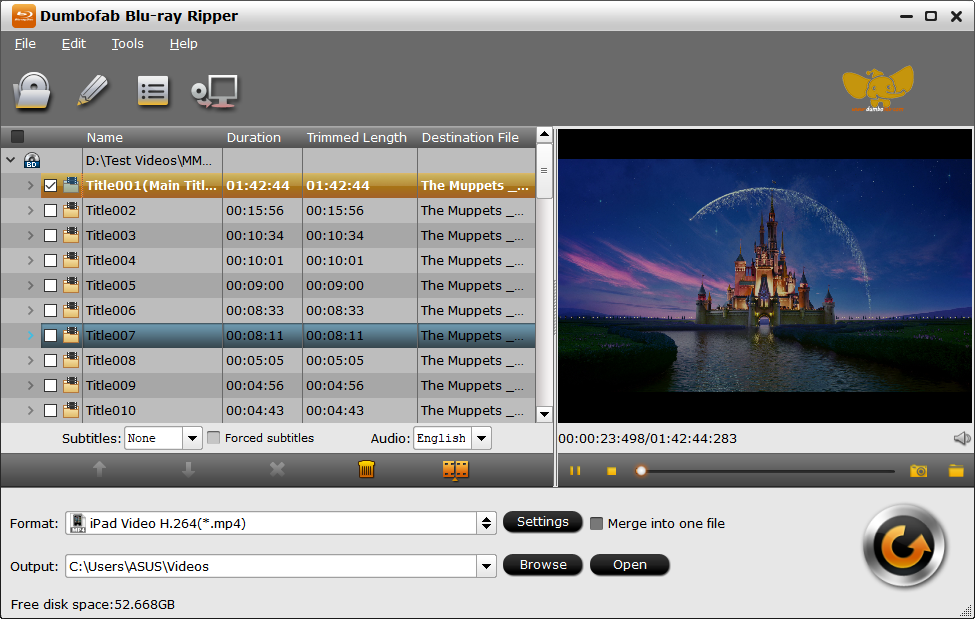 2. MakeMKV

Free, no GPU acceleration, rip Blu-ray to MKV only, large file size because of no compression.
MakeMKV is good free Blu-ray ripper software for Windows, Mac and Linux. It rips both DVD and Blu-ray to MKV, and can cope with most encrypted discs with ease. Common functions like preserving chapters information and track languages are included. Sadly, you can tell from its name that this free Blu-ray ripping tool will only allow you to output an MKV file.
Converting Blu-ray to MP4, AVI, MOV, FLV can't be realized using it. Another thing you need to know is that MakeMKV doesn't compress video while ripping, so your output will be a very large file. You need to use an extra video compressor to reduce file size if you have limited storage space.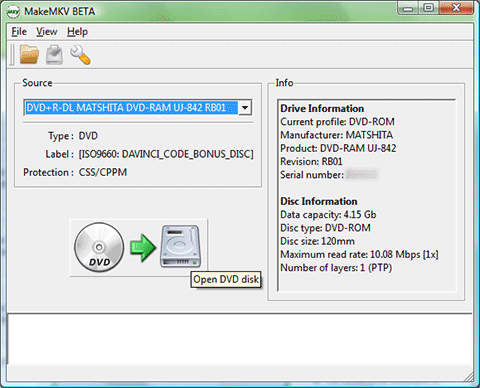 3. Handbrake

Free, GPU accelerated, can't rip protected Blu-rays
Handbrake is a fantastic free Blu-ray ripping app that also works with DVDs. It provides many output options, quick settings for specific formats and devices, and it's completely free.
The catch with Handbrake is that it can't handle encryption. That means it doesn't work with most commercial Blu-ray discs. You can still use it to compress or change the format of movies or shows you've ripped with another app, but Handbrake itself can only rip unencrypted Blu-rays.
4. Leawo Blu-ray Ripper

Easy to use, handles most encryption, encodes to lots of common formats
Leawo Blu-ray Ripper can help you copy a Blue-ray disk or Blu-ray folders into any video format preserving original quality. Thanks to an excellent decryption technology, it easily deletes standard Blu-ray copy protection and region codes that prevent disc copying. Among additional functions, there are different subtitles and audio tracks, conversion of 2D into 3D, and video editing.
This Blu-ray ripper allows adjusting a video codec, data transfer speed, aspect ratio, resolution, quality, audio codec, sampling rate, frame rate, channel and other parameters before the conversion. It supports more than 180 audio and video formats. Moreover, this software allows copying and converting 4 /4K UHD/3D Blu-ray/DVD in 4K, 1080P, 720P video to watch it on 4K TVs and mobile devices.
However, it's unable to recognize ISO file or forced subtitles, and the conversion is slow compared with other professional Blu-ray rippers. And it doesn't come with Blu-ray backup option and can help you rip a Blu-ray to lossless MKV file. To use the full version on one PC for one year, you'll pay $44.95 and for lifetime licence, you'll pay $99.95 which is much more expensive than other Mac Blu-ray ripping tools on the market.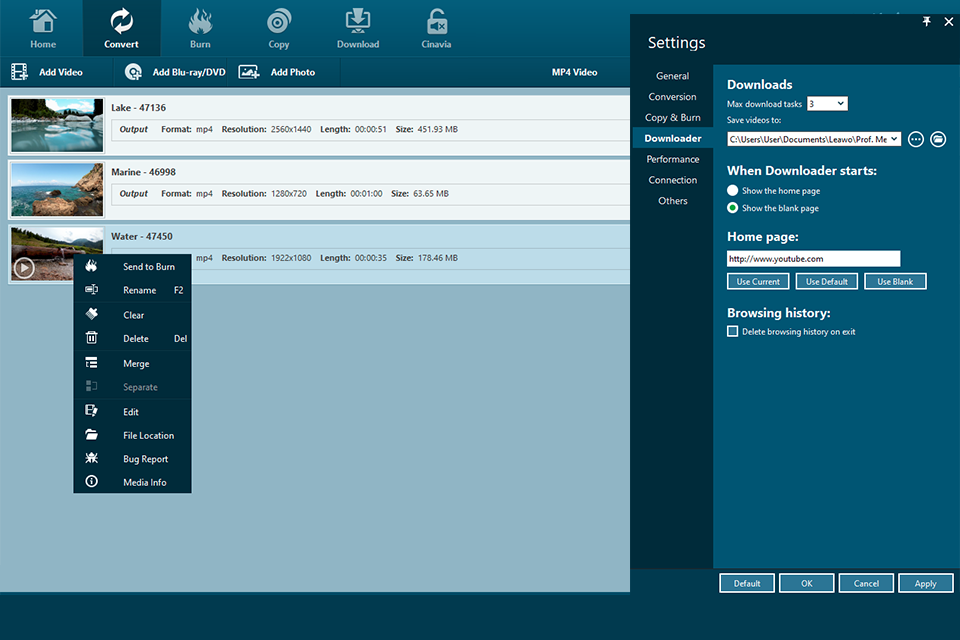 5. CloneBD

Supports popular formats and devices, 3D Blu-ray conversion, can't handle encrypted Blu-ray
CloneBD is a simple Blu-ray ripping app that's easy to use yet offers many output options. The catch is that it can't handle encrypted Blu-ray discs, so it's only valid if you're trying to rip unprotected Blu-rays. This premium app is a bit on the pricey side for lacking decryption functionality, but it's a decent option if you're looking to clone unprotected discs.