Home
>
Resources
>
Rip Blu-ray
>
2022 Best Blu-ray to MP4 Converters
Posted by Chris Ellison - Last Updated: Jan 5, 2023 | Contact Author

2023 Best Blu-ray to MP4 Converter Software for Mac/Windows
If you have a bunch of Blu-rays, you need to digitize into MP4s, check out this list of the best Blu-ray to MP4 converters currently available.
Blu-ray provides the best quality video and audio you can get in your home theater, but streaming has surpassed physical media as a more popular choice for home entertainment. In another aspect, when Steve Jobs set off the Mobile Revolution, the mainstream multimedia device falls on smartphone and tablet, which propels the increasing prevalence of MP4 format.
Therefore, demand of Blu-ray to MP4 conversion is doomed to rise. For one thing, you can therefore prevent your Blu-ray discs from physical damage. For the other thing, you can extend your Blu-ray view options to mobile devices and are no longer restricted to PC and TV only. To handle all your queries on how to convert Blu-ray to MP4, we have shortlisted the best five methods.
Part 1. Easiest Way to Convert ANY Blu-ray to MP4 on Mac/Windows
There are numbers of paid or free programs that claim to convert Blu-ray disc to MP4. But if you're interested in backing up and converting your Blu-ray collection to digital files and don't want to be held back by time restrictions or slow processing, DumboFab Blu-ray Ripper is there for you. It's able to rip both homade and store-bought 2D/3D/UHD 4K Blu-rays to MP4 (H.264/HEVC) with ultra-fast encoding speed without compromising on quality. Below are the specific features that add a ton of value:
● Conquer all types of Blu-rays and DVDs: from new discs, damaged, old discs, 99-title, Japanese workout to non-standard discs regardless of copy protections and region codes.
● Rip Blu-ray at 300fps: Adopts multiple advanced technologies to boost ripping speed, among which, Intel QSV and NVIDIA CUDA/NVENC powered level-3 hardware acceleration, meant to convert a full Blu-ray disc to MP4 as short as 10 minutes.
● 1:1 quality ratio: 3 Blu-ray/DVD copy modes manage to back up Blu-ray/DVD with 100% quality reserved.
● From 50GB Blu-ray to 1.5-2GB MP4: Adjust resolution, bitrate, codec, etc to produce optimal file size. Specifically, the ripped file is 1.5GB-2GB instead of 30-50GBs for a full Blu-ray movie, a 80% space saving. Plus, there're 350+ ready profiles for AVI, WMV, MOV, iPhone, iPad, Android.
[Tutorial] How to Convert Blu-ray to MP4 with DumboFab Blu-ray Ripper
To begin with, you need to download and install DumboFab Blu-ray Ripper Windows or Mac on your computer. This guide below takes the Windows version for an example, Mac version has the same process.
Step 1: Insert your Blu-ray discs into your BD dirve and then launch DumboFab Blu-ray Ripper. Click Load disc button to load the source Blu-ray movie.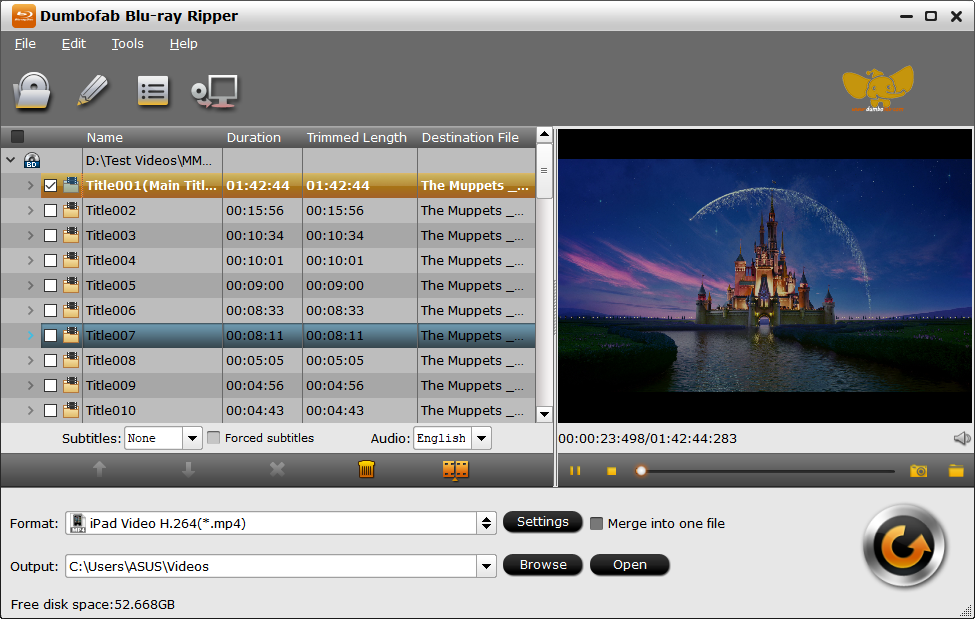 Step 2: Click "Format" bar and move mouse cursor to Common Video category, then select an H.264 MP4 profile as the output format. If you need to convert a Blu-ray for iPhone, Android device, YouTube or other web services, you can also find a readymade profile.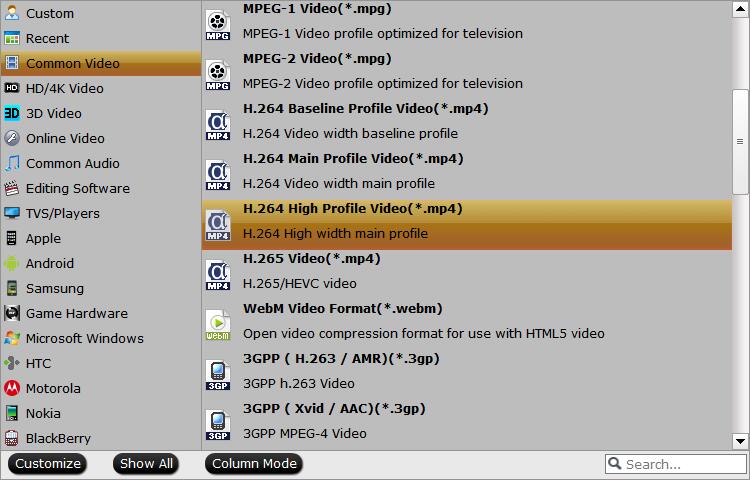 Tips: The default setting works well. Of course, if you want to customize video and audio encoding settings, just click the Settings button to customize these settings. Please note that adjusting these variables have some effect on the re-encoded video quality. Remember the file size and video quality is based more on bitrate than resolution which means bitrate higher results in big file size, and lower visible quality loss.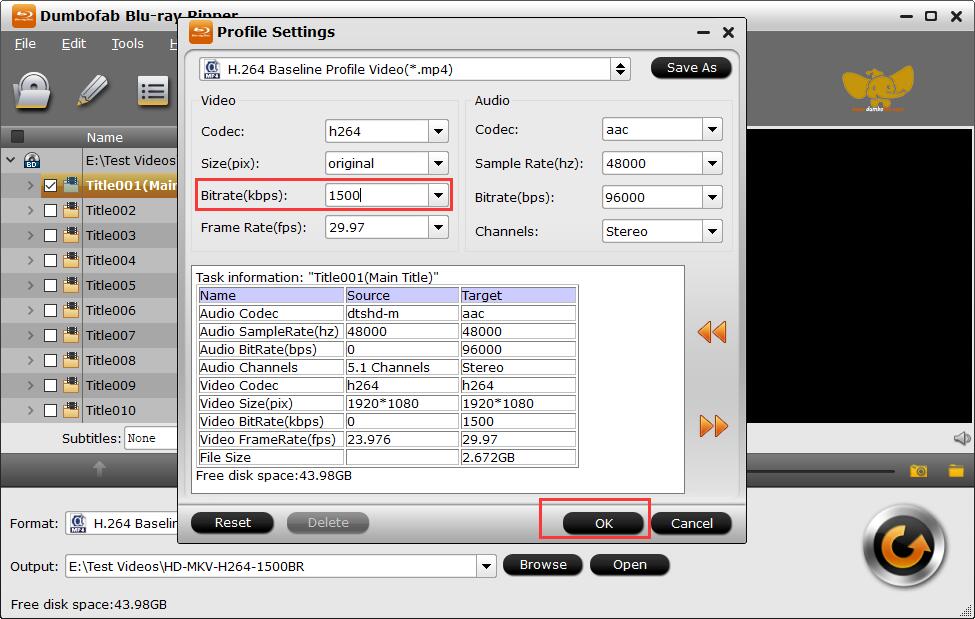 Step 3: Click the Browse button to select a destination folder in the dialog box that opens, and click OK. Then click the Convert button to start converting. After the Blu-ray is converted into MP4 (h.264/mpeg-4 avc/hevc) video, you can freely save the Blu-ray video to computer or transfer to iPhone, iPad, Android, game consoles, tablets, and computers that don't have a hard drive.
Part 2. How to Convert Blu-ray to MP4 Free with Handbrake
Handbrake is a fantastic free Blu-ray to MP4 conversion app that also works with DVDs. It provides many output options, quick settings for specific formats and devices, and it's completely free.
The catch with Handbrake is that it can't handle encryption. That means it doesn't work with most commercial Blu-ray discs. You can still use it to compress or change the format of movies or shows you've ripped with another app, but Handbrake itself can only rip unencrypted Blu-rays.
[Tutorial] How to convert unencrypted Blu-rays to MP4 using Handbrake
1. Download, install and open Handbrake on your PC or Mac.
2. Insert the Blu-ray you want to convert to MP4.
3. Click Open Source to load the Blu-ray movie. The main title will be selected for non-commercial Blu-rays. Note that you can rip unprotected Blu-rays only.
4. Click the Presets drop-down menu, ranging from General, Web, Matroska, Hardware, etc. You can preferrably choose Fast480p30 for the US or Fast576p25 for Europe. You can also choose HQ for better image quality, which may also result in slow DVD encoding speed.
5. Choose the format MP4 from the drop-down list in the Summary.
6. Click Browse and select a destination folder to save the resulted MP4 file.
7. Then click Start Encode on the above toolbar.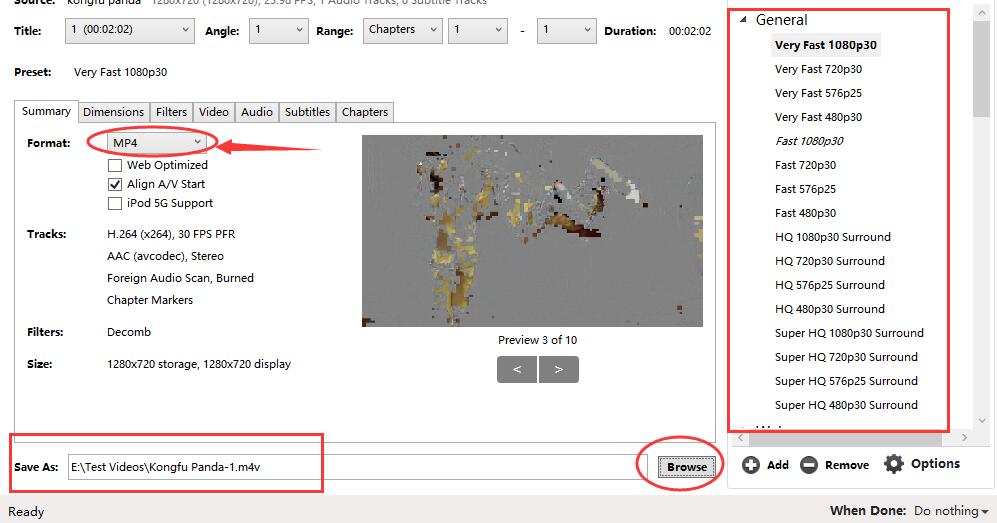 For the detailed steps with images, please refer to our previous article "How to convert Blu-ray to MP4 with Handbrake" to learn more.
Part 3. How to Convert Blu-ray to MP4 Free with VLC
VLC is a great media player that also can convert Blu-rays to MP4. It's open-source software that's free, so there's no barrier to entry. Even if it doesn't end up being your Blu-ray ripper of choice, it's still a highly competent video player that can handle most video and audio formats.
The biggest issue with VLC is that, as open-source software, it doesn't come with the ability to play encrypted Blu-ray discs, let alone rip them. You need to jump through some hoops to add the ability to play encrypted Blu-ray discs, and even then, you'll find that the ripping process is pretty slow and that VLC can't handle some Blu-ray menus.
If you've made sure the Blu-ray disc you want to rip can be played in VLC without problem, then you can follow the step-by-step guide below to start converting Blu-ray to MP4 using VLC media player.
[Tutorial] How to convert Blu-ray to MP4 using VLC
Step 1. Go to videolan.org, download, install and run the latest version of VLC for your Windows or Mac system. Please note that you will need to download the VLC Windows 64bit version if it is a 64-bit Windows computer.
Then go to: http://vlc-bluray.whoknowsmy.name/ to download the KEYS DATABASE(KEYDB.cfg) and AACS DYNAMIC LIBRARY(libaacs.dll for Windows or libaacs.dylib for Mac). Then follow the instruction steps of the following screenshot to put them on the right place according to your computer system. Please notice that there are two different files of AACS dynamic library available at a Windows-based computer, and you should download the 32bit file for VLC 32bit, and 64bit file for VLC 64bit.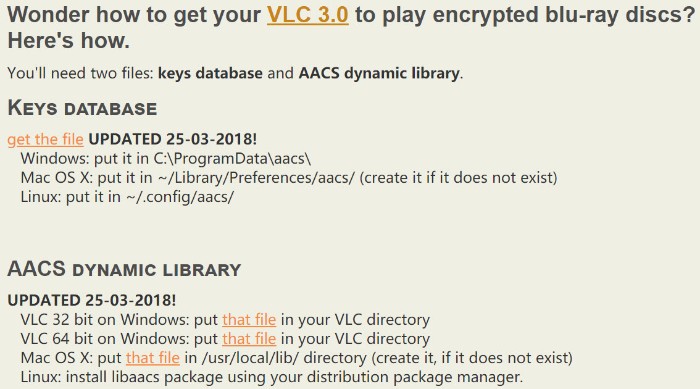 Step 2. Open VLC and insert your Blu-ray disc into Blu-ray Drive. Click Media on menu bar and a drop-down list appears. Select Convert / Save… to access to Open Media dialogue box. Besides Blu-ray disc, VLC also enables you to import DVD disc, ISO Image or VIDEO_TS folder which stores DVD contents as source for ripping to MP4, WebM, TS, etc.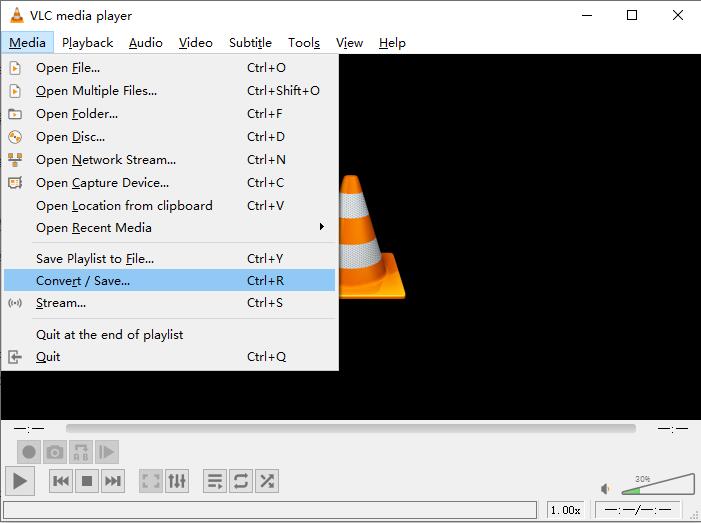 Step 3. Click Disc tab and check Blu-ray option and browse to import Blu-ray source to VLC. Next, set title (main title in general) and chapter you wish to rip. If you don't know which is the correct title, play the Blu-ray with VLC to find the correct title. Then click Convert / Save button.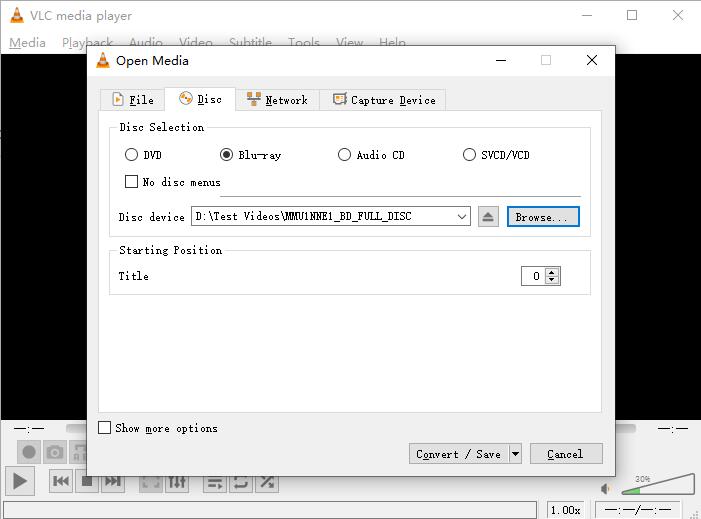 Step 4. Convert pop-up arrives. Move to Settings panel. Set an profile like MP4. If necessary, you can click the setting icon to adjust codec, bit rate, frame rate, resolution and subtitles. Then, click Browse button to give a destination for saving resulting video file. Don't forget to name it. Finally, click Start to make VLC rip Blu-ray.
Tip: VLC offers tens of video, audio, device and web profiles, such as MP4, WebM, TS, MP3, FLAC, TV, iPod, Android and YouTube.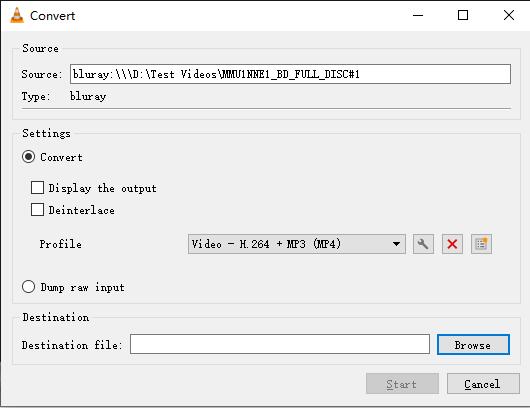 Part 4. How to Convert Blu-ray to MP4 with Leawo Blu-ray Ripper
Leawo Blu-ray Ripper is another excellent choice for converting Blu-ray to MP4. Besides MP4, it can also convert non-commercial and commercial Blu-rays to other mainstream video formats like MKV, FLV, MOV, etc. Besides the 180+ supported digital formats, users can also rip Blu-rays to hot smartphones directly, including iPhones, Galaxy S series phones and many more.
Just like DumboFab Blu-ray Ripper, Leawo also can convert common 2D Blu-rays into 3D movies in 6 different 3D effects: Red/Cyan, Red/Blue, Red/Green, Blue/Yellow, Interleaved, and Side by Side. However, the high prices of Blu-ray Converter at present keep a number of users away. For the cost-effectiveness to consideration, DumboFab is better than Leawo.
[Tutorial] How to convert Blu-ray to MP4 with Leawo
Step 1. Kick off Leawo Blu-ray Ripper, open "Blu-ray Ripper" module, and then click the "Add UHD/Blu-ray/DVD" button to browse source Blu-ray movies that you want to convert to MP4.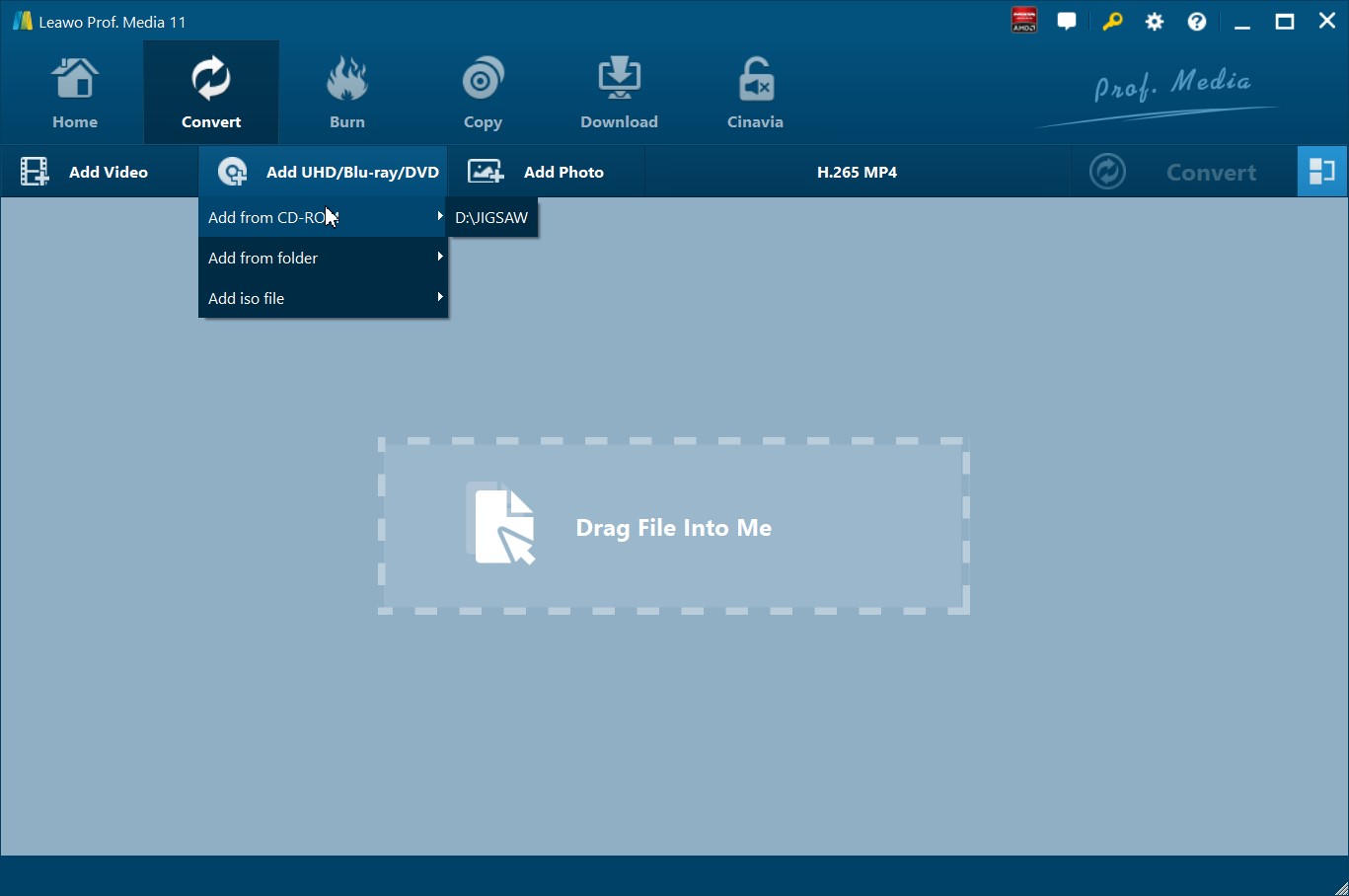 Step 2. Right before the big green "Convert" button, you could see a drop-down box. Click it and then select "Change" option to select "Format > Common Video > MP4 Video" or "Format > HD Video > HD MP4 Video" as output format on the popup "Profile" panel. Return to the main interface after setting output profile.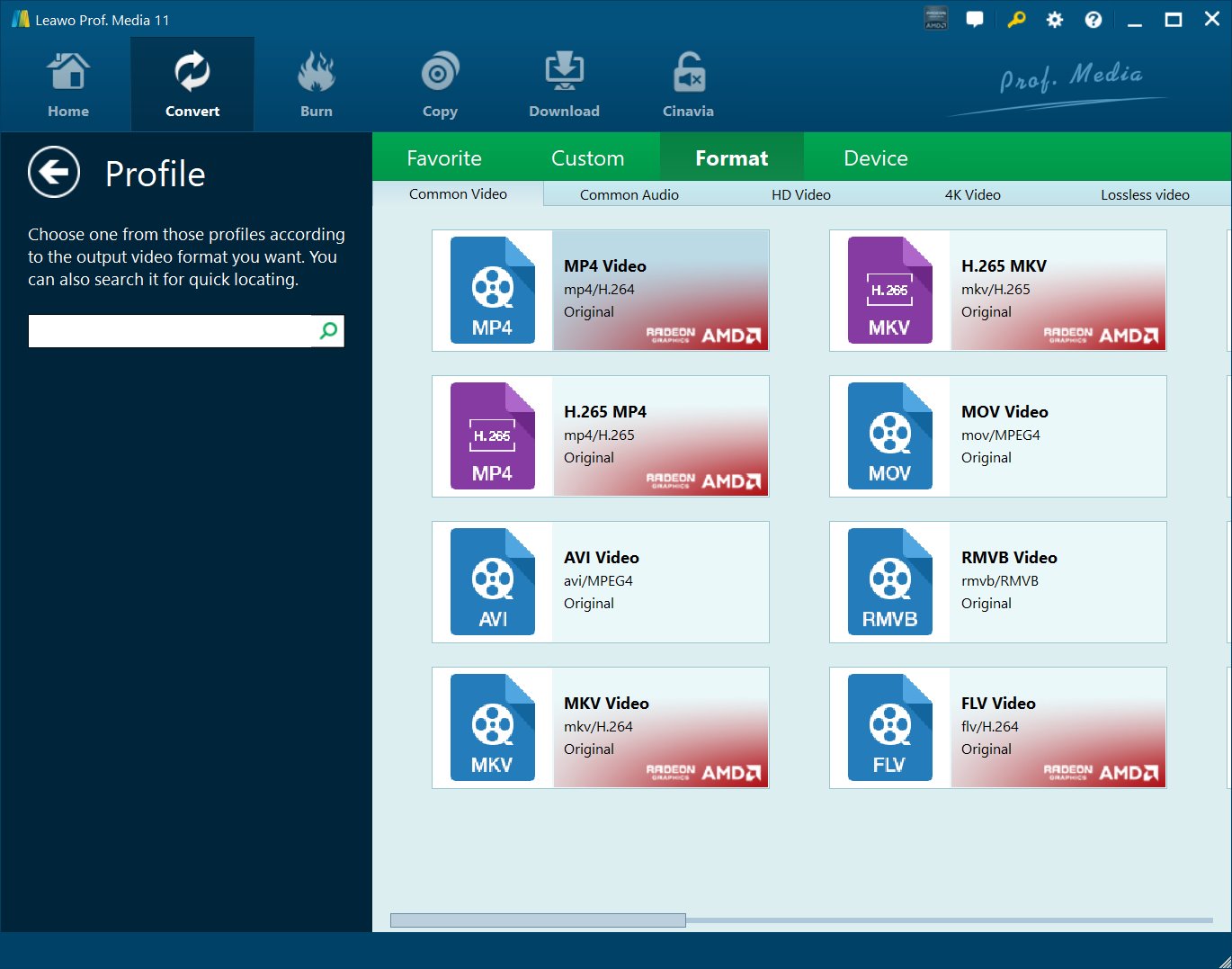 Step 3. Click the big green "Convert" button and then set an output directory on the popup sidebar. Click the below "Convert" button to start converting Blu-ray to MP4 videos.
Part 5. How to Convert Blu-ray to MP4 with DVDFab Blu-ray Ripper
DVDFab is an excellent pick for converting Blu-ray to MP4 and any other digital formats. It isn't cheap, and you have to pay more if you want to take advantage of the upscaling feature, but it is an excellent choice if you're looking to move away from the headaches and extra work often associated with free software.
While this software isn't cheap, it provides value. It's capable of handling most encrypted discs with ease, it gives a ton of options for encoding to various file formats, and you have a lot of freedom to adjust the quality of your videos versus the file size.
[Tutorial] How to convert Blu-ray to MP4 with DVDFab
Step 1. Download and install DVDFab Blu-ray Ripper which is one of the modules of DVDFab 12. After launching DVDFab, choose the "Ripper" module first on the top bar.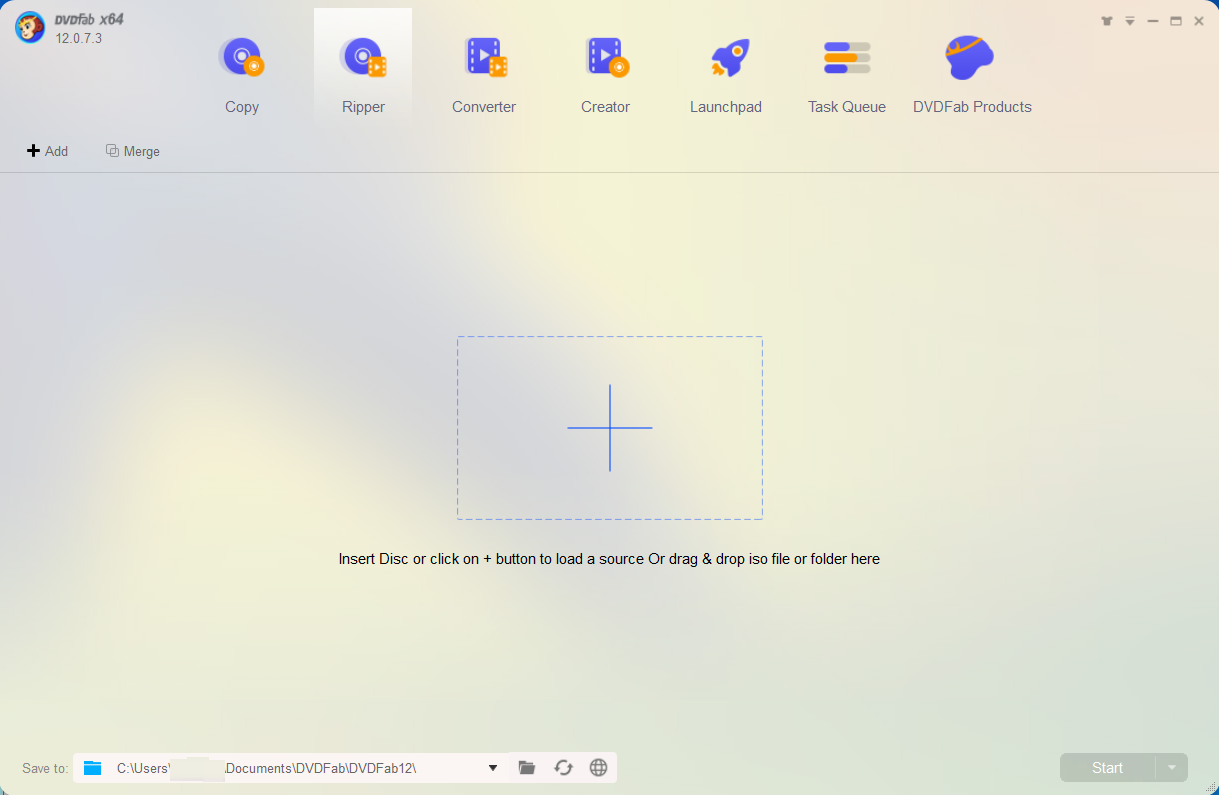 Step 2. Insert Blu-ray disc into external Blu-ray optical drive, or click '+Add' button, or drag & drop the source file into the Blu ray converter. One or two seconds later, the source movie will be displayed on the main interface of this Blu ray to MP4 converter.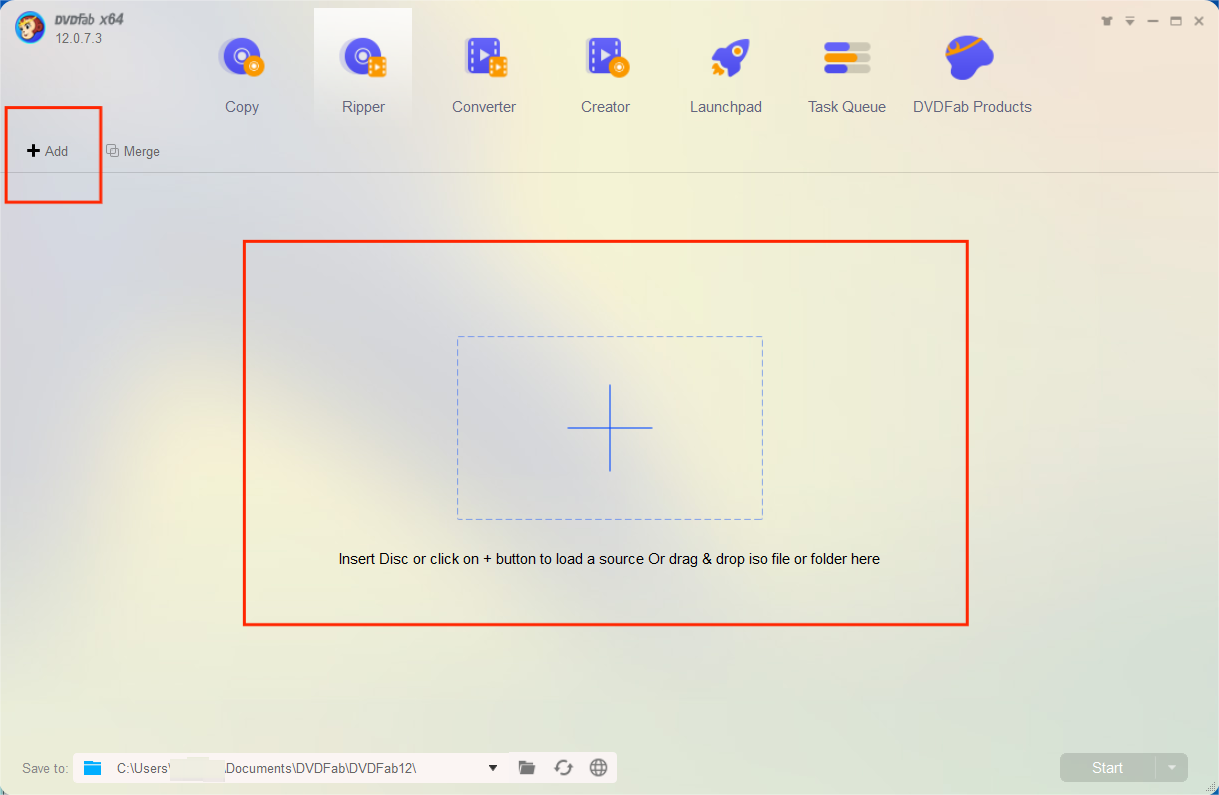 Step 3. Click on the format icon (profile switcher) to open the profile library and choose MP4 format. Also, you can also convert Bluray to MKV, AVI, WMV, and more formats.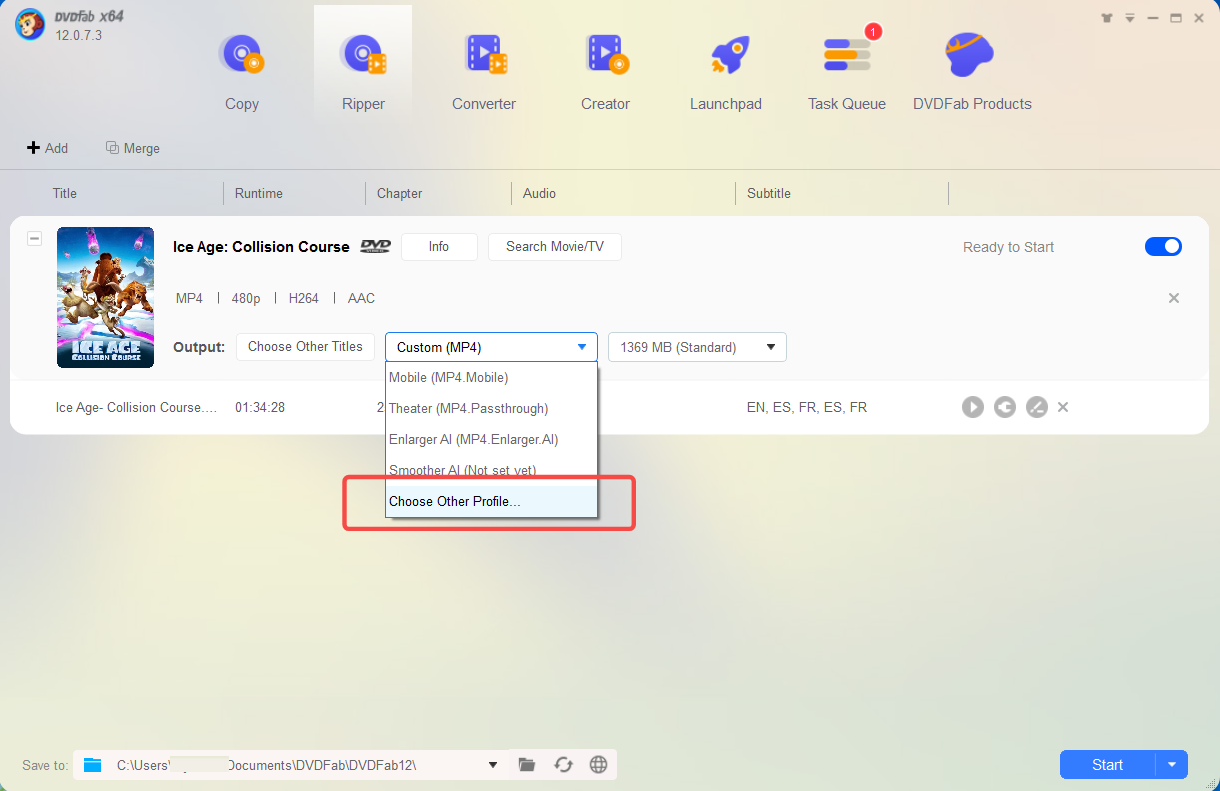 Step 4. After everything completes, just hit 'Start' button at the bottom to convert Blu ray to MP4.
Part 6. People Frequently Asked about Blu-ray to MP4 Conversion
1. How to convert protected Blu-rays to MP4 for free?
If you're looking for a free method to turn physical Blu-ray discs into MP4 files, then the combination of MakeMKV and Handbrake will be a great choice. You can firstly convert protected Blu-ray discs into a lossless MKV file and then use Handbrake to compress and convert the generated MKV file to MP4 file.
2. What is a good Blu-ray to MP4 converter?
Choosing a good Blu-ray to MP4 ripper shall be based on the following criteria:
● A good Blu-ray ripper shall feature a intuitive UI, and guide you to complete the conversion ask within a few clicks, preferably 2 or 3 steps.
● It will deliver a superfast conversion speed. Hardware acceleration is the icing on the cake.
● Incompetent tool may have very fast rips but at the expense of image quality. So high quality Blu-ray ripper is still of top concern.
● It offers loads of profiles and fulfil your various ripping needs.
3. What are the possible reasons for convert Blu-ray to MP4 format?
MP4 (MPEG-4 Part 14) is a digital multimedia container format most commonly used to store video, audio as well as data like subtitles and still images. It works with a variety of coompression schemes like H.264, HEVC, MPEG-4, MPEG-2, AAC and MP3 audio track. Relievedly, all the above problems with discs can be circumvented by ripping Blu-ray to MP4 file.
● MP4 well balances size and quality.
MP4 features a high compression rate and great output quality. Therefore, it delivers a smaller file size than other formats when setting as the same quality. Sometimes an MKV file at least doubles the size of an MP4.
● MP4 is easy to store but hard to be corrupted.
Due to its easier storage & management, MP4 is the best format to backup Blu-ray to. You can save it on computer hard drive, USB, flash drive, iPhone, Android, etc. You can categorize MP4 videos by genre, year, etc. as per your needs. It's easy to locate any file by searching. Unlike fragile Blu-ray disc, MP4 video file is difficult to be damaged during regular use. If corrupted, we have multiple ways to repair MP4 file.
● MP4 is widely supported.
MP4 is compatible with almost all devices, including computers and HD/4K TVs, phones, tablets, and game consoles from Apple, Samsung, Google, Microsoft, Sony, etc. It's accepted by media players, editors (e.g. iTunes, iDVD, iMovie) and web services (e.g. YouTube, Facebook, Vimeo). After converting Blu-ray file to MP4, you can watch MP4 copies on the train, airplane, bus, etc without taking along physical discs.