Home
>
Blu-ray Ripping Tips
>
Rip Blu-rays with Subtitles
Posted by Jason Eatock - June 24, 2023 | Contact Author

How to Rip Blu-ray with Preferred Subtitles or Forced Subtitles
"Okay I tried to rip some Blu-ray movies and now I am having difficultly trying to get the subtitles setting right so when in certain parts of the movie like when they are speaking French(not my native language), I'll know what the heck they are saying!! Any help?"
When watching ripped Blu-ray movies, many people may encounter the following problem: We have no idea what the characters are saying when they speak their native language without subtitles. Therefore, the demand of ripping Blu-rays with preferred subtitles is necessary for that. And in this article, we will provide you different solutions to flexibly set the Blu-ray movie subtitles in the Blu-ray ripping process.
What You Need to Rip Blu-ray with Desired Subtitles
To rip these Blu-ray movies with subtitles, there are some items below you need:
● Your Blu-ray disc(s).
● A Blu-ray disc drive. If your computer came with any disc drive at all, it was probably a DVD drive. However, you'll need a Blu-Ray reader in order to rip your Blu-Ray discs (obviously). An external good Blu-ray drive can be purchased for as little as $25.
● A program that can rip the Blu-ray files to digital movies while keeping subtitles — We'll be using DumboFab Blu-ray Ripper in this guide, which is available for both Windows and MacOS.
This is all you need. Once you have all three of these things ready, grab your favorite Blu-Ray movies and get started to rip Blu-ray with desired subtitle track.
Why DumboFab Blu-ray Ripper is worth having?
DumboFab Blu-ray Ripper is a full-featured Blu-ray subtitle ripping program, which can help you rip any Blu-ray to any digital movie with desired internal subtitle track, with added external movie subtitles, or with translated forced subtitles on screen where a different language is being spoken. Besides ripping Blu-ray with desired subtitles, it can also help you extract subtitles from Blu-ray to separate SRT files. Below are the specific features that add a ton of value:
● Support any homemade and commercial Blu-rays regardless of copy protections and region codes.
● Convert Blu-ray to any formats or devices, be it MP4, MKV, AVI, MOV, iPad, iPhone, Apple TV, HD TV, Game Console etc. with preferred subtitles.
● Freely select desired inner subtitle track and audio track to the ripped Blu-ray movie.
● Add external .*.srt/*.ass/*.ssa etc. TXT subtitles to the Blu-ray movie if it doesn't contain your native spoken language.
● 1:1 backup Blu-ray/DVD to hard drive, USB, NAS in BDMV/DVD folder, a single M2TS/MPEG2 file or MKV within 5 minutes.
● Finish conversion at ultra-fast speed, owing to the support for the world advanced Intel, Nvidia and AMD, etc. GPU hardware acceleration.
● Adjust resolution, bit rate, codec, etc to produce optimal file size. Specifically, the ripped Blu-ray file is 1.2 -1.6 GB instead of 30-50GBs for a full movie, a much more space saving.
Different Ways to Rip Blu-ray with Subtitles using DumboFab Blu-ray Ripper
To get started, you need to download, install DumboFab Blu-ray Ripper on your computer and then insert the Blu-ray to be ripped into your Blu-ray drive that have hooked to your PC.
Part 1. How to Rip Blu-rays with Inner Subtitle
There are always several different built-in English, French, Germany, Spanish, etc. subtitle tracksin a commercial Blu-ray disc. If there is one subtitle track that matches your native tongue, just select it to rip Blu-rays to MP4, AVI, MPEG, MOV, etc.
Step 1. Load the source Blu-ray.
Insert your Blu-ray discs into your Blu-ray dirve and then launch DumboFab Blu-ray Ripper. Click Load disc button to load the source Blu-ray movie. You can also import ISO image, and BDMV folder and DVD folder to this program. The Blu-ray ripper supports advanced encryptions like navigation algorithm used in multiple titles. It will easily detect the correct title hiden in Blu-rays.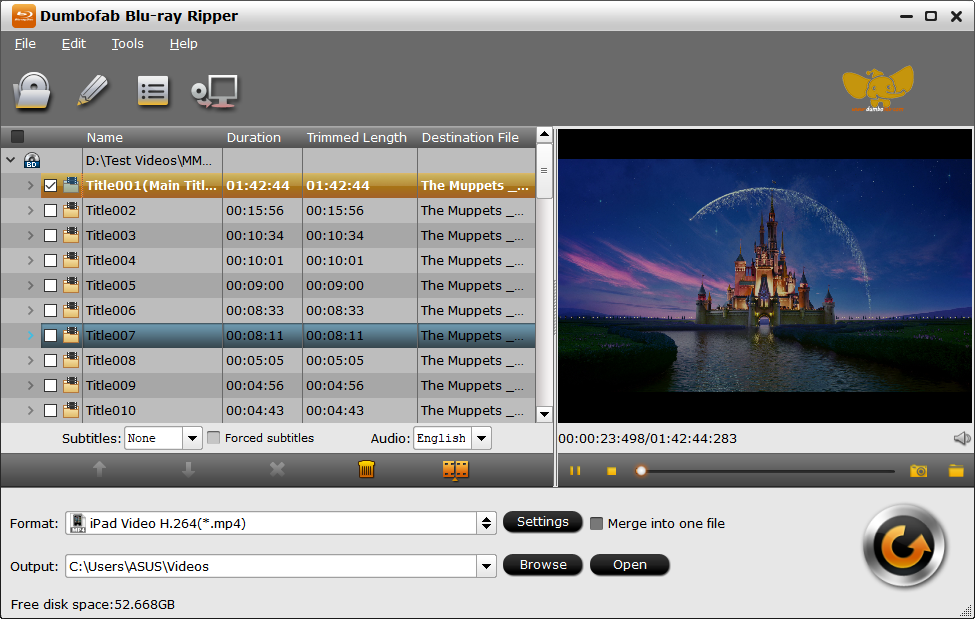 Step 2. Select an output format.
Click Format bar and move mouse cursor to Common Video category, here you can choose MP4, HEVC, MKV, AVI, MPEG, WMV, etc. depending on the use of the files, or say the output devices or players that will be connected to. DumboFab Blu-ray Ripper provides you 400+ preset output profiles. For example, you can choose to rip Blu-ray to MP4 with subtitles.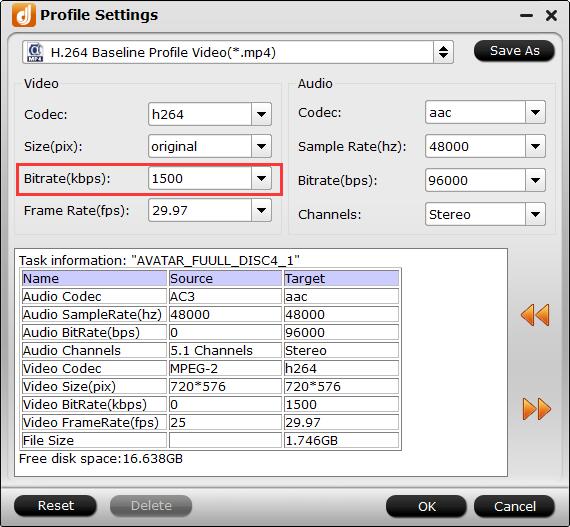 Step 3. Select one subtitle you like.
Open the drop-down list of the Subtitle column and choose one subtitle track you want. Options for you to choose: None (default), English, French, Spanish, etc. Besides selecting subtitle track, you're also allowed to select preferred audio track according to your needs. After you've selected the preferred subtitle track, you can take a preview at the Preview window. All subtitles including forced subtitles will be kept in the ripped Blu-ray video.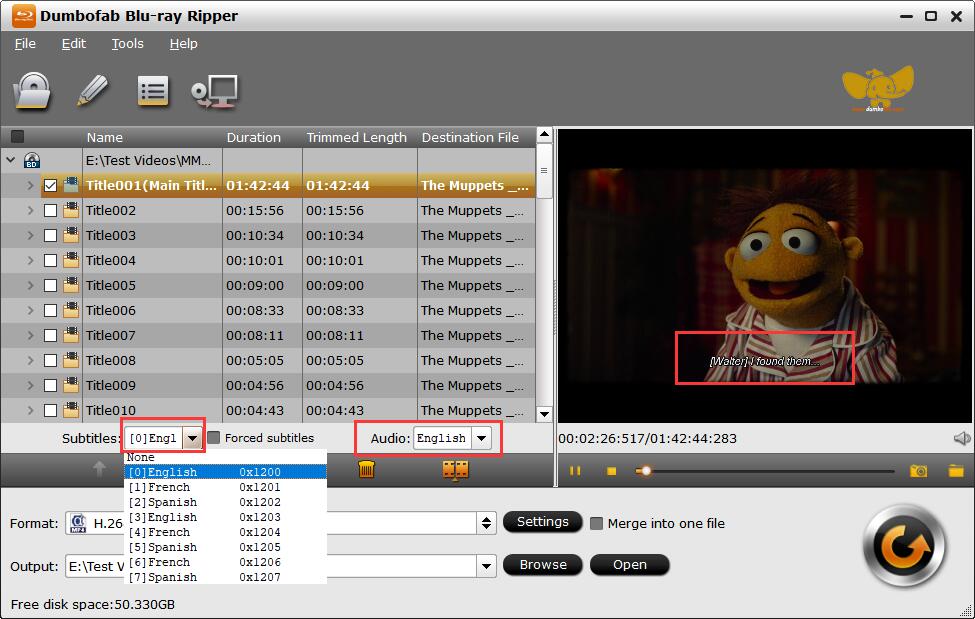 Step 4. Set a destination folder and start the Blur-ay rip with subtitles.
Click the Browse button to select a target folder to store the ripped DVD video. All things done, hit Convert to start ripping the Blu-ray with preferred subtitles.
Part 2. How to Rip Blu-rays with Forced Subtitle for Non-native Language Fragments
Some movies may include forced subtitles, which appear on screen when a foreign/alien language is spoken, or showed in a sign, location, or other text, aiming to explain the meaning but can not be placed in the dubbing. When ripping a Blu-ray, it's directly titled "Forced Subtitle". What if you don't want the whole movie to have subtitles, but just keeps the forced subtitle only? Don't worry, DumboFab Blu-ray Ripper can easily help you rip Blu-rays with forced subtitle only and below are the simple steps.
1. Import the source Blu-ray.
2. Choose an output format for your output video.
3. Select one subtitle you like and tick off the Forced Subtitles option.
4. Tap Convert button to start ripping Blu-ray with forced subtitle only.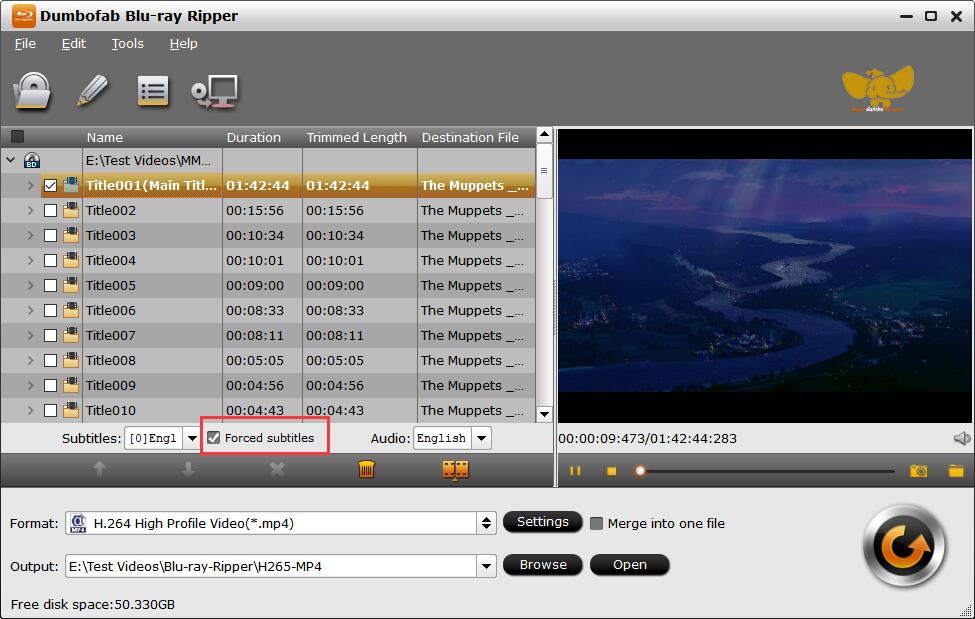 Part 3. How to Rip Blu-rays with External Subtitle
If the foreign language Blu-ray movie do not contain any language subtitles you understand, you can download subtitles in SRT/ASS/SSA for your preferred language of the Blu-ray movie from a safe and reliable subtitle download site (such as opensubtitles.org) and then use DumboFab Blu-ray Ripper to add the external subtitle track to the Blu-ray movie.
Step 1. Import the source Blu-ray.
Step 2. Choose an output format for your output video.
Step 3. Click Edit button to enter Video Editor window. Under Subtitle tab, check Enable, and then you click Browse and load external *.srt or *.ass/*.ssa subtitle files for adding to the Blu-ray movie. Then click OK to confirm.
Step 4. Tap Convert button to start adding external subtitle to the ripped Blu-ray movie.