Home
>
Video Processing Tips
>
Best ProRes Converter for Windows
Posted by Jason Eatock - Feb 25, 2022 | Contact Author

Best Tool to Convert Video to Apple ProRes Codec on Windows (Windows 11/10 Included)
What's Apple ProRes codec? Is it possible to encode/render ProRes codec on a Windows PC? Follow this article to get the best ProRes converter for Windows to achieve your goal smoothly.
"Can I get ProRes odec videos on Windows 10? How to convert the MPEG-4 to ProRes on my PC?"
What Is ProRes and Why ProRes?
Developed and released by Apple Inc. in the year 2007, ProRes is a codec that loosely compresses the videos using the I-frame approach. Unlike H.264, I-frame (that stands for 'individual frame') individually compresses each frame. Although it reduces the overall size of a video, the file remains quite large as compared to other formats like MP4, M4V, etc.
Apple ProRes includes the following formats: Apple ProRes 4444 XQ, Apple ProRes 4444, Apple ProRes 422 HQ, Apple ProRes 422, Apple ProRes 422 LT, Apple ProRes 422 Proxy.
"Why ProRes?" In layman's language, since ProRes compresses each frame individually, the processor and the GPU don't have to put extra efforts to decompress before sending them to the display unit. This method comes in handy to avoid lagging during the post-production process where the RAW footages are edited to remove unwanted information, add effects, etc., and the professionals need regular manual movements (technically called 'scrubbing') of the Timeline bar (called the 'Skimmer'). Whether it is a ProRes codec for Windows or otherwise, the family has a couple of members that are useful in one way or the other.
Nowadays, most NLEs, including DaVinci Resolve, Avid Media Composer, Adobe Premiere, Lightworks, etc, now can handle a wide variety of codecs natively. But this may not always be the best path to take. You can work with Long-GOP video, if you stuff your computer with RAM and it has enough processing power. If not, or you're planning to make the editing process simpler and less resource-intensive, you're recommended to use a ProRes converter to transcode your footages to Apple ProRes codec on Windows.
What's the Best ProRes Converter for Windows?
Even though most used post-production applications allow video to ProRes transcoding on Windows PCs using their built-in export features, sometimes the process takes a significant amount of time, or the settings box has numerous confusing options that newbies find hard to understand. DumboFab Video Converter bridges this gap by providing one of the simplest user interfaces, and the pre-configured presets that you can use to transcode any video to Apple ProRes on Windows (Windows 11/10 included) without any hurdles or complications.
DumboFab also provides a Mac version of Video Converter which allows you to encode/re-encode any video to ProRes on Mac OS X (Monterey, Big Sur included).
Key Features of this ProRes Converter for Windows:
● Convert & process any footage in virtually any format, incl. av1, hevc, h.264, mp4, mkv, avi, wmv, m2ts, avchd, in whatever resolution or codec.
● Support encoding video from/to Apple ProRes 422, Avid DNxHD, etc. high-quality codecs for post-production.
● Edit video files with trimming, cropping, cutting, merging, adding subtitles, etc.
● 30X faster conversion speed than any conventional converters.
● Supported OS: Windows 11/10/8/7/XP/Vista, macOS 12 Monterey, Big Sur, 10.15 (Catalina), 10.14, 10.13, 10.12, 10.11, 10.10, 10.9, 10.8, 10.7, 10.6.
Just free download the best Apple ProRes Converter for Windows or Mac below:
Tutorial: How to convert video to Apple ProRes 422/4444 on Windows
After downloading and installing DumboFab Video Converter, fire it up on your PC. The ProRes encoding on Windows and Mac is the same.
Step 1. Click "Add Video" button at the top left corner to browse and select target video files. You can also simply drag & drop the videos into the main screen of this ProRes converter. Batch conversion is supported.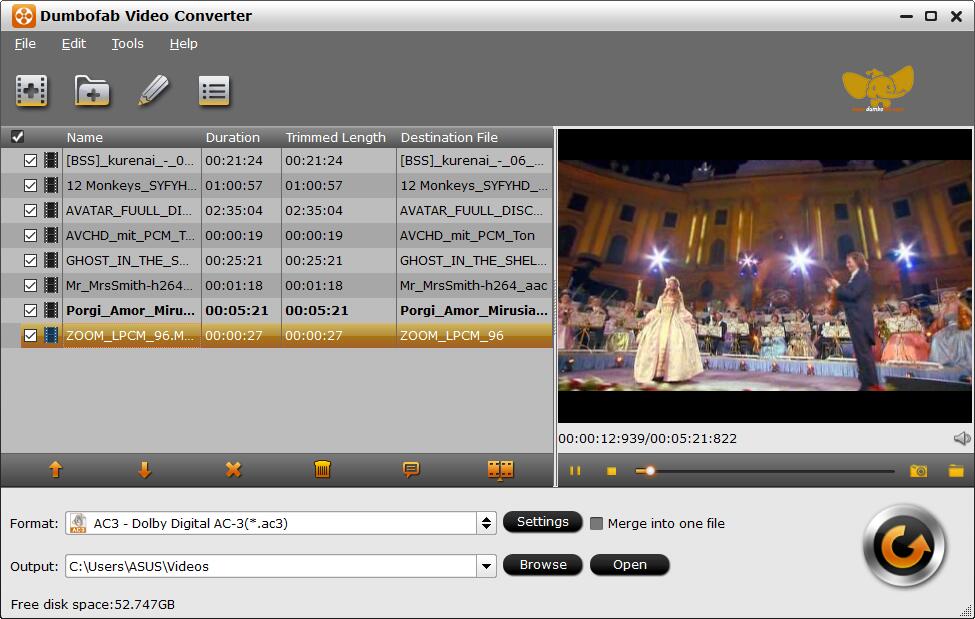 Step 2. Click the "Format" bar and move mouse cursor to "Editing Software" cateory. Here you will find four optimized ProRes formats including Apple ProRes 422(*.mov), Apple ProRes 422(HQ) (*.mov), Apple ProRes 422(LT) (*.mov), and Apple ProRes 422(Proxy) (*.mov). Choose one as you need.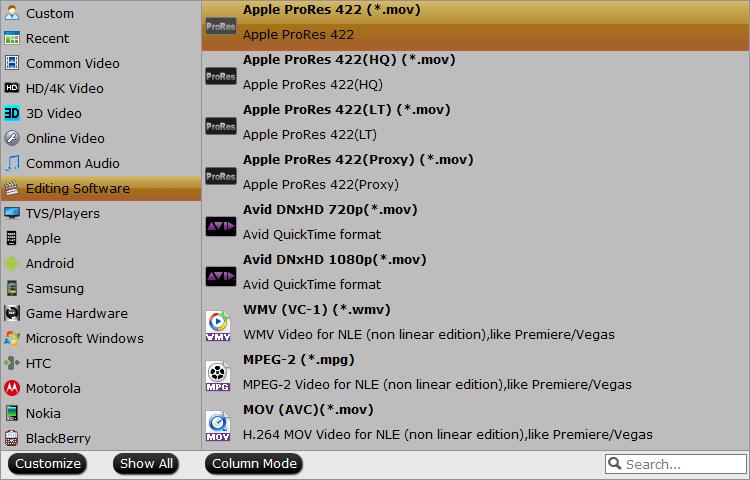 Step 3. Click "Browse" button to choose an output folder if necessary. Then, tap "Convert" button to start Apple ProRes encoding on your Windows PC.
Editor's Note: The generated ProRes MOV files need ten times as much storage. That's a lot, but hard drives are tending towards being free, so it hardly matters these days.
Final Words:
Being a proprietary product of Apple, unfortunately, at the time of this writing, there is no way you can download a ProRes codec for Windows platform as no such thing has been developed, at least not yet. However, since ProRes files offer great advantages over other codecs, especially in post-production environments, several tools can help you re-encode your footages in a way that they can virtually work as the files that have been compressed using ProRes codec for Windows.
Despite several tools available to do the job, including some post-production giants such as Adobe Premiere Pro, one program that stands out among all of them due to its ease of access, being lightweight, and extremely fast rendering is DumboFab Video Converter. It can recognize and convert any video from/to Apple ProRes codec on Windows. Such videos can then be imported into programs like Adobe Premiere Pro, DaVinci Resolve, Avid Media Composer, etc. for professional-level editing and modifications.