Home
>
Video Processing Tips
>
Convert H264 to DNxHD Codec
Posted by Jason Eatock - Oct 30, 2021 | Contact Author

Fast Way to Transcode H.264 to DNxHD Codec on Windows
If you are planning your career in the field of video editing on a Windows PC, it is imperative to know which codec, DNxHD vs H264 works better with a post-production tool like Avid Media Composer, DaVinci Resolve, Adobe Premiere, etc. In this article, we will share you an easy yet fast way to convert H.264 to DNxHD on Windows. Also you will learn why it's a good idea to use DNxHD instead of H.264 for video editing.
Why Do You Need to Convert H.264 to DNxHD Codec for Editing?
H.264 is a well-known and widely-used video compression codec, which can be incorporated into multiple container formats and can support 4K and up to 8K Ultra High-Definition. H.264 offers a high compression ratio, and therefore the files are small in size that uses less space on your storage devices. Most NLEs now can handle H.264 codec natively. However, there are certain downsides of H264 format that many professionals who use post-production tools like DaVinci Resolve, Avid Media Composer, Adobe Premiere, etc. Some of such disadvantages (from video editors' perspective) are listed as follows:
Increased GPU Overhead – Due to the high compression rate, while editing (and even during playback), the GPU works more extensively to decompress the H264 files. This reduces the performance of your computer.
Limited Colors – H264 is an 8-bit codec. This means, as compared to DNxHD, H264 files have fewer color grading options while working with post-production software. Therefore the editors may not be able to produce the expected quality output.
GOP Approach – GOP stands for Group of Pictures. H264 codec compresses a group of pictures to form a complex architecture that, even though it reduces the overall file size, requires more inputs from the GPU to decompress and process while editing.
All of this puts a big strain on a "normal" computer. In practise it means slow, jerky playback, and fewer effects in real-time. It may also hamper the final quality of your edit, because each time the video is decompressed to carry out an effect, it has to recompress the result, into the same, parsimonious compression scheme.
So, what's so good about DNxHD codec?
DNxHD, short for Digital Nonlinear Extensible High Definition, is a lossy high-definition video post-production codec developed by Avid for multi-generation compositing with reduced storage and bandwidth requirements. It is an implementation of SMPTE VC-3 standard.
What's good is that Avid's DNxHD codec doesn't compress the video as much. It trades storage space and bitrate for quality and ease of processing. It typically need ten times as much storage. That's a lot, but hard drives are tending towards being free, so it hardly matters these days.
In fact, DNxHD and another high-quality codec ProRes (sometimes called "intermediate" or "production" codecs) sit in a kind of "sweet spot" between the humongous data rates of uncompressed video, and the egregious processing demands of Long Gop video.
I am making a youtube video and i am using obs to record and obs records in h.264 which is very slow in video editors. So i tried transcoding to dnxhd using mpeg streamclip and quicktime but it takes ages just to transode one 3 minute clip and i have tons of clips i recorded, so is there anyway to speed things up or any other thing i could do to make my videos more video editor friendly - Quoted from reddit.com
In conclusion, you can work with H.264 video, if you stuff your computer with RAM and it has enough processing power, but this is always going to be second-best to working with a codec like DNxHD, ProRes, etc. that is designed for editing.
Best Software to Convert H.264 to DNxHD on Windows (10) and Mac | Lossless Quality & Fast Speed
There are numbers of paid or free programs that can convert the H.264 videos, but not all transcoders can encode to DNxHD or other "professional" codecs. And the choices are further narrowed down because you need a transcoder that is coming with its own DNxHD codec and won't take a significant amount of time in the H.264 to DNxHD conversion process.
Can Handbrake convert H.264 to DNxHD codec?
HandBrake is a good helper to convert videos for free on multi-platform, but unfortunately it's quite limited in the formats you can convert to. The most logical one to use is H.264. Currently, it doesn't support high-quality codecs like DNxHD, ProRes as the output format.
If you don't want to be held back by slow and complicated processing and you're looking for the best option to transcode H.264 to DNxHD, DumboFab Video Converter will be your best choice. With it, you can import any H.264 video from any source and convert H.264 and any other video formats to DNxHD, ProRes, other high-quality codecs with ultra-fast encoding speed and zero quality loss. It also comes with a Mac version which can does the conversion job on Mac (incl. macOS Big Sur).
Just free download the best H264 to DNxHD Converter below:
How to Convert H.264 to DNxHD Codec on Windows in 3 Steps
After downloading and installing DumboFab Video Converter, fire it up on your PC. The H.264 to DNxHD conversion on Mac is the same as on the Windows.
Step 1. Click "Add Video" button at the top left corner to browse and select target H.264 files. You can also simply drag & drop the H.264 videos into the main screen of this video converter. Batch conversion is supported.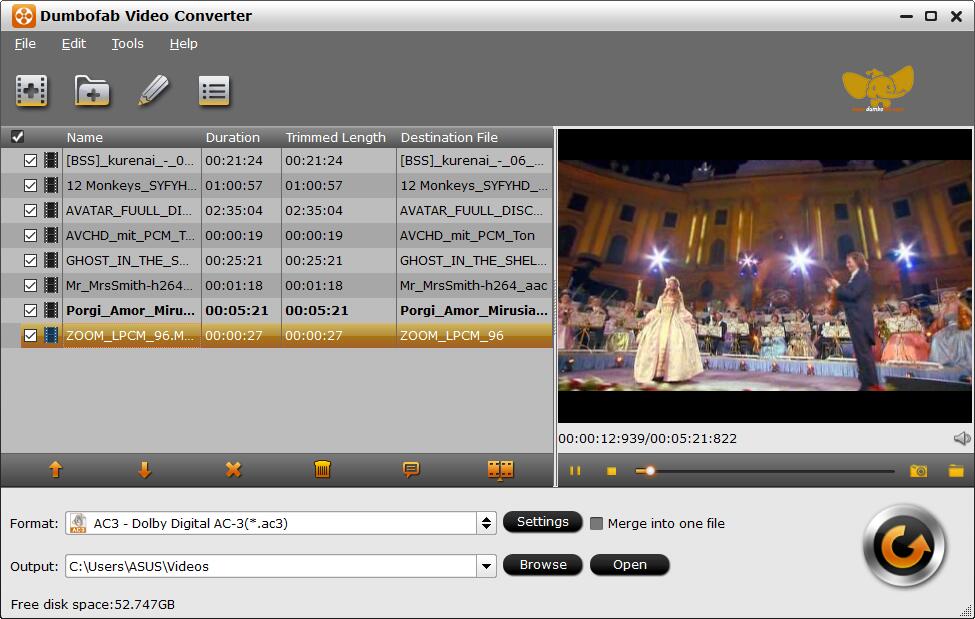 Step 2. Click the "Format" bar and move mouse cursor to "Editing Software" and select "Avid DNxHD 1080p(*.mov)" or "Avid DNxHD 720p(*.mov)" according to your needs.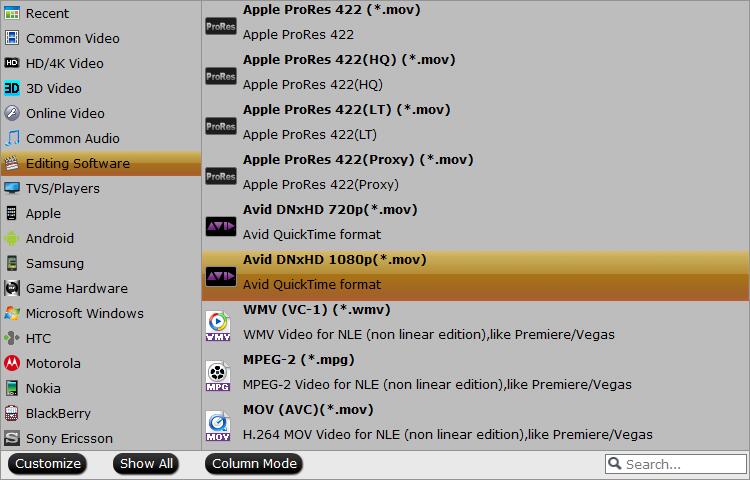 Step 3. Click "Browse" button to specify a destination folder to save the converted video file. When you have finished everything, simply click "Convert" button to perform the H.264 to DNxHD conversion.
Final Words...
Don't be shy about using DNxHD or ProRes. They are designed for a reason. They make editing easier, with almost all the advantages of working with Uncompressed video, without the punishing data rates and storage requirements. You don't need to worry about losing quality, and you may even get better-looking edits as a result. You'll certainly enjoy the experience more, because everyone prefers a fluid, responsive timeline. Once you've converted H.264 to DNxHD, your edits on NLEs will fly. These codecs are so efficient that you can play multiple streams with a fraction of the effort you need for a single stream of H.264 - based video.