Home
>
Resource
>
DVD Ripping Tips
>
Handbrake Won't Rip Your DVDs
Posted by Chris Ellison - Dec. 27, 2020 | Contact Author

How to Solve Handbrake Won't Rip Your DVDs
Struggling with Handbrake won't rip your DVDs? Read on to find easy and quick solutions to fix your problem.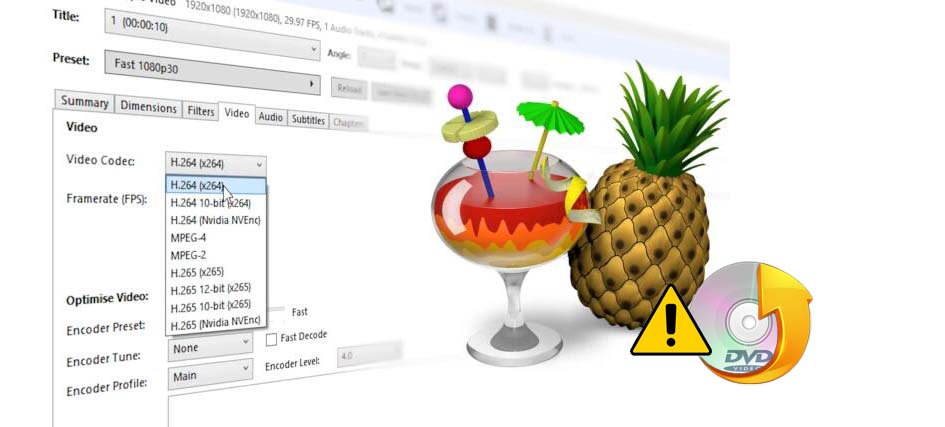 Admittedly, HandBrake is a neat and useful tool to help users to convert digital video files and DVDs. However, the truth is Handbrake can't rip copy protected DVDs on its own, even if you're using the latest version. It's able to rip regular DVDs (homemade DVDs)/unencrypted DVDs. To make Handbrake handle DVDs with CSS and the similar copy protections, you'll need to download VLC or libdvdcss (Learn how to install libdvdcss to rip protected DVDs). However, the problem "Handbrake won't rip DVD" still come from time to time. Even many users were unfortunately blocked at the first step as Handbrake won't scan DVDs at all.
There are many reasons and scenarios why Handbrake won't rip DVDs, including DVD encryptions, DVD damaged or corrupted, VLC problems, unsupported subtitles, etc. If you are experiencing Handbrake won't rip DVD problem, try the fixes below.
Situation 1: Handbrake won't rip your DVDs Caused By DVD Encryptions (The Main Reason)
You can try your luck for ripping some commercial DVDs with the assistance of VLC or something when using HandBrake. However, as for DVD encryption technologies, some are regular and conventional, while the others are new and tough. Handbrake can rip some DVDs with regular and conventional, but difficult or cannot handle DVDs with tough encryptions, like Disney X-project DRM, CSS encryption (CSS) encryption, ARccOS, Region Code, DVD Region-code, etc.
On another hand, if VLC changed the code libraries it uses for decrypting, Handbrake will not find VLC or the installation to deal with any commercial DVD. And strictly speaking, no matter how it updates in the future, HandBrake will not decrypt and unscramble any protected DVD and Blu-ray discs itself, doomed by the kernel mode and coding schemes.
2 Important Notes When Installing VLC to Remove DVD Protections Before Ripping with Handbrake
Note 1: Users who upgrade the latest version of VLC, namely VLC Player 2.0; and those who upgrade OS X to El Captain or macOS Sierra may also have Handbrake won't scan disk problem. In this case, you can get the missing libdvdcss for Handbrake: download the libdvdcss.2.dylib file and place the file to Handbrake install folder and rename it to libdvdcss.dll (or rename it to libdvdcss.dylib and put it in the /usr/lib/ for Mac users), or install a copy of libdvdcss via homebrew.
Note 2: You should note that both Handbrake and VLC should keep pace with the processor of your computer, namely 32 bit or 64 bit. Handbrake is available in 32-bit and 64-bit versions., but VLC has 32-bit versions, and 64-bit version for PC only. So you can't grab 64-bit VLC player for a 64-bit Mac.
Handbrake won't rip commercial DVDs due to copy protection, but DumboFab DVD Ripper will.
Situation 2: HandBrake won't rip DVDs caused by HandBrake version/settings
When Handbrake won't rip a DVD or Handbrake scanning source takes forever, the very first thing is to close Handbrake, and reboot it with Administrator access. Then try to check if you have installed the right Handbrake version or have the best Handbrake settings.
• Download and install Handbrake (latest version) on computer.
• Check if you install 64-bit Handbrake for 64-bit computer and 32-bit version for 32-bit computer (and also the version of VLC for protected DVDs).
• When loading a DVD source, select the VIDEO_TS folder which will appear when you click the + beside the drive.
Other scenarios and solutions about HandBrake won't rip DVDs
Corrupted or Damaged DVD
If your DVD disc is scratched on the surface, the DVD ripping process may be failed. Thus, you can find that HandBrake stops encoding at the same place in a loop. In addition, the damaged or corrupted IFO files may cause HandBrake won't rip DVD error too. You can insert another DVD to rip with HandBrake. If HandBrake can rip DVD at this time, then the scratched DVD is the main cause. Next time you had better put DVD back into the case after watching.
Handbrake won't rip DVD due to computer problems
In addition to the internal Handbrake errors that prevent Handbrake from ripping DVD properly, apps like Handbrake will also freeze or crash due to problems in hardware, if you're experiencing freezing with other apps, then check the factors below:
• Check if the DLL file is damaged.
• Scan your computer for malware or unwanted installations & improve performance.
• Clear & Reset the computer cache
• Repair the system files if needed.
• Changing Permission For That Application.
Final Words:
How to fix if HandBrake is not working? If your HandBrake doesn't find and show titles, or doesn't rip the full DVDs of Frozen, The Hunger Games: Mockingjay Part 2, Point Break and so on, try the Handbrake alternative - DumboFab DVD Ripper will not let you down if you are looking for a new DVD copy protection solution on Windows XP/7/8/8.1/10 or Mac OS X 10.7-10.15.
Also if you're interested in backing up your DVD collection and don't want to be held back by time restrictions or slow processing, DumboFab is the great choice. It isn't free, but you get a lot for your money, and can even handle discs that are encrypted, region-locked or unplayable. It can create videos files for playback on virtually any device too, with handy preset profiles so you can watch your favorite movies on a phone or tablet. we've tried.